This past weekend is one of the last before conference play gets into full swing. Because of that, we saw some smaller defensive lines get completely overmatched in some non-conference games. Let's dive on in.
[Editor's note: see Week 2's highest-graded offensive lines by clicking here.]

1. Oregon
We've been heralding the Ducks' offensive line as the best in college football this offseason, and Montana found that out the hard way. They nearly shut out the Montana defensive line entirely, allowing one lone pressure on 48 pass-blocking snaps. The most impressive of the bunch was also the youngest. Left tackle Penei Sewell is only a sophomore, but his 91.4 run-blocking grade paved the way for Oregon.
2. San Deigo State
The Aztecs' offensive line utterly dominated on the ground against New Mexico State. They ran the ball 44 times for 262 yards on designed runs and averaged nearly three yards before contact per attempt. Left tackle Kyle Spalding was the highest-graded of their starters in the run game, at 90.3.
3. Illinois
Things didn't end up as planned for the Fighting Illini against Eastern Michigan, but it's hard to blame their offensive line. They allowed only five pressures on 49 pass-blocking snaps, and none of the sacks were charged to the line. Right tackle Alex Palczewski continued to impress with another clean sheet in pass protection.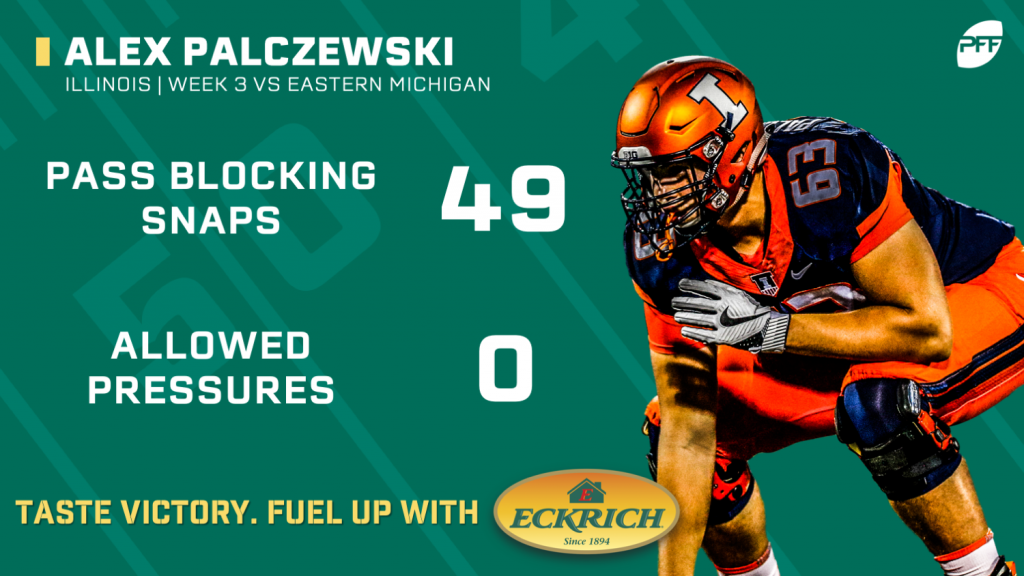 4. Miami (FL)
It got out of hand quickly when Bethune-Cookman came to town over the weekend, and the improved performance of their much-maligned offensive line was a big reason why. After being the scapegoat for Miami's loss to Florida to kick off the season, freshman left tackle Zion Nelson bounced back well in this one and didn't allow a pressure.
5. Wake Forest
Wake needed every bit of their top-notch offensive line performance to get the job done against the Tarheels. They allowed only four hurries and no sacks or hits on 32 pass-blocking snaps as they got their passing game going early on. Senior left tackle Justin Herron continues to be lights out as he's allowed only one pressure on 116 pass-blocking snaps this season.
6. Washington
Washington dominated the Rainbow Warriors all game long, and it's been great to see left tackle Trey Adams finally healthy again. The redshirt Senior likely would have been drafted after his 2017 season if not for injury, and same goes for 2018 as well. Through three games this season, he's yet to allow a pressure.
7. Kentucky
The Wildcats almost pulled off the upset against the Gators with help from a superb offensive line performance. They allowed a mere two pressures on 40 pass-blocking snaps as they almost completely shutout a very talented Florida defensive line. 
8. Arkansas
The Razorbacks' offensive line has been one of their pain points in recent years, so seeing them make this list is encouraging even if it does come against Colorado State. They put up 55 points over the weekend as junior center Ty Clary put together another outstanding performance with an 85.3 overall grade. 
9. Texas Tech
Senior left tackle Travis Bruffy continued his outstanding work in pass protection against Arizona. He only gave up one hurry on 55 passing snaps, and his 89.6 pass-blocking grade through three games is the third highest in the country.
10. Boston College
Boston College got their butts handed to them by Kansas on Friday night, but don't point the finger at their offensive line. Sophomore left tackle Tyler Vrabel continues to standout for the Eagles up front — he didn't allow a single pressure and has only allowed one so far on the season.