With a historically deep crop of wide receivers currently making waves throughout the nation, the defensive backs tasked with defending these dynamic pass-catchers certainly have the platform to demonstrate their coverage chops.
Here, we count down the top-five highest-graded defensive backs from the first week of action in college football, grouped separately into cornerbacks and safeties.

Cornerbacks
Tre Avery, Rutgers
Avery was a menace in coverage against UMass where he was targeted four times, allowing just one catch for 13 yards and a paltry 1.0 passer rating. Of the three incompletions, Avery had two pass breakups and an interception where he went airborne to make a ridiculous over-the-shoulder grab in the endzone that would make most wide receivers envious. Avery lined up in coverage all over the place, bouncing around between out wide as a left cornerback (nine snaps), right cornerback (14 snaps) and also the slot (eight snaps). 
Jace Whittaker, Arizona
Whittaker's return from injury could not have gone better, and he looks to have not missed a beat after sitting out nearly all last season. Whittaker was very busy in his first game back and was on the field for a whopping 81 defensive snaps, tops among all PAC-12 defenders. He predominately worked in the slot (58 snaps) where he saw all nine of his targets, allowing six catches for 36 yards and just one first down, while snagging an interception and forcing an incompletion. Whittaker also lined up as a wide cornerback (23 snaps) where he picked off a second pass. 
Patrick Surtain II, Alabama
While Surtain was solid last year as a true freshman, he appears to be on the cusp of a major breakout in his sophomore campaign. He already has oodles of hype — a function of being a former five-star recruit and the son of NFL superstar Patrick Surtain — and that hype train is on the precipice of translating into stardom. Against Duke, Surtain was targeted just three times in 24 cover snaps, allowing one catch for a measly yard. Nineteen of Surtain's cover snaps were in the slot where he was only targeted once and did not allow a catch.  
Tariq Thompson, San Diego State
Thompson was tested often in coverage against Weber State, where he was targeted a whopping 10 times but only allowed four catches for a total of 15 yards and just one first-down conversion. He had one interception and forced two incompletions; throws into Thompson's coverage generated a lowly 8.3 passer rating. While Thompson is predominately a slot cornerback (36 snaps), he also lined up at free safety (eight snaps) and in the box (seven snaps). A Junior-year breakout for Thompson comes as no surprise — he was a Freshmen All-American in 2017 and graded as PFF's 35th best defensive back last season. If Thompson keeps up this performance, he could be a candidate for early entry to the NFL Draft.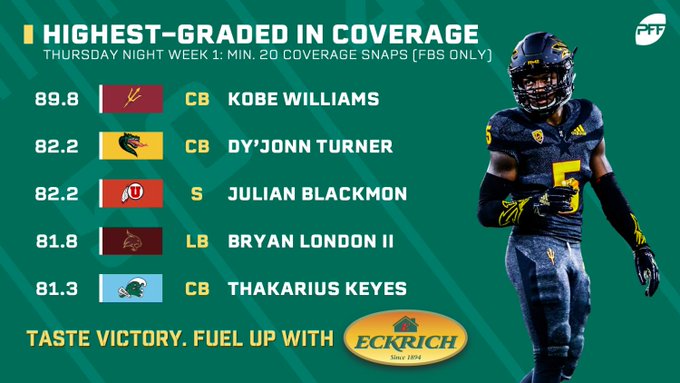 Kobe Williams, Arizona State
Kobe had an impressive stat line against Arizona State — he was targeted in coverage six times and allowed two receptions for a total of negative 10 yards (the yardage is skewed because Williams forced a fumble on a reception that forced Kent State 13 yards backward). Williams lined up as a wide corner on the right side for all 41 of his defensive snaps.
Safeties
Eric Lee Jr., Nebraska
Lee was outstanding against South Alabama and put an exclamation point on the performance by jumping in front of an out route and returning the interception 40 yards to the house. He predominately lined up at free safety (36 snaps) but also moonlighted at slot corner (nine snaps) and as a linebacker in the box (six snaps). Lee picked off a second pass for good measure and also had a pass break up.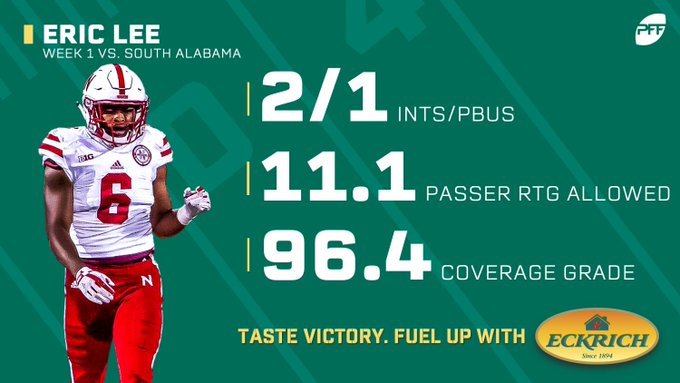 Myles Wolfolk, UNC
Wolfolk proudly showed off North Carolina's "Turnover Belt" after their win over South Carolina. He lined up all over the field (29 snaps free safety, 29 in the box, five slot corner) and allowed next to nothing in coverage — he was targeted four times, permitting one catch for four yards while picking off two passes. South Carolina quarterback Jake Bentley had a 0.0 passer rating when targeting Wolfolk in coverage, and he would have been statistically better off just spiking the football into the ground.
Jonathan Alexander, Kansas State
Alexander is the only defensive back on this list with run defense as his calling card, as he is currently the top-graded defensive back against the run. On 13 run-defense snaps, Alexander had a forced fumble, one run stop and did not miss a tackle. He lined up at free safety for 12 snaps, in the box for nine snaps and as a slot corner for three snaps.
Will Boler, UAB
Boler was targeted twice in coverage against Alabama State and picked off one pass while forcing an incompletion on the other. He is a versatile chess piece and lined up as a free safety for 43 snaps, slot corner for 15 snaps, in the box for seven snaps and even had one snap as a defensive lineman. 
Kyle Hamilton, Notre Dame
Hamilton is the lone freshman representative on this list and had a standout performance in primetime against Louisville. He was targeted twice in coverage and forced an incompletion on both pass attempts, while also racking up two defensive stops. Hamilton is another versatile weapon that lines up in multiple positions — 18 snaps at free safety, five in the slot, and three in the box.