The wide receivers across the nation are widely thought of as potentially the deepest group in recent memory, not only from a 2020 NFL Draft angle but also in terms of depth even at underclassmen and some true freshman making waves.
We count down the top-10 highest-graded wide receivers from the first week of action in college football.

Rico Bussey Jr., North Texas
Bussey made two highlight-reel catches in North Texas' season-opening victory, including a ridiculous contested-catch between two defenders in the end zone. In total, he finished with four receptions for 156 yards and forced four additional missed tackles after the catch in a strong debut.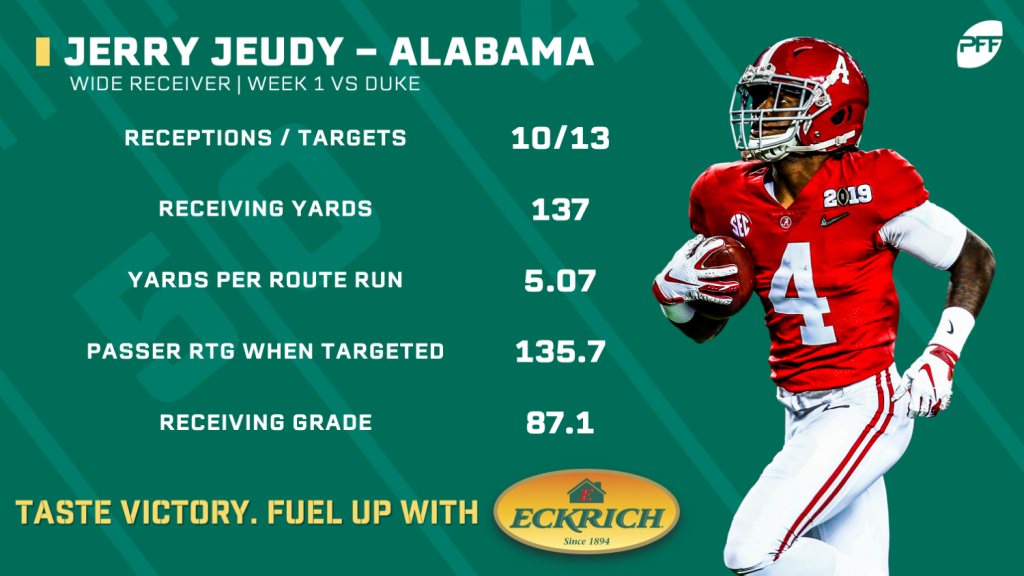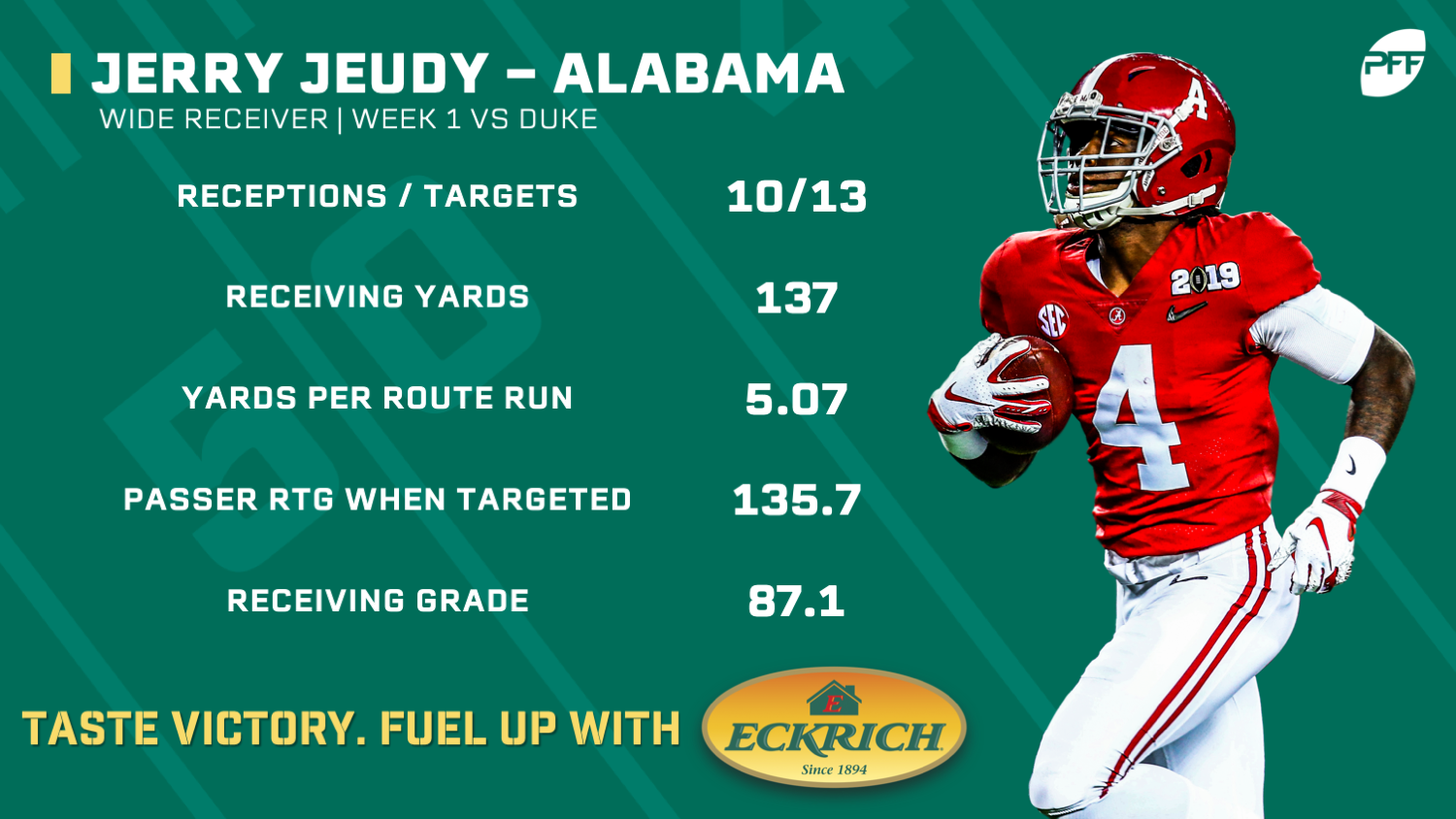 Jerry Jeudy, Alabama
Jeudy was featured heavily in the Alabama offense against Duke, matching his career-high in targets (13) and setting a new career-high in receptions (10). He tallied 137 yards through the air at a clip of 5.07 yards per route run, terrific figures for an offense with four viable No. 1 receivers.
Daylon Charlot, Kansas
Racking up 79 yards on his six receptions, Charlot showcased what once made him a member of the Alabama Crimson Tide. He made two pivotal receptions on Kansas' go-ahead drive, including the game-winner where he high pointed the ball perfectly on a go route into the end zone. Charlot's emergence may go a long way at developing great chemistry with Carter Stanley at quarterback.
Dylan Drummond, Eastern Michigan
In a highlight-reel moment, Drummond scored his first of two touchdowns on a scramble drill where he found the sweet spot in the end zone and dragged his feet perfectly on a well-thrown pass from QB Mike Glass. He finished the afternoon with five receptions for 52 yards and two scores.
Rashod Bateman, Minnesota
In the early nomination for Catch of the Week, Bateman snagged a one-handed reception on a full sprint in the end zone, tipping it to himself to secure it before sliding out of bounds. He has long since been a great complement to Tyler Johnson, but his Week 1 performance puts him in line to be considered WR1B in the Minnesota offense.
Jaylen Waddle, Alabama
A big play waiting to happen, Waddle is just as good a downfield blocker as he is a receiver, paving the way for Jeudy on his spin-o-rama touchdown against Duke. Still, Waddle secured five-of-six targets for 90 yards that included 67 after the catch, mirroring what we saw from him a season ago.
Kaylon Geiger, Troy
Geiger made some big plays to move the chains for the Trojans in Week 1, finishing the game by hauling in all five of his targeted passes for 104 yards. Of those five receptions, four went for first downs and he churned out an average of 10.4 yards after the catch per reception.
Aaron Fuller, Washington
If Bateman's one-handed catch was the early nomination, Fuller's true one-handed toe-tapping reception easily became the favorite for not only Catch of the Week but the early clubhouse leader for Catch of the Year. All told, Fuller's ending line read as five receptions for 73 yards and two scores with the other three receptions securing first downs. He's a legitimate WR1 for new QB1 Jacob Eason for Washington.
Dezmon Patmon, Washington State
With positive play after positive play, Patmon saw nine targets and brought down seven receptions for 103 yards. He secured a touchdown and some other key first downs in the game, and he also broke three tackles after the catch to round out an all-around solid performance.
Bo Melton, Rutgers
The Scarlet Knights unleashed a new gadget player to work within their offense, as Melton turned six targets into six catches, 127 yards and five receiving conversions. He averaged a ridiculous 21.2 yards per catch and saw a perfect passer rating of 158.3 on those targets.