• Bet Chiefs TE Travis Kelce o6.5 receptions (+105): PFF's player props tool shows over 10% value at 6.5 receptions offered at a plus price.
• Bet Chiefs-Bucs o46.5 total points: Chiefs and Bucs offenses sit first and sixth, respectively, in PFF's opponent-adjusted grades and have their full complement of weapons.
• New users who bet $10 or more at BetMGM will receive a free year's subscription to PFF+ — a $79.99 value.
Estimated reading time: 4 mins
---
• Our prime-time previews pull all the key modeling numbers and simulated outcomes from PFF's betting tools, including PFF NFL Greenline and the player props tool, which use top-down machine learning models backed by PFF's exclusive data to derive value when compared to the betting market.
• Let's dive into the Super Bowl LV rematch in Week 4 on SNF between the Kansas City Chiefs and Tampa Bay Buccaneers.
GAME LINES
· Tampa Bay's injury situation has improved dramatically: The Buccaneers were among the league-leaders in WAR lost to injury among non-quarterbacks. Mike Evans returns from suspension, and they get the rest of their questionable wide receivers back as well, with Breshad Perriman the only key contributor missing in Week 4. Donovan Smith's return solidifies the left side of the offensive line, which has kept Tom Brady free from pressure at the highest-rate in the NFL, thanks to a quick-passing game that averages the quickest time to throw.
· Improvements at key positions should lift up Buccaneers offense: The unit has an EPA of -.25 and a success rate of 33.9% the past two weeks. The first question, is it enough to justify the swing in the spread from a high of Buccaneers +2.5 to them now being favored at a high of -1.5? From PFF Greenline's perspective it's definitely a yes, with the Buccaneers showing 1.9% value at -110 odds at -1. 
· Has the total adjusted enough?: With the outlook increasingly positive for the Buccaneers offensive injuries, and weather concerns that drove down the opening number not materializing. everything points in one direction — a primetime game earmarked to actually go over its total. These two offenses sit  first and sixth in PFF's opponent-adjusted grades and should have their full complement of weapons available for this matchup. 
· PFF Greenline shows 1.5% value on over 46.5: And the PFF play-by-play simulation offers a similar outlook for this game cruising over its total. Scoring and QB play both are down from prior season league-wide averages, but if two of the very best offenses and quarterbacks can't put up 47 points in ideal conditions, there's most likely a greater league-wide adjustment needed to betting models. I'm willing to back overs one more time in this spot before declaring defeat on the season.
Bet: Buccaneers -1, o46.5 ( -110 (
BetMGM
)
---
PLAYER PROPS
· Mispriced number based on the current injury situation: Gage ran a route on 67% of dropbacks in Week 2, before hitting 80% last week, but where he actually fits into the pecking order is anyone's guess. Scotty Miller ran a higher percentage of routes than Gage in Week 3, and this looks like a logjam of wide WR3s behind Chris Godwin and Mike Evans. WIth the top two active and in Godwin's case not on a pitch count, it's difficult at best to project who gets the most run. Even if Gage is the preferred third receiver, he might not get enough target share in a game the Buccaneers are playing from ahead. At a plus price, this is simply too far off PFF's projections for how involved he will be in this matchup. 
 Bet Travis Kelce o6.5 Receptions (+105 BetMGM)
· Kelce continues to be the focal point in the Chiefs' passing offense: He's run a route on 89% of total dropbacks the past two weeks. Kelce has been targeted on 25% of his routes, so if the Chiefs are playing from behind, 10+ targets are ticketed for him  in this matchup.
· PFF's player props tool shows over 10% value at 6.5 receptions offered at a plus price: And PFF's play-by-play simulation also buys into this narrative and makes an additional case  case for a Travis Kelce centric same-game parlay as well.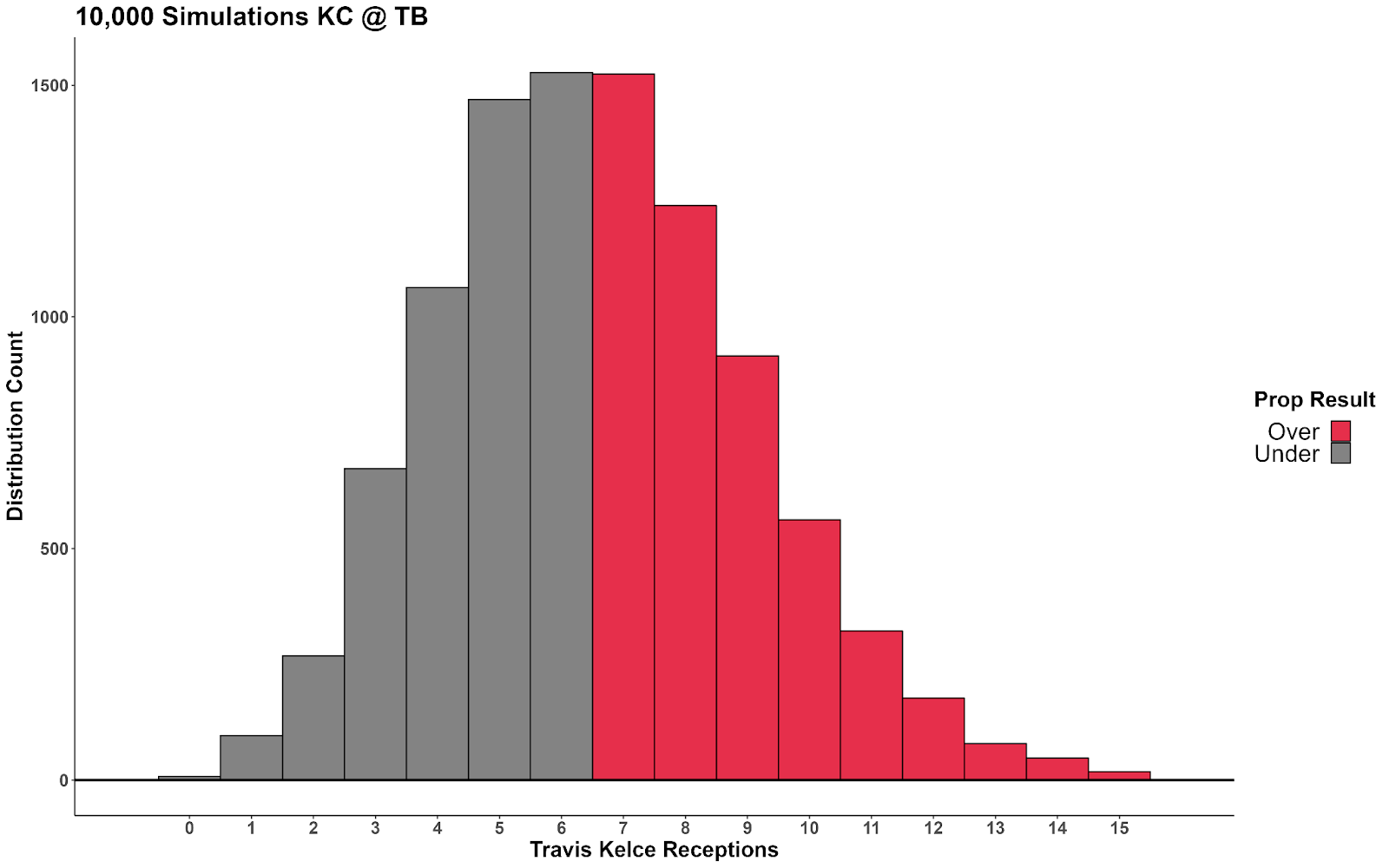 ---
DERIVATIVE BETS & SAME-GAME PARLAY 
· Three legs that appear to be correlated to one another: Over 46.5 game total, Travis Kelce Anytime TD and Kelce over 6.5 receptions. The first two are directly related, but also point to an expected game script that is favorable to all three.
· Tampa Bay's relied heavily on its defense through the first three weeks of the season: But the Bucs need to unlock their offense to once again be legitimate title contenders. Early success against a Chiefs defense that has largely exceeded expectations will push this game toward a track meet. In that environment the focal point of the Chiefs passing offense will see a higher degree of targets and in turn positively push us toward all three outcomes. 
· Our +440 SGP build implies a likelihood of 18.5% for these three outcomes all to happen: PFF's play-by-play simulation seeing this trifecta hit in slightly over 20%. It's enough to make it my preferred same-game parlay approach to a primetime game that should finally live up to the hype.  
SGP Build (+440 Caesars)
· Over 46.5
· Travis Kelce Anytime TD
· Travis Kelce Over 6.5 Receptions
---
· Ben went 2-2 in his Week 4 TNF preview, bringing his overall season record to 18-27 (-5.36 units).
· PFF's newest tool is a play-by-play simulation that uses a bottoms-up prediction approach backed once again on PFF data and state-of-the-art machine learning models.