• Laiatu Latu was unblockable against Coastal Carolina: The Bruins' senior pass rusher earned a 94.7 pass-rush grade in Week 1 with 10 total pressures.
• How Latu wins: Latu is more than just a good athlete. He wins with not just size but NFL caliber pass rush moves.
• Climbing the big board: Latu could be one of the early risers on the 2024 big board and has a chance to be the top edge rusher in the 2024 NFL Draft.
Estimated reading time: 5 minutes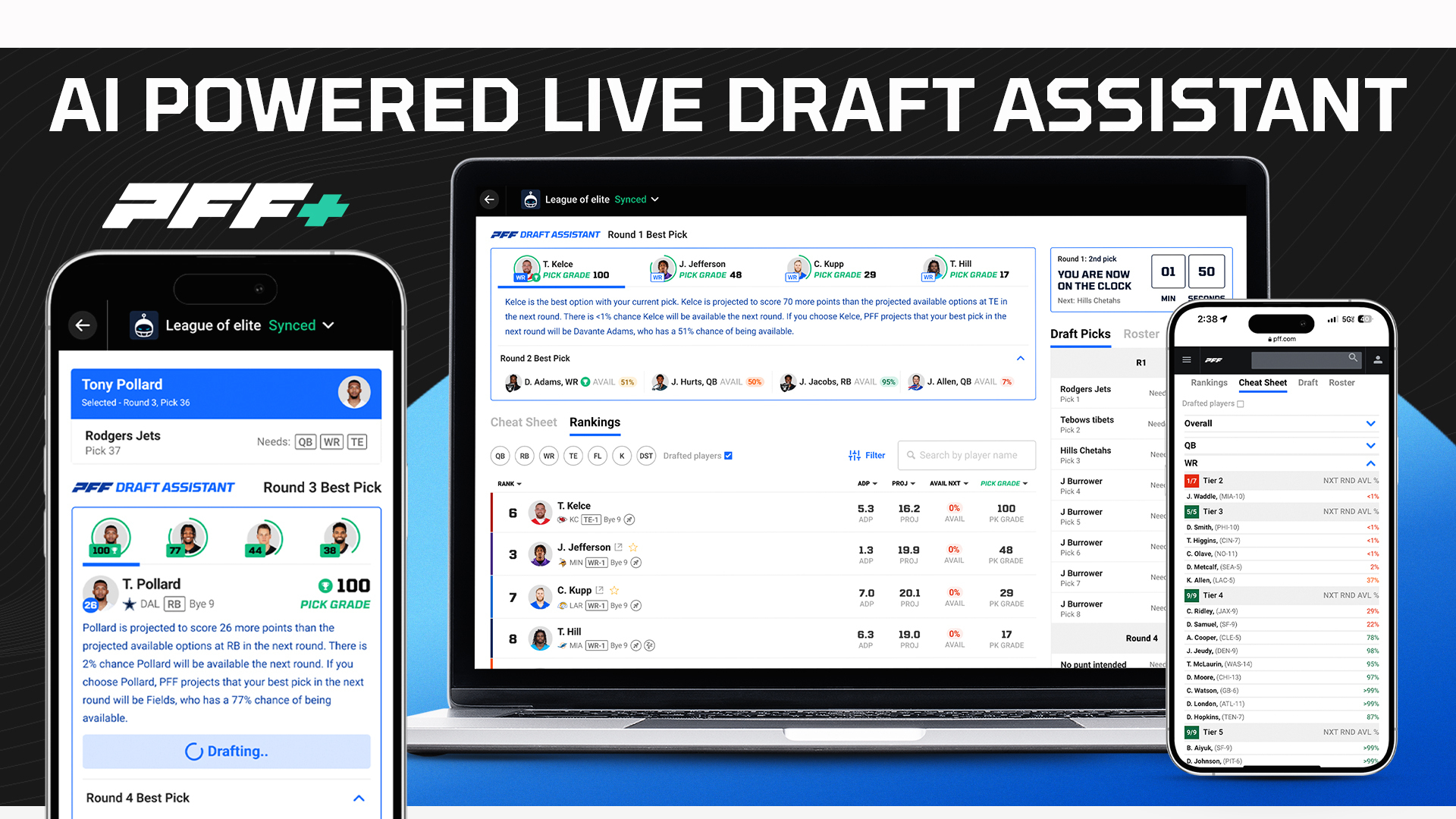 ---
Good edge rushers consistently flood the first rounds of the NFL draft. When a player is a dominant pass-rusher in college, whether it's due to athletic ability or savviness, they are coveted – sometimes as high as No. 1 overall depending on the class. 
The 2024 edge rush group is already shaping up to be special, and one of the players who raises that position's ceiling is UCLA edge rusher Laiatu Latu.
UCLA's Laiatu Latu (#15) was unblockable against Coastal. pic.twitter.com/QuY1EAxR2e

— Austin Gayle (@austingayle_) September 4, 2023
Latu's season opener against Coastal Carolina was incredible. On 28 pass rush reps, he earned a 94.7 pass-rush grade with 10 total pressures, a 35.7% pass-rush win rate and three sacks. Those sack and pressure numbers ranked first in the FBS from Week 1. 
Latu stands a shade under 6-foot-5 and around 260 pounds, which would put him around the 70th percentile in height and 40th percentile in weight for edge rushers in the NFL, so he checks the size boxes. That is evidenced by how UCLA deployed him in 2022, as he played 363 snaps as an on-ball outside linebacker, 100 snaps as a defensive end and even 29 snaps as a defensive tackle. Size and power are not an issue for him.
Latu was a former four-star recruit who started his career at Washington. He played in 12 games as a true freshman, but going into his sophomore season, he suffered a neck injury that almost ended his career. He missed all of that season and after the year, team doctors determined his neck did not heal well enough to clear him to play. He medically retired but stayed at Washington for the fall semester before entering the transfer portal, ultimately landing at UCLA, where he was cleared to play.
This past season was his first back and healthy, and he recorded 12 sacks, 64 total pressures and a 20.0% pass rush win percentage while earning a 91.0 pass rush grade. Beyond just the impressive stats and data points, the way Latu wins as a pass rusher was so impressive last season and looked to be just as good in 2023.
UCLA's Laiatu Latu with his first sack of the season using those heavy hands to shock the RT and beat him with a rip.

Latu is one of the top pass rushers in the 2024 NFL Draft class. pic.twitter.com/wcmuURw7F7

— Seven Rounds in Heaven (@7RoundsInHeaven) September 3, 2023
Latu wins as a pass rush in so many ways. The first rep in the first clip (courtesy of former PFF legend Austin Gayle), Latu was set up in a wide-nine alignment further away from the trench, creating a more emphasized one-on-one between him and the offensive tackle and a more linear path to the quarterback. In that clip, we saw the speed and precision of Latu's hand usage, blowing straight by the left tackle because Latu didn't even let him get his hands on him. 
In the second clip, Latu was lined up in a wide-nine alignment again. At contact, Latu hit his man with a long arm to get him on his heels before smoothly transitioning into a rip move to get beyond the outside shoulder straight into the quarterback.
Latu already has such a good understanding of the position. When you're looking at how well an edge rusher will translate to the next level, how quickly they win is a great indicator. Pass-rush win percentage and pass-rush productivity are metrics that do a good job of contextualizing that. In order to score high, pass-rushers have to win with both athleticism and technique. Latu's 20.0% pass rush win percentage ranked in the 93rd percentile in the FBS in 2022, as he showcased top-tier talent in both categories.
Pass-rush grade is also a pretty stable grade when projection pass-rushers to the next level. After sorting Latu's 2022 pass-rush reps versus true pass-blocking sets (takes out play-action, screens and designed rollouts while also isolating plays in which there are at least four pass-rushers and at least 2.1 seconds in the pocket) his 91.8 pass-rush grade ranked in the 98th percentile. It all just looks so smooth for Latu, much smoother than it usually does for college players.
Right now, Latu is the No. 2 edge rusher on PFF's big board — behind only Florida State's Jared Verse. However, despite not being in that top spot, Latu was still top 15 overall, coming in at No. 13.
Looking ahead through UCLA's schedule, Latu has the chance to go up against Arizona's left tackle Jordan Morgan when they face off in November and then could get to go up against Washington's left tackle Troy Fautanu in the Pac-12 Championship Game. How he fares against those two could be what vaults him into the top edge rush position come draft time.