• Bet Commanders QB Carson Wentz o1.5 pass TDs at Bears (+164): Look for a few chunk plays from the Washington pass game.
• Bet Commanders RB Brian Robinson u12.5 carries (-111): Although the rookie handled 62.5% of team rush share in his debut, game script might not work in his favor.
• New users who bet $10 or more at BetMGM will receive a free year's subscription to PFF+ — a $79.99 value.
Last updated: Thurs. Oct. 13, 3:20 p.m.
Estimated reading time: 4 mins
---
• Our prime-time previews pull all the key modeling numbers and simulated outcomes from PFF's betting tools, including PFF NFL Greenline and the player props tool, which use top-down machine learning models backed by PFF's exclusive data to derive value when compared to the betting market.
• Despite a lack of actual intrigue, this Thursday night matchup offers plenty from the betting side, setting up to be a thrilling Week 6 matchup between the Washington Commanders and Chicago Bears.
GAME LINES
• The market has been locked into a small range since the spread was first released: In the preseason, this was set with Washington as a 1.5-point favorite. Flip-flopping between 1s, we are looking to close out essentially where we started. 
• PFF Greenline shows a little value on the Commanders -1: Despite the majority of cash and tickets coming in on Chicago.  
• The key is the Bears run defense, which is the third -worst unit in the NFL based on PFF run defense grade:They've had the fifth-worst average depth of tackle so far this season, so if the Bears can't force Carson Wentz to beat them they won't generate enough offensively in what could be dicey weather conditions to keep pace. But if they can get into some obvious passing-down situations, the coverage matchup might actually lean slightly in the Bears' favor. 
• Thin in their pass-catching corps without Jahan Dotson and Logan Thomas, Commanders again relying heavily on Terry McLaurin: Chicago adds an injury benefit with the  return of Jaylon Johnson returning Thursday night. Although he didn't play shadow coverage the first two weeks of the season, Johnson definitely has tracked opposing No. 1 receivers at stretches during his young NFL career. 
• On the snaps Johnson lines up against McLaurin: Washington is going to have difficulty completing many passes in that direction. It's enough of a counter for me in this matchup to lay off the Commanders and look for better opportunities in the player prop market. 
Picks: No Bet
---
PLAYER PROPS
Player props continue to grab a bigger share of bettors attention and are one of the easiest transitions into sports betting through player props, as fantasy applications are helpful for evaluating betting opportunities. 
Props are priced for a player's median stat projection in a simple, over-or-under, two-sided market. For historical context, unders are by far the most profitable angle to bet and could have been blindly bet toward the under on passing, rushing and receiving yardage props and been profitable. 
2022 started off somewhat as expected, with rushing yards and receptions finishing heavily toward the under. Somewhat surprisingly, pass attempts continue to see a positive ROI for overs. Team's seem to be shifting their run/pass splits, resulting in higher attempts but also more negative outcomes because of the higher volume. There is also a macro trend related to average depth of target, with quarterback's not pushing the ball downfield like we have seen in years past. This has led to fewer big-time throws and also fewer touchdowns, which has caused Unders to be the correct spot to target in the game market.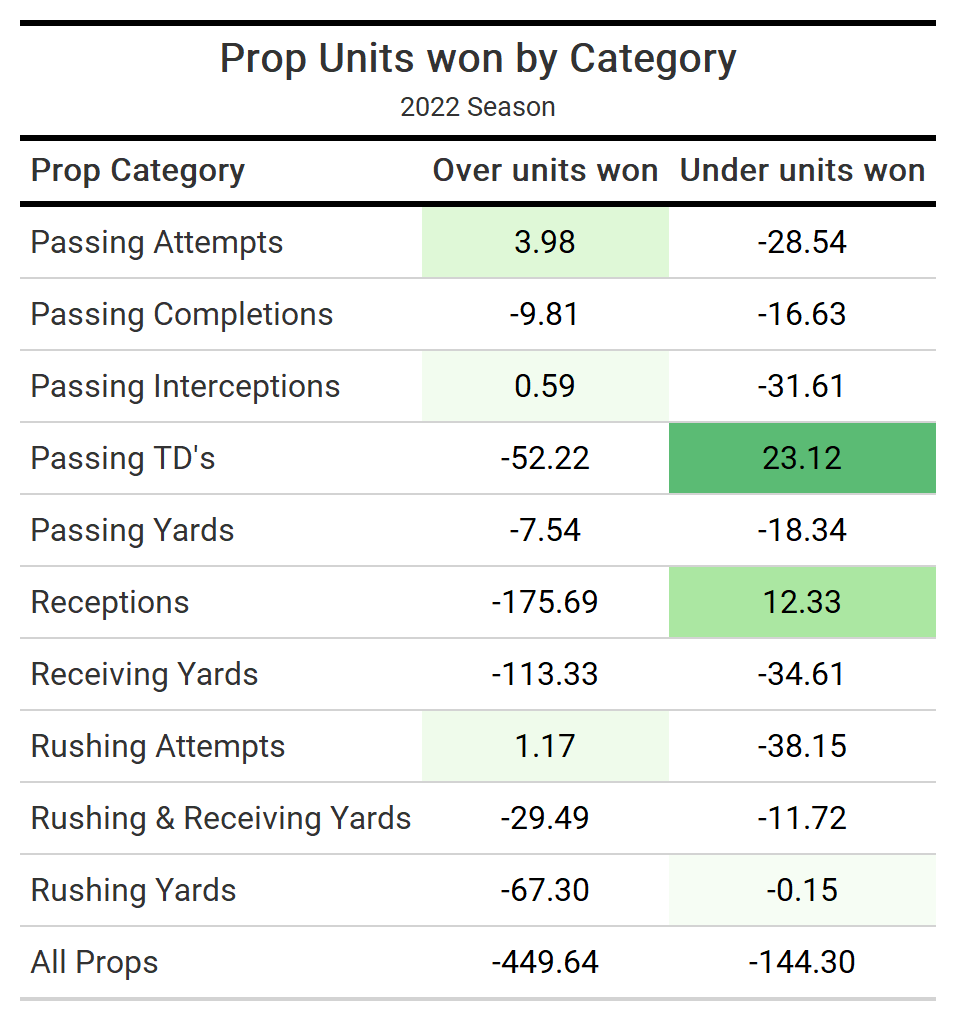 One way to consistently find defined edges without blindly betting unders is by utilizing PFF's player props tool. The ability to adjust both number and price means you are always certain of the expected value for each prop bet. Let's dive into the best player props to bet for the NFL Thursday night kickoff game. 
Bet: Commanders RB Brian Robinson Jr. u12.5 Carries (-111 Caesars)
• We love a feel-good story as much as the next person: But this is a wild number on TNF on Robinson Jr. In his first game back after missing the start of the season recovering from multiple gunshot wounds, the rookie played on 27.3% of offensive plays — a smaller percentage than Antonio Gibson last week. 
• Robinson did dominate the team rush attempts last week at 62.5%: But the only way that continues is if Washington jumps out to a wide-lead early and the coach-speak coming from Ron Rivera proves to be 100% accurate. Knowing better than to trust a midweek coaching press conference and understanding how far this number's moved toward the over, this looks like the perfect opportunity to sell on Thursday night.
• Chicago should be keyed in on the run: And knowing offensive personnel based on the situation from last week, if Robinson is in the game it turns Washington even more one-dimensional and allows Chicago to load the box. If one or two of these early plays goes for a negative EPA, Robinson will finish well short of this number, and we will see a heavy dose of J.D. McKissic.
Bet: Carson Wentz o1.5 Passing TDs (+164 FanDuel)
• Everyone is pointing toward a dominating ground performance from Washington: But this seems to be a situation for which Chicago has to be ready. If the Bears are content loading the box and forcing Carson Wentz to beat them with his arm, we could see a few chunk plays break out against the Bears secondary. 
• This number moved too much on weather concerns: But it's just as likely a long screen breaks out against a Bears defense than a big running play. If Washington is the correct side to bet, an even better option looks like Wentz to go over 1.5 passing touchdowns. It's the only situation that makes sense at the price and could come through whether the Commanders jump out to an early lead or are putting together a frantic rally late. 
---
DERIVATIVE BETS & SAME-GAME PARLAY 
• The intriguing part about both player props above is they fit into a certain game script that sees Washington forced to throw the football more than expected: On the surface they are very much correlated outcomes, but both have the added benefit of being able to hit even if the game script doesn't play exactly as expected.
• This is still a crowded backfield situation for Brian Robinson Jr.: And his lack of passing-down snaps means McKissic is still very much involved in this offense — especially given the injury situation at the pass-catching positions. One short aDot play breaking through against a porous defense shouldn't come as a surprise, and if it does, we will be well on our way to cashing both player props. Since the same-game parlay is an option as well, it seems like a worthwhile opportunity to double down on. 
SGP build (+390 Caesars)
• Carson Wentz o1.5 Passing TDs
• Brian Robinson Jr. u12.5 Carries