The NFL isn't the only betting option for Thanksgiving, as college football has two games kicking off on Thursday along with a jam-packed Friday slate to get the long weekend started right. We have 54 games still scheduled to play, with 23 of our top 25 teams in action.
The Iron Bowl is the showcase game, but there are four other matchups between teams within our top 25. Better yet, there are a number of worthwhile betting opportunities timed perfectly across three full days of college football action.
First, let's understand the slate-level uncertainty by utilizing a measure called Shannon Entropy (information theory). This theory quantifies information occurring in an event and a variable — entropy — calculated using probability. By taking this approach, we can quantify how predictable a certain game or slate of games is by taking the probability assigned by the betting markets through moneyline probabilities.
Week 13 has dropped significantly in uncertainty, with moneyline pricing way up in uneven matchups. It sits in between the median and first quartile for uncertainty in a given week dating back to 2014. There are a couple of close games, but 43 matchups have a moneyline favorite at -200 or better.
Last week's writeup dropped one written play due to Covid, and UCF-Cincinnati started too quickly to see the under hold. My written plays ended at 1-1, continuing to tread water during this uncertain season.
We now sit at 60-62-1 on written full-game plays over the past two college football seasons.  Let's take a close look at some of my favorite bets to make from a PFF Greenline perspective for this Week 13 slate of games.
The ACC puts forth a top-25 matchup between our fourth-ranked Fighting Irish and 16th-ranked Tar Heels. The spread movement has pushed heavily toward North Carolina, and after opening at +7.5, we have moved through 7 down to +5.
This year, 4.3% of NCAA games have landed on +7, with the total line movement in this matchup crossing 6.3% probability. This movement has occurred despite the cash and ticket percentages being heavily skewed toward Notre Dame, indicating that the line movement was a general correction and not necessarily spurred on by the betting public.
Notre Dame has the fourth-best defense in the country in terms of our opponent-adjusted grades. This is mainly due to their coverage unit, which ranks ninth using the same metric. The key differentiator between these two teams is the quality of defensive play, as North Carolina is the 90th-ranked defensive unit. So, the effectiveness of Ian Book and the Irish passing attack will likely determine the outcome of this one.
The line movement gives a good indication of the Tar Heels' quality, as Notre Dame is the most "public" team in college football. North Carolina has generated more expected points added (EPA) per pass attempt, with Sam Howell posting a much better passing grade than Book.
North Carolina offers the opportunity to take five points while getting the better offense and quarterback. This allows us to fade the noise of defensive performance, with the Tar Heels the right betting side in this matchup.
PICK: NORTH CAROLINA +5
It is tough to find two teams that have had a more disappointing start to the 2020 college football season than Penn State and Michigan. They are a combined 1-9 against the spread, but Michigan could be heading in a better direction after their most recent come-from-behind performance. This, of course, was led by Cade McNamara, with early indications pointing to him getting the start over Joe Milton this weekend.
Michigan has already generated more EPA per pass attempt, with McNamara capable of improving the Wolverines' production through the air.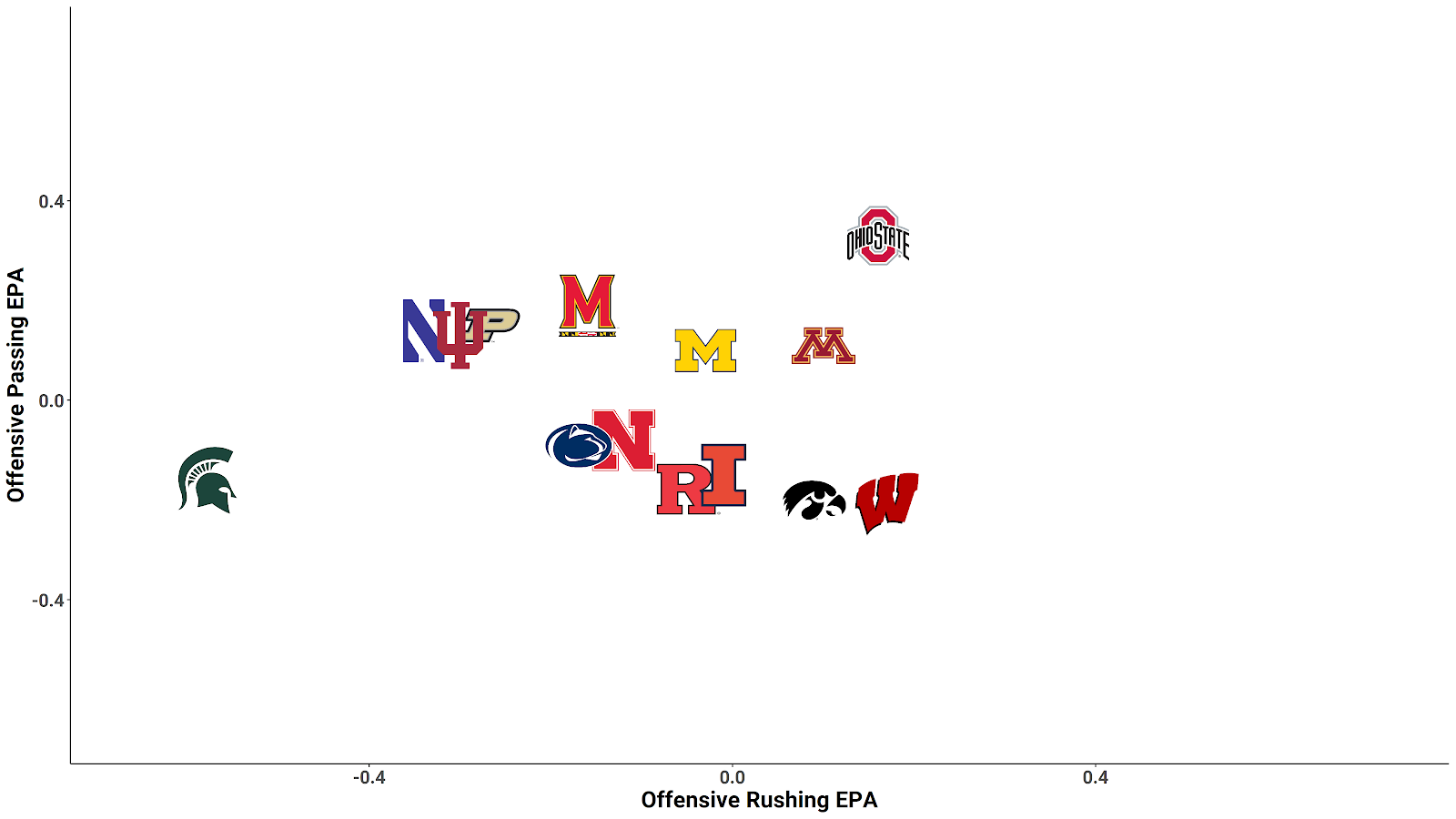 Both defenses have been poor, but Michigan has a slightly better ranking in our opponent-adjusted defensive grades.
This isn't so much a play on Michigan as it is a full-on fade of Penn State. The Nittany Lions have the 80th-ranked opponent-adjusted passing grade, and QB Sean Clifford has been an absolute disaster to start the season, with twice as many turnover-worthy plays as big-time throws. Clifford also leads the Big Ten in sacks taken — by a wide margin, I might add — with the Nittany Lions' sack plays accounting for -58.8 EPA.
The lone bright spot for the Wolverines has been their pass rush, which ranks 21st in the FBS and has applied pressure on 29.2% of dropbacks. If it weren't for preseason priors, this line would be way beyond a field-goal spread, making it the perfect opportunity to target on Saturday.
PICK: MICHIGAN -2
Two middle-of-the-pack teams face off from Conference USA,  but the better team is getting 3.5 points on the road. The spread has slowly moved in their direction after an opening print of +5, with 86% of the cash and 82% of the tickets on North Texas.
The Mean Green fields the much better offense in this matchup, having maintained a positive EPA figure on both pass and rush attempts. UTSA hasn't averaged a positive EPA in either category this season.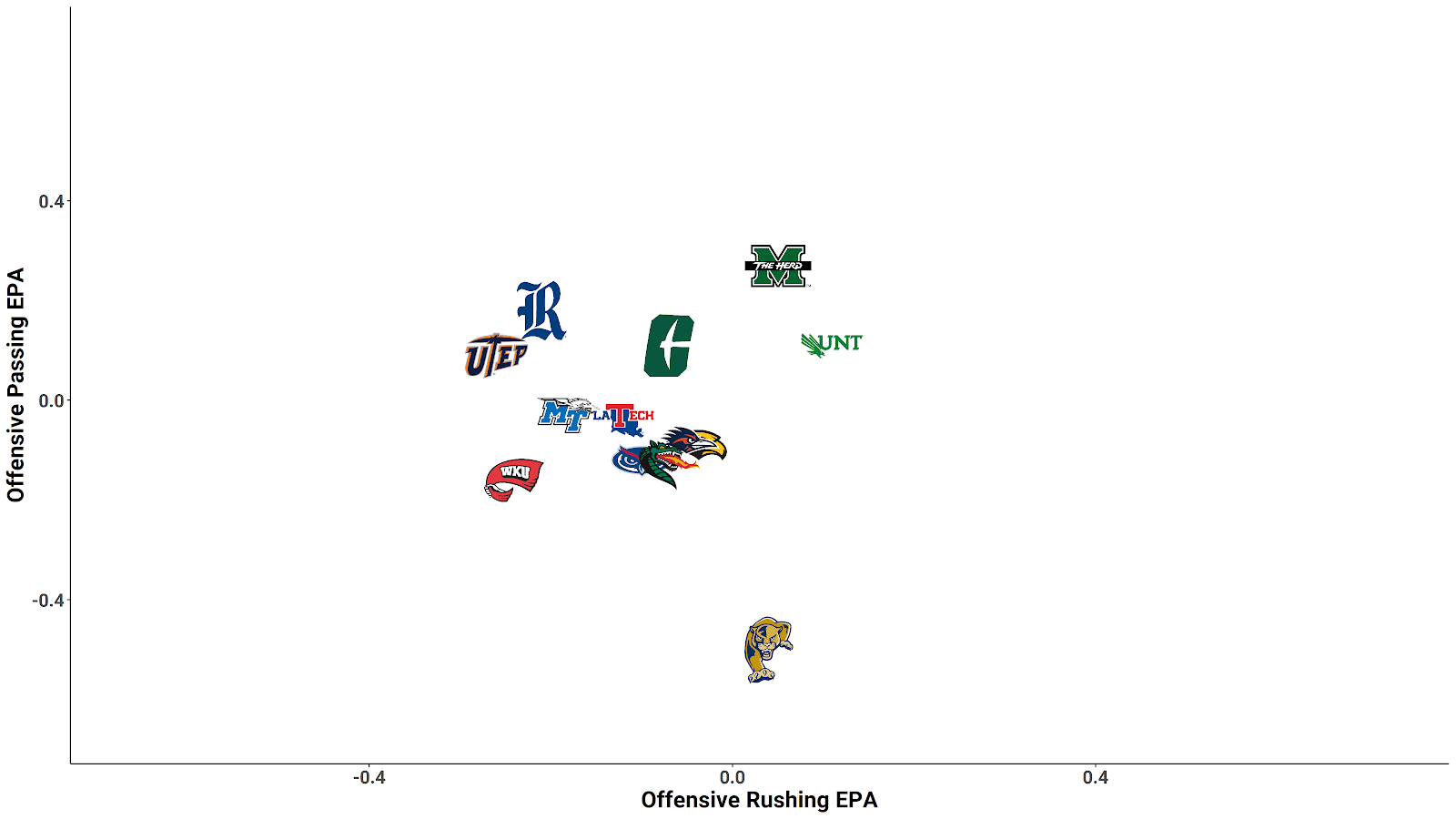 The betting market seems perplexed in its ability to handicap the Mean Green, who played their first game in over a month last week. The time off is one difficulty, but North Texas also utilizes a two-quarterback approach with Jason Bean and Austin Aune splitting reps.
Bean led the way in their most recent matchup, and while he has a slightly worse passing grade than Aune, he is much more dangerous with his legs. This plays into the strength of the Mean Green offense, as their rushing unit is 24th in the country in opponent-adjusted grade.
This is another situation where we are getting points with the better overall offense and quarterback. In a projected shootout, locking in the side that is much better at scoring points is a requirement. North Texas is tough to gauge, but this has provided us with an opportunity at one of the best bets on the board.
PICK: NORTH TEXAS +3.5