As a part of our partnership with ESPN, this is a part of a story that was originally published on ESPN+ and can be viewed in its entirety here with your ESPN+ subscription — Aidan Hutchinson vs. Kayvon Thibodeaux for top pick in 2022 NFL draft: Pros, cons and comps for both pass-rushers
We haven't had many debates in recent years about who will be the No. 1 overall pick in the NFL draft.
Trevor Lawrence (2021) and Joe Burrow (2020) were no-brainers at the top of the draft, while the only argument in 2019 was whether the Cardinals would be willing to give up on Josh Rosen after one season in favor of Kyler Murray. But even then, there was no question who would go No. 1 overall.
Not only will that change in 2022, but April's draft probably will mark the first time since 2017 that a quarterback isn't the top pick. The debate that will rage from now until draft day comes over which defensive end has the ability more worthy of the No. 1 position: Michigan's Aidan Hutchinson or Oregon's Kayvon Thibodeaux?
Click here for more PFF tools:
Rankings & Projections | WR/CB Matchup Chart | NFL & NCAA Betting Dashboards | NFL Player Props Tool | NFL & NCAA Power Rankings
Best Bets Tool
The answer isn't as simple as this guy or that guy. Rather, the debate is more of a philosophical one: Should a team draft the more polished player, the one who can impact games right away? Or should a team go with the more raw prospect, the one who has what's believed to be the higher ceiling? That's a decision the Jacksonville Jaguars or Detroit Lions — the favorites for the No. 1 pick — will have to make at the top of the draft.
Hutchinson ranks No. 1 on PFF's draft board for now, but there's a long way until the draft on April 26. Let's get into the pros and cons for each edge rusher, along with player comps for each.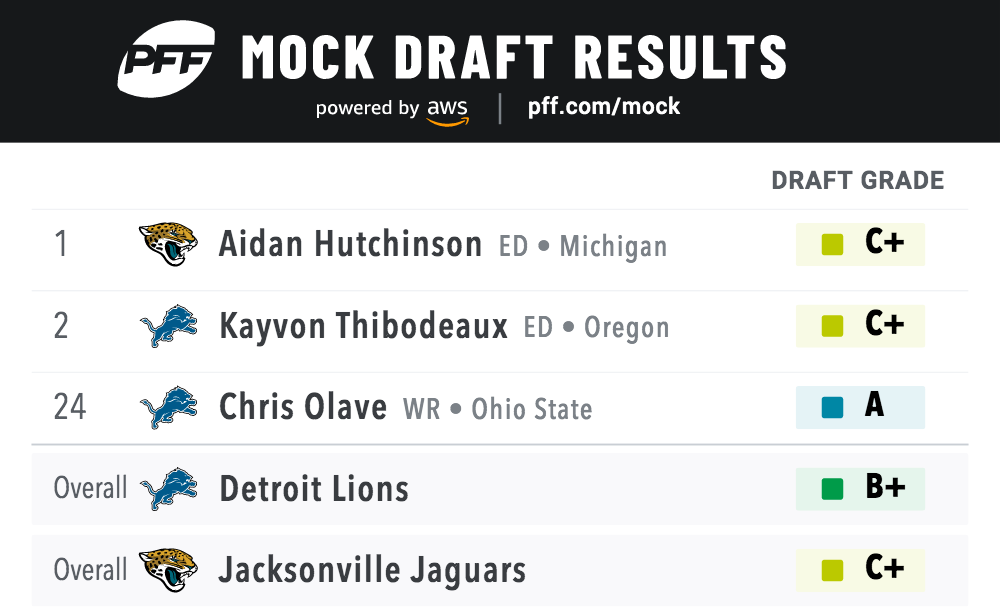 The pros for both pass-rushers
Hutchinson, the PFF College Defensive Player of the Year, has several positives. At 6-foot-6, 265 pounds, he has an ideal blend of size, agility, power and technique. His 73 quarterback pressures led all Power 5 defenders, while his 25 stops against the run ranked eighth among the same group.
While all the physical attributes are there, the ability he has shown as the leader of Michigan's defense is what makes Hutchinson the special kind of prospect worthy of the No. 1 pick.
The Wolverines' coaching staff raves about Hutchinson's intangibles; his work ethic coming back from a broken leg in 2020 to take the Michigan program over the hump has become the stuff of legend. With him checking all the on-field and off-field boxes, it's difficult to see how he'd become a bust at the next level.
But that can also be said about Thibodeaux, as the Oregon star's future plans don't just include football accolades. In fact, he wants to open his own school one day and be a force for change. He is a prospect with special physical tools and a special human being. Thibodeaux has the kind of get-off at the line of scrimmage that is almost unheard of for a 6-5, nearly 260-pound defensive end. Just ask California left tackle Will Craig, who is barely out of his stance in the clip below as Thibodeaux sacks the quarterback.
Kayvon Thibodeaux dominated last night

25 snaps rushing – PFF has him with some form of pressure (sack/hit/hurry) on *11* of those pic.twitter.com/M6xkgBbFaf

— Connor Rogers (@ConnorJRogers) October 16, 2021
Prospects with this kind of size and explosiveness don't need much in the way of pass-rushing moves to be an impact player, even at the NFL level. In fact, Thibodeaux earned a 91.5 pass-rushing grade this season without many pass-rushing moves to speak of whatsoever. If Thibodeaux can refine his bull rush and a counter off it, he can start racking up sacks from his first day in the NFL. Pairing him early in his career with a quality defensive line coach at the next level will be massive for him.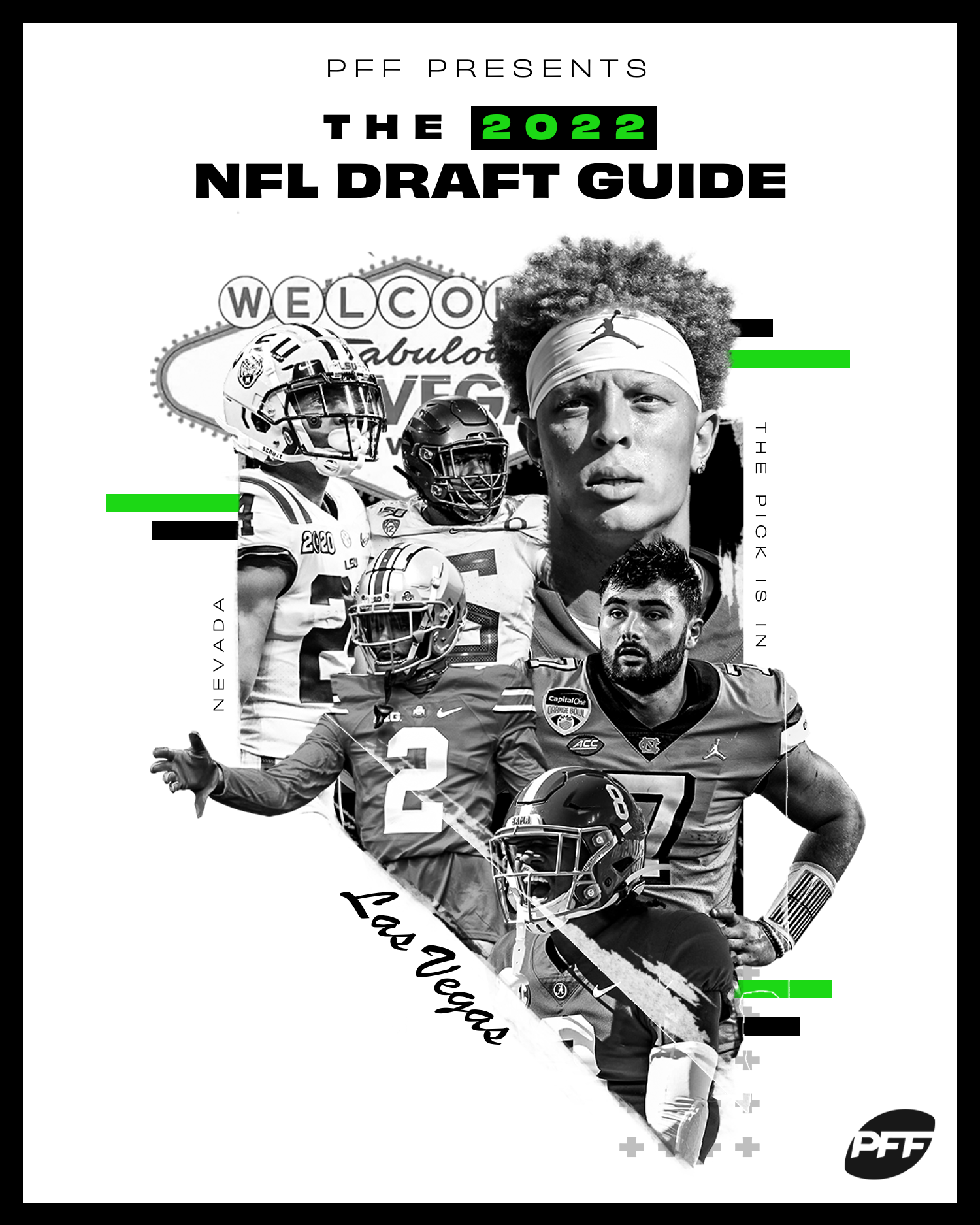 The cons
This is where Hutchinson separates himself, as it's difficult to look through his tape and find much to complain about. That's not too surprising, considering his 94.7 overall grade is the second-highest single-season mark we've ever awarded to a player since we started grading in 2014, behind only Ohio State defensive end Chase Young's 96.0 overall in 2019. Yes, that's higher than the grades of Nick and Joey Bosa, Myles Garrett and Bradley Chubb, who were all considered elite prospects in their time.
However, the biggest difference between the Michigan star and many of the top defensive ends of the past decade is age: The 21-year-old Hutchinson is a senior, and Dion Jordan in 2013 was the last defensive end who went in the top three and wasn't a true junior.
After three years at Michigan, Hutchinson wasn't close to a top-10-caliber prospect and was coming off a nondescript season that ended with a broken leg after just 149 snaps. He definitely qualifies as a bit of a one-year wonder.
We can't say the same for Thibodeaux, a five-star prospect who put up 10 sacks as a freshman All-American in 2019. He has been the focal point for opposing offenses to game-plan for since he stepped onto the field. His biggest negative is that he hasn't fully developed from that player with elite traits who could impact the game via sheer physical advantage.
Thibodeaux's weaknesses are obvious yet also very coachable. He too often still eschews pass-rushing technique for trying to out-athlete opposing tackles. If his initial move doesn't land, he is often stuck doing a whole lot of nothing — it's why you often saw some relatively quiet performances from him during the season. Of his 48 pressures this season, 27 came in three games — against Cal, UCLA and Oregon State.
The NFL comps
Watching Hutchinson play, it's difficult not to hark back to former Chiefs and Vikings defensive end Jared Allen. Allen was 6-6, 265 and had several ways to win: He could beat you to the edge, beat you with power or beat you with his hands. Very much like Hutchinson, Allen made a living collapsing pockets and never being taken out of plays as a pass-rusher.
For Thibodeaux, his get-off presents so many problems for opposing offensive tackles that it's easily the most distinct aspect of his game. Most NFL players with comparable first steps, however, don't have the kind of frame and size as Thibodeaux. And that's why the best comp for what Thibodeaux brings to the table is former Giants defensive end Osi Umenyiora.
Umenyiora came out of Troy weighing 279 pounds and still ran in the 4.6s in the 40-yard dash before trimming down to play around 260. At that size, his ability to get upfield was as good as it got in the NFL. Thibodeaux could easily be a similar kind of sack artist in the league.

The bottom line
With two elite prospects at a high-value position, there's really not a wrong answer here for the Jaguars or Lions at the top of the draft. To chase Thibodeaux's theoretical "upside," though, one has to admit that Hutchinson's "upside" is nothing to sneeze at either.
Hutchinson has every physical tool necessary to be among the elite edge rushers in the NFL. At that point, chasing what one player could be when another already is would be an unnecessary risk with such a premium draft slot at No. 1 overall. Why draft a lottery ticket like Thibodeaux when Hutchinson is like cash in the bank that can still accrue massive interest? The only question left to be answered is whether the Jags or Lions will agree.