Some order was maintained in Week 7 of the AAF, with Orlando, Arizona and San Antonio all winning, and the Apollos and Hotshots doing so convincingly. While Johnny Football's debut was a bit underwhelming, Brandon Silvers emerged to help Memphis pull off a double-digit comeback victory as three-point underdogs against the overrated Birmingham Iron. With Salt Lake faring far worse record-wise than their fundamentals would suggest, and San Diego falling off of late with backup quarterback Mike Bercovici at the helm, this is really a three-team race for the inaugural AAF title, and our championship odds suggest this. 
A lot of what goes into this algorithm is the preseason odds to win the AAF (via MyBookie.ag), but the results of the first six games for each team are weighed in considerably and increasingly dissipate the aforementioned priors. We cannot promise that the inputs today will be the same inputs later in the season, given the nature of having only 28 games to go off of, but we will be transparent about our process as always. Please tweet at @PFF_Eric and @BenjaminBrown22 if you have any questions about this rankings today or moving forward.

We did not print a spread pick last week, although we (wrongly) thought that Aaron Murray, Ken Zampese and the Atlanta Legends would fare better than they did on Twitter. If there is a pick that sufficiently entices us this week, we will print it, as we did in Week 5. Championship futures are available at some shops (they were on MyBookie.ag last week), so we've also accompanied these rankings with our odds, derived from 10,000 simulations using this ranking algorithm and other game-level variables. Without further ado, here are the Week 8 rankings: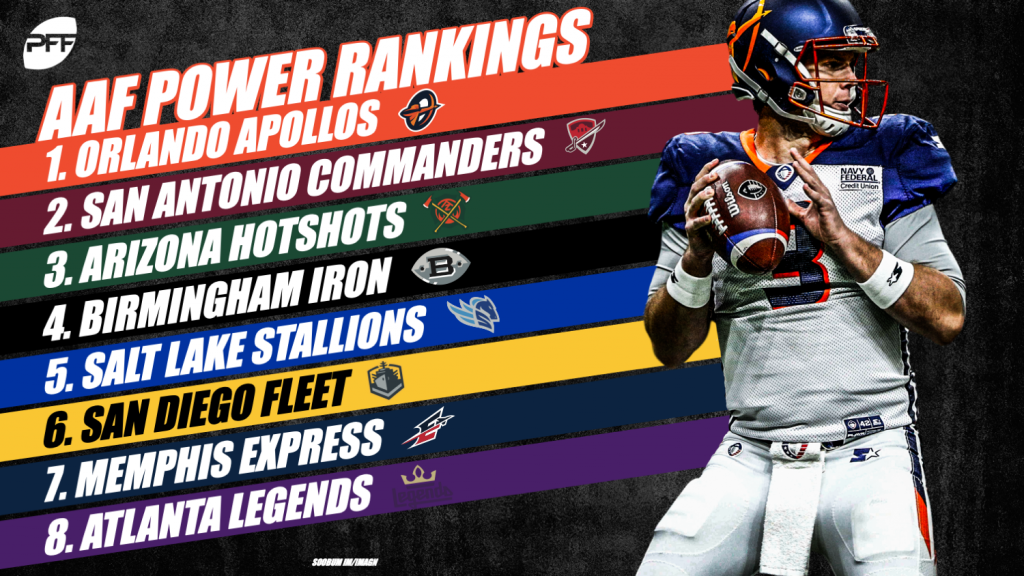 1. Orlando (41.4% to win AAF, +142 odds)
The class of the AAF returned to form on Saturday with a dominating performance over Atlanta. Drawing the bottom dwellers for two straight weeks, the Apollos head to Memphis this Saturday where they should see a healthy dose of Johnny Manziel in a game where Memphis has nothing to play for. Slightly lower than the markets 46.5% implied probability we have Orlando walking away with the inaugural AAF title 41% of the time. The one downfall for the Apollos this year has been their inability to generate pressure on opposing quarterbacks. Currently, they have the worst PFF pass rush grade and generated the second-fewest total pressures among AAF teams. That isn't as significant when you have the two highest graded coverage corners in Keith Reaser and Cody Riggs. Combined they have accounted for 4 INTs with 10 passes broken up while being responsible for exactly 0 TDs.
2. San Antonio (26.5%, +278)
The Commanders have separated into the clear number two behind Orlando in our PFF Power rankings. San Antonio continues to offer value on their AAF championship odds posted at +350 in most books. Despite their high ranking, it hasn't come on the strength of quarterback play as Logan Woodside has split a 7/7 TD to INT ratio while averaging a respectable 7 YPA. Woodside has definitely graded in the second tier of quarterback's among is AAF peers and simply doesn't have the accuracy throwing downfield. 15.6% of his attempts have traveled 20+ yards downfield. But on such throws, he has a 36.7% adjusted completion percentage, second to last in the AAF. The Commanders have been carried by their defensive coverage unit which has the highest PFF grade in the AAF. Derron Smith has balled out in coverage with 3 INTs and 5 passes broken up his 93.8 coverage grade leads all safeties.
3. Arizona (16.2%, +517)
The Hotshots are experiencing a midseason resurgence the past two games, beginning to look like the team many anticipated as the preseason title favorites. The main reason has been the play of John Wolford and pass-blocking that has kept him clean on 66% of his dropbacks. When clean he has looked elite with a 90.2 passing grade, far and away the best in the AAF. San Antonio boasts the highest graded coverage unit in the AAF and will be a significant test to assess where Arizona falls in line in the pecking order behind Orlando. Rashad Ross was quiet last week receiving only 3 targets but he could be in line for a big week in the only plus coverage matchup against San Antonio on Sunday. Arizona could offer some value at anything over 3 point road dogs.
4. Birmingham (11.1%, +798)
A Birmingham squad that is giving Trent Richardson over 15 carries a game resulting in 2.47 yards after contact inexplicably refused to give him the ball in the most opportune of times Sunday. Up 8 with four minutes to go, the Iron threw two incompletions and took a sack running slightly over a minute off the clock before punting back to Memphis. It's one thing to emphasize outlooks on football that aren't valuable long term but to do so then escape from those qualities in the most opportune time to utilize is unreasonable. For a host of reasons, we continue to be lower on the Iron than consensus title markets offering +500. In this week's matchup against another basement dweller of the AAF, we have the Iron as a touchdown favorite before markets are released.
5. Salt Lake (0.9%, +11011)
The Stallions have the third-highest overall PFF grade among AAF teams through seven weeks, and yet as the weeks progress it becomes less and less perplexing as to why they continue to cover but not win games. They false started on a fourth and one in the red zone on their first drive against the division-leading Commanders last Saturday, forcing them to kick a field goal instead of going for a first down. Joel Bouagnon fumbled (again) when they were driving after an interception to end the first quarter, resulting in another field goal. Josh Woodrum was intercepted in the red zone later in the first half, while one of their interceptions was called back because of a roughing the passer penalty.
We could go on. There's always something with Salt Lake. That said, they are probably a good bet this week against San Diego at home, for the reason we've laid out below.
6. San Diego (2.6%, +3776)
The Fleet really miss Philip Nelson, as Mike Bercovici (33.3) is the lowest-graded passer in the entire league through seven weeks. They have been able to keep games close because they are first in PFF pass rushing grades, second in PFF run defense grades, and the highest-rated team in terms of special teams, while often (as they did against Salt Lake) forcing turnovers despite shaky coverage at times. Shakir Soto and Damontre Moore are one of the best up-front duos defensively in the entire league and should get strong consideration for All-Pro honors
7. Memphis (0.4%, +26216)
It was all about Johnny Football Sunday night, except on the field, where Brandon Silvers was brilliant in a comeback effort at home against a Birmingham Iron team that is (undeservingly) thought of as in competition for the inaugural AAF title. Silvers 69.4 completion percentage, 7.4 yards per pass attempt and 73.1 passing grade were all enough to earn a start in week 8 against the Apollos, and will likely need to be a bar he exceeds if they are to keep Saturday afternoon's affair close, even at home. Memphis is the lowest-graded team in the league in terms of overall PFF grade, while Orlando is the highest.
8. Atlanta (0.9%, +10538)
The Aaron Murray regression continued for a second consecutive week, as they could not cover an 8.5-point spread at home against the Apollos. Atlanta has the second-highest-graded pass-blocking offensive line, but Murray has simply turned the ball over too much in recent weeks, with his interception total rising to six and his PFF passing grade dipping below 50, the worst such passing grade on the Legends through seven weeks. His 1/1 touchdown-to-interception ratio from a clean pocket is not going to get the job done, and likely means it's time to move on (again) at the position.