In a league that has lacked clarity in all but one place, the Orlando Apollos, we saw a pretty exciting weekend of play, highlighted by the barnburner in San Diego between the Fleet and the Stallions. As we predicted, the Stallions kept it close, but ultimately San Diego was able to pull it off on a Donny Hageman game-winning field goal, preserving a win after a brilliant, three-interception effort by Kameron Kelly. Atlanta edged Memphis at home on Sunday, partially validating our Week 5 rankings having the former ahead of the latter, while San Antonio crushed a mistake-stricken Arizona team in Tempe in the nightcap, dropping what was the odds-on favorite to secure the first-ever AAF title down two spots in our list.
A lot of what goes into this algorithm is the preseason odds to win the AAF (via MyBookie.ag), but the results of the first five games for each team are weighed in considerably. We cannot promise that the inputs today will be the same inputs later in the season, given the nature of having only 20 games to go off of, but we will be transparent about our process as always.  Please tweet at  @PFF_Eric and @BenjaminBrown22 if you have any questions about this rankings today or moving forward.
Full disclosure: we have adjusted how we weighed initial preseason odds to win the AAF, as they appear to have drastically overweighed the Arizona Hotshots.  

We gave out our first spread pick last week, which Salt Lake was able to cover in a thriller at San Diego. Favorites are 15-5 straight up, and 11-9 against the spread. Unders (even though totals moved down almost two touchdowns from Week 1 to Week 5) are 12-8, but went 0-4 in Week 5, owing to teams like Atlanta and Birmingham beginning to figure out the quarterback position. Road teams have won only eight of the first 20 games, but three of them have been by the league's best team, the Orlando Apollos. As we did with Salt Lake (+5.5), if there are some soft numbers going into Week 6, there will be an article highlighting such opportunities.
Championship futures are available at some shops, so we've also accompanied these rankings with our odds, derived from 10,000 simulations using this ranking algorithm and other game-level variables. Without further ado, here are the Week 6 rankings: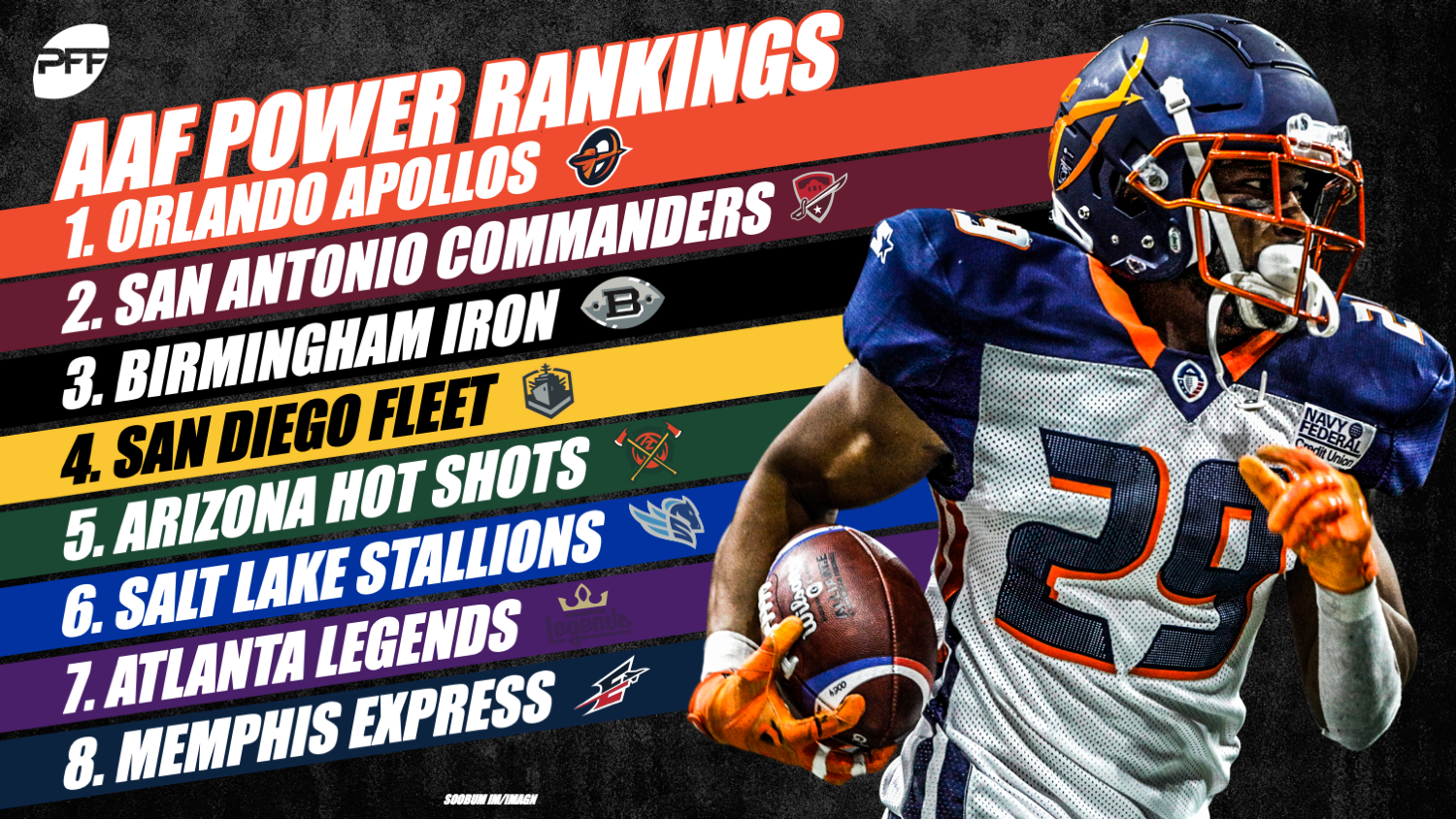 1. Orlando (46.7% chance to win the championship, +115)
Orlando continues to sit head and shoulders above the rest of the AAF wrapping up a dominating performance against our third-ranked Birmingham Iron. Covering in all but one game, the Apollos offer value at their current +125 AAF title odds. The biggest reason why is clearly the play of Garrett Gilbert who is by far the best-graded quarterback in the AAF through five weeks. With almost 17% of his pass attempts traveling 20-plus yards, Gilbert has been lights out throwing deep going for seven touchdowns, zero interceptions with a 56% adjusted completion percentage. Charles Johnson is possibly the best overall offensive player in the AAF with a receiving grade of 90.1. He has made a living on intermediate throws, generating a total yards per route run of 3.57. The Apollos have few weaknesses and when you have the highest team passing and coverage grades, the wins roll in easily and that should continue occurring for the class of the AAF.
2. San Antonio (15.6%, +539)
It has been a revolving door at the No. 2 spot in our rankings with very little clarity on the best team outside of Orlando. This week, the Commanders slot in here after an impressive offensive outburst against the preseason favorites from Arizona. Logan Woodside had by far his best game in the AAF but overall after some QB shuffling among other AAF teams is still in the bottom half of quarterback play according to PFF grade. If he can build on his Week 5 performance, the Commanders could stick in this spot for some time. Only time will tell if San Antonio has rebounded from their early season drubbings (against Orlando and San Diego) or if they have just benefited from a favorable stretch in their schedule against teams (Birmingham and Arizona) who appeared to be better than what they actually were.
3. Birmingham (10.4%, +635)
The Iron were a team that we were definitely lower on than most after their 3-0 start but after stumbling over their past two we still cannot find too many teams more deserving to be ahead of them in our rankings. Keith Price was called on to relieve Luis Perez who has been downright awful the past two games. Perez has been on the run constantly with over 40% of his dropbacks resulting in pressure. Perez put forth just a PFF passing grade of 39.8 in such situations but Price wasn't much better in relief as it will be interesting to see who the Iron goes with for Week 6. Defensively, the Iron have been exposed, especially in this past week's matchup against Orlando, once again highlighting the futility in building on defense and rushing. Currently tied for the third-best odds to win the AAF title, the Iron have to get their quarterback situation figured out or they could drop considerably in these rankings.
4. San Diego (13.6%, +635)
The Fleet won a thriller Saturday night in San Diego, with backup quarterback Mike Bercovici engineering a game-winning field goal drive after their defense put them in position to win with key turnovers after they squandered a multiple-touchdown lead in the second half of the game.  While it's unlikely that the lowest-graded offense in the league (53.8) will be able to compete in a league with the Orlando Apollos long term, their defense has been able to muster the second-highest grade in the Alliance through five weeks with Alex Barrett and Damontre Moore combining for 10 total pressures against the Stallions. It will be interesting to see what the total will be when they face off against another defense-first team in Birmingham on Sunday night in Southern California.
5. Arizona (6.0%, +1567)
The preseason favorites to win the AAF haven't exactly lived up to expectations after dropping their third straight game at the midway point of our season. John Wolford continues to hold as one of the top three highest-graded quarterbacks in the AAF but is coming off by far his worst performance against San Antonio in Week 5. Still, with a 70.6% adjusted completion percentage on throws 20-plus yards downfield, Wolford looks like the best deep passer in the AAF. The Hotshots have graded above average in all critical aspects of play and if they can minimize mistakes, they could begin to live up to the preseason expectations laid out for them. Priced as the second-most likely team to win the AAF title, the Hotshots continue to draw fawning interest from the betting community.
6. Salt Lake (3.2%, +2986)
While the Stallions covered again this week, for the second time predicted by our Forecast group, they lost their fourth game in five tries — failing to get out of their own way in another two-point road loss by way of non-offensive touchdowns. So, while they have our second-highest overall PFF grade (72.6), and the highest overall defensive grade (92.1), they have to fall a bit on this list because of their inability to avoid the type of mistakes that make winning football games extremely difficult. That said, we will still likely find value in them in the betting market, as weapons like De'Mornay Pierson-El (78.2), Nick Truesdell (79.0) and Joel Bouagnon (67.0) have increasingly supported quarterback Josh Woodrum in his efforts, helping their passing game generate the third-best passing game in the Alliance (63.2) despite the latter missing a game and a half due to injury.
7. Atlanta (4.1%, +2350)
The Legends started the season both 0-3 and 0-3 against the spread, but the insertion of Ken Zampese at offensive coordinator and Aaron Murray at quarterback have completely turned their season around. While they are still struggling to score touchdowns in the red zone, they are moving the ball effectively with Murray generating accurate passes on 72.5% of his attempts during the last two weeks behind the league's second-highest-graded pass-blocking offensive line. Atlanta's downfall might be their coverage, which we know to be the second-most-important variable in football, where they rank last in the Alliance (43.9) and will be tested substantially next week against a San Antonio team that boasts one of, if not the, best collection of receivers in the league.
8. Memphis (0.4%, +22628)
The Express lost their fourth game in five tries on Sunday as Zach Mettenberger's late interception thwarted their efforts to get a go-ahead field goal and served as a catalyst for their opponents' game-winner. They produced 11 fewer first downs than Atlanta did last week, meaning that the game should have likely been further spread out than the 23-20 final score would end up indicating. Edge Corey Vereen was a bright spot for them against the Legends, though, generating four total pressures and two stops in 64 total snaps. They go to Salt Lake on Saturday in a battle of 1-4 teams that will likely see them as touchdown-ish underdogs in a battle to see who can get back in the race as the second half of the inaugural AAF season gets underway.
Look ahead to Week 6
Memphis at Salt Lake
Arizona at Orlando
San Antonio at Atlanta
Birmingham at San Diego