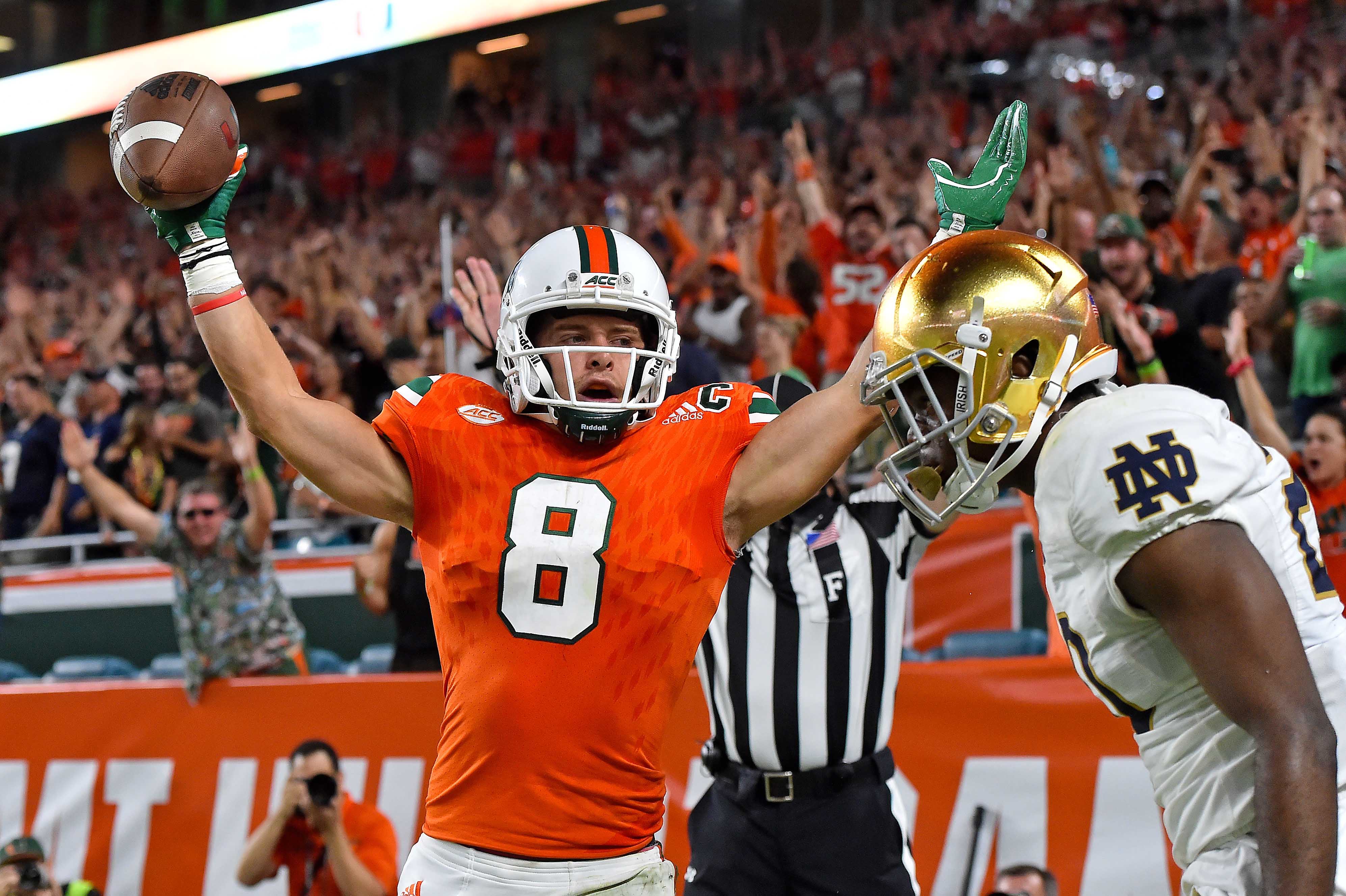 Nov 11, 2017; Miami Gardens, FL, USA; Miami Hurricanes wide receiver Braxton Berrios (8) celebrates his touchdown against the Notre Dame Fighting Irish during the first half at Hard Rock Stadium. Mandatory Credit: Jasen Vinlove-USA TODAY Sports
With the 2017 college football season rapidly coming to a close, and bowl games coming in fast and furious, the PFF Draft Team is hot on the trails of all the noteworthy bowl games across the country that feature some top, next-level players.
With eyes towards the 2018 NFL Draft, here are the players to keep your eyes on in the Capital One Orange Bowl.

Capital One Orange Bowl
Wisconsin vs Miami (Fla.)
December 30, 8:00 p.m., Hard Rock Stadium, Miami Gardens, Florida
Wisconsin tackle Michael Deiter
While his counterpart in David Edwards has said he is returning for his senior season for the Badgers, Deiter has yet to declare one way or another, and either way, his versatility on the offensive line will be vital wherever he lines up next year, pro or back in Madison. He has started the past 40 games for the Badgers and played tackle, guard and center, and this season, if you take away the conference championship, allowed only 12 QB pressures from his left tackle spot. His versatility, durability (played at least 94.9 percent of his offense's snaps each of the past three seasons) and overall ability should have NFL scouts drooling. – @PFF_Cam
Wisconsin tight end Troy Fumagalli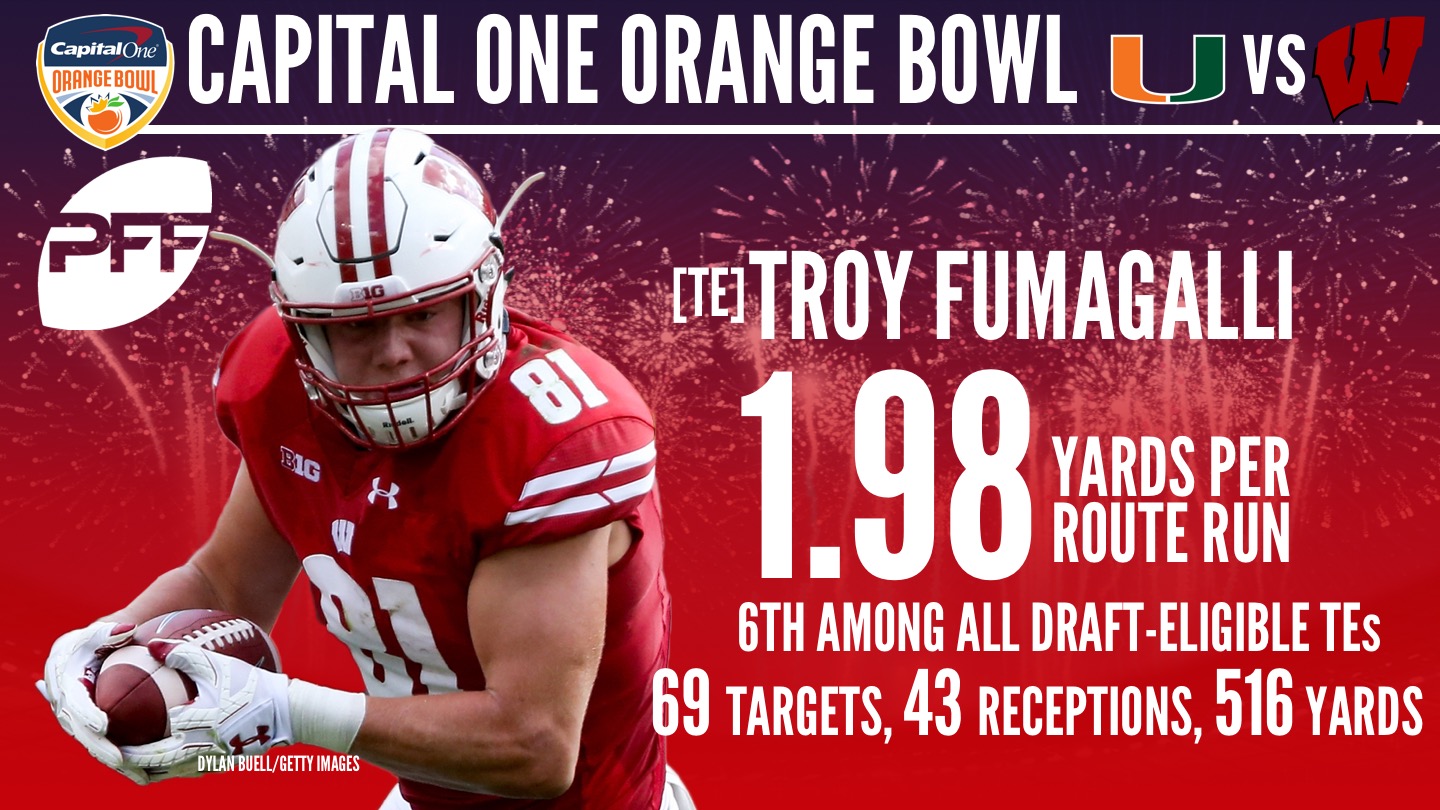 Despite starting the season off hot with 197 yards through two games and bringing in just 319 over his last nine games, the ultra-reliable Fumagalli still managed to haul in multiple catches in every game he played this season, bringing down 62.3 percent of his targeted passes. He limited his drops that plagued him a season ago, rounding out with just three on 46 catchable targets and proved to be tough to bring down, gaining 157 yards after the catch in 2017. – @PFF_Cam
Wisconsin edge defender Leon Jacobs
Jacobs nearly doubled his snaps this season, than he had all in previous three years, and did so with great success. He improved all facets for an edge defending linebacker, pass-rush, coverage and run defense this season, to the tune of 36 QB pressures, 33 defensive stops and a 38.8 passer rating on throws into his coverage. The latter perhaps the most impressive, Jacobs saw only 10 targeted passes this year, but brought down two interceptions and another pass breakup. – @PFF_Cam
Wisconsin linebacker T.J. Edwards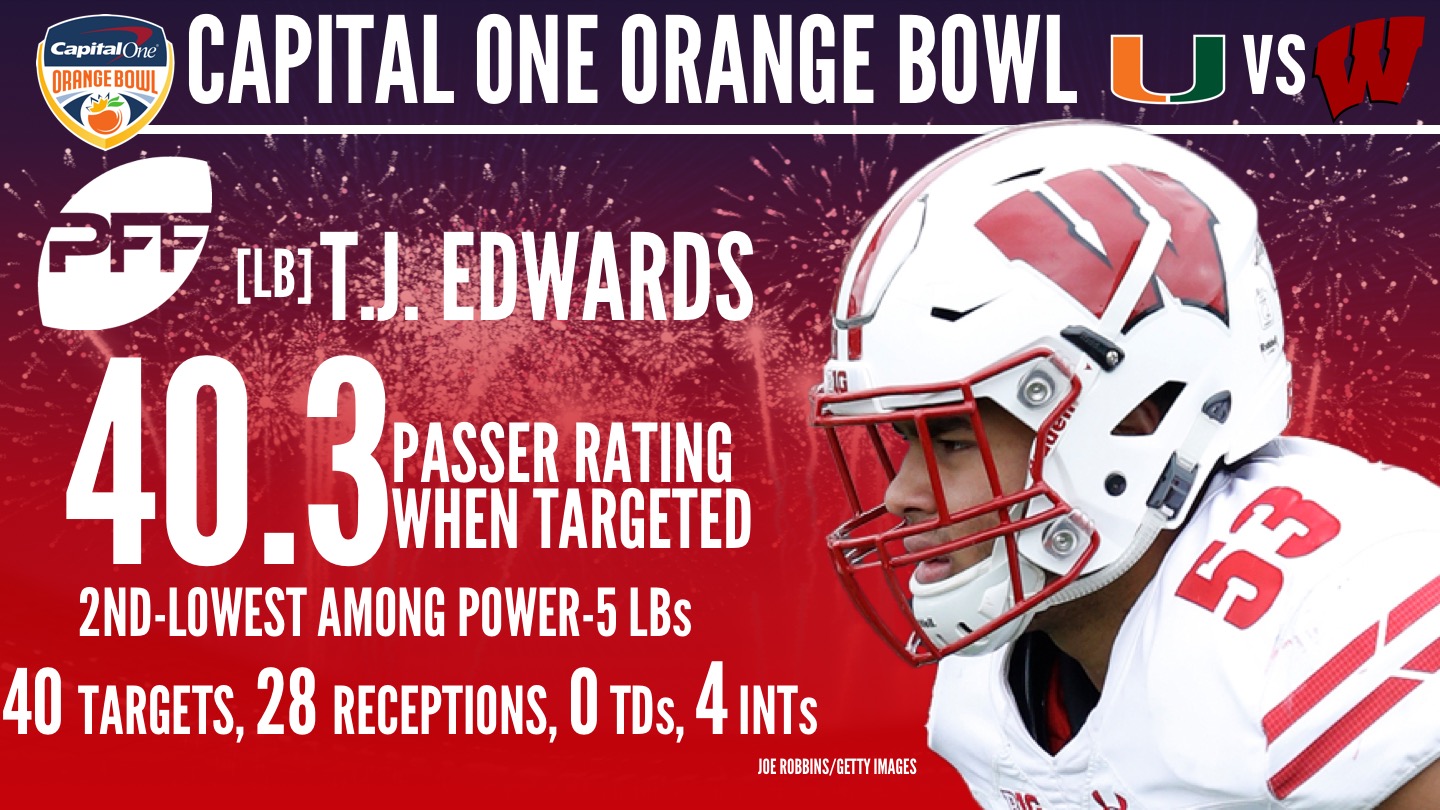 Edwards had an impressive season in arguably one of the deepest units in all of college football, the Wisconsin linebackers. He recorded 41 total defensive stops this year and despite rushing the passer on just 26 snaps, shined brilliantly with 10 QB pressures (four sacks, one hit, five hurries). No slouch in coverage either, Edwards fielded the nation's second-lowest passer rating when targeted among Power-5 linebackers at just 40.3. For his career, he now has allowed just 72.8 percent of his targeted passes to be caught, not allowed a touchdown and brought in seven career interceptions and 10 pass breakups for a 58.4 passer rating into his coverage. – @PFF_Cam
Wisconsin linebacker Ryan Connelly
The other half of the inside linebacking corps in Madison, Connelly also had a great season, particularly improving his coverage skills in 2017. On 32 targets, he allowed just 150 yards on 20 receptions for a long of just 24 yards and did not allow more than 42 yards into his coverage in a single game. He also chipped in with 16 QB pressures on just 52 pass-rush snaps and brought down a team-high 43 defensive stops this year. – @PFF_Cam
Wisconsin linebacker Garret Dooley
Although quiet over his last five games, Dooley exploded onto the scene in 2017 with his four-sack performance against Northwestern in Week 5, and accumulated 27 total QB pressures through his first eight games. In total, he brought in career-highs in sacks (nine), hits (six) and defensive stops (23) while playing on 69.9 percent of the defense's snaps this year. – @PFF_Cam
Wisconsin cornerback Nick Nelson
Nelson may not have an interception to his credit over three years, but that's not to say he hasn't been impressive in coverage. This year, he recorded 15 pass breakups to give him 28 total passes defensed over his career and saw a career-low 61.5 passer rating when targeted. In all, he only allowed a catch on 38.2 percent of his targeted passes and allowed just one catch over 22 yards all year. – @PFF_Cam
Wisconsin safety Natrell Jamerson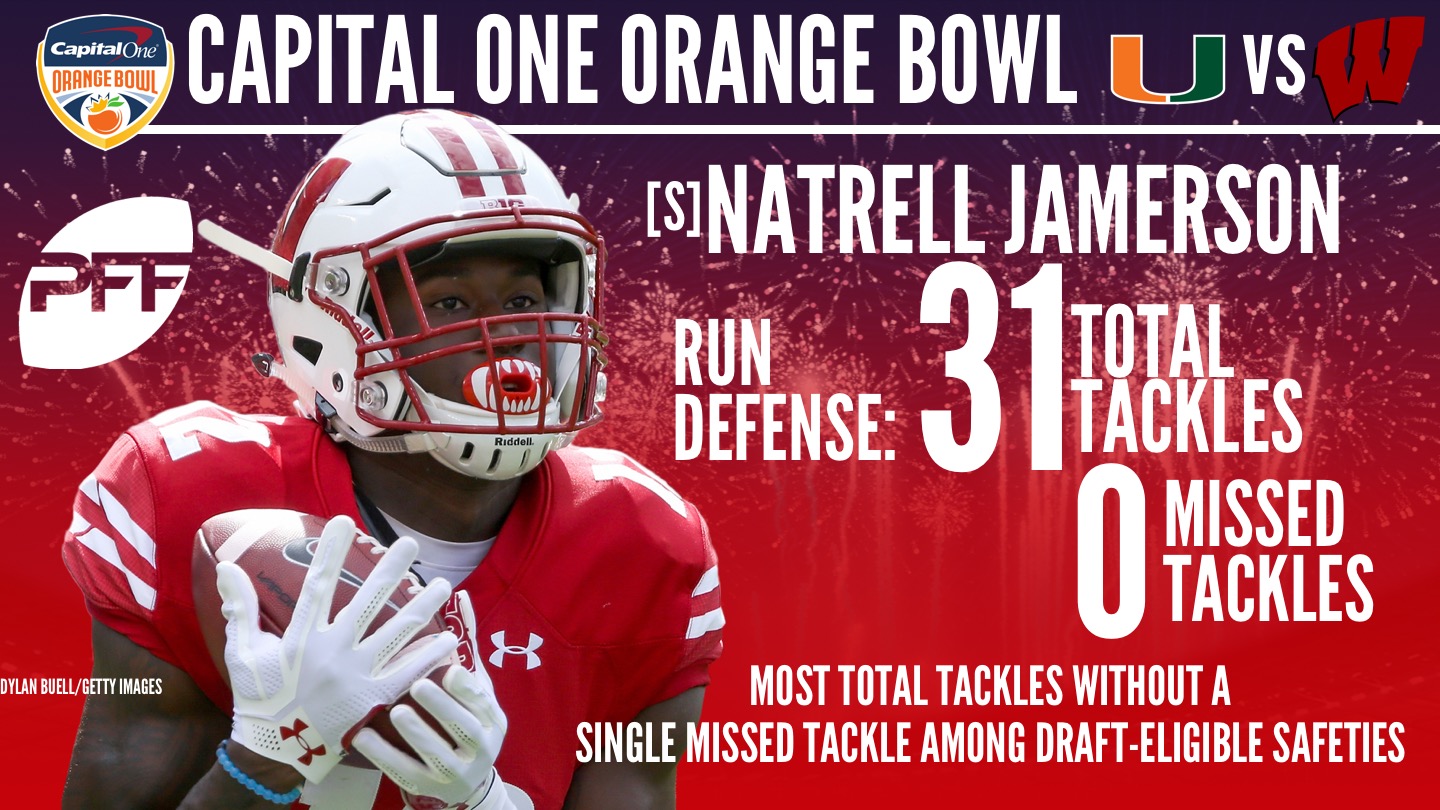 The gold standard in tackling efficiency this season, Jamerson had the second-most snaps in run defense and tied for the most total tackles attempts against the run, without missing a tackle. He missed a tackle in the conference championship game after a reception, but prior to that, was the only safety with at least 300 snaps against both the pass and the run without a missed tackle. In all, he recorded 48 total tackles in 49 attempts on the season, graded positively in every game and recorded two interceptions and six pass breakups for a 56.7 passer rating when targeted in coverage. His first season with extended playing time in Madison proved to be valuable for Jamerson to break out this year. – @PFF_Cam
Wisconsin safety D'Cota Dixon
Dixon was about as solid as they come in run defense this season, especially when lined up in the box (within eight yards of the line of scrimmage). On 132 snaps against the run, or 64.4 percent of his snaps, Dixon lined up in the box and recorded a defensive win on 13 occasions for a 9.8 run stop percentage, the second-highest total among all draft-eligible safeties, and highest among Power-5 safeties. He was no slouch in coverage also as he allowed just eight receptions on 14 targets, did not allow a touchdown and recorded an interception and pass breakup. – @PFF_Cam

Miami tackle Kc McDermott
The massive McDermott was a key cog for the Hurricanes success on offense this season, paving the way for the run game and protecting Malik Rosier's blind side against some of the country's best edge defenders. All told, McDermott's final season in Miami saw him improve each facet of his game, most notably his run blocking as Hurricane running backs averaged 6.4 yards per carry when running to either his left or right.  – @PFF_Cam
Miami tackle Tyree St. Louis
Similar to McDermott, St. Louis is another big tackle, giving the Hurricanes book end tackles during their run this season. St. Louis really shined in pass protection this year, allowing just four combined hits on the quarterback (two sacks, two QB hits) and allowed just one pressure in eight of the team's 12 games this year. – @PFF_Cam
Miami wide receiver Braxton Berrios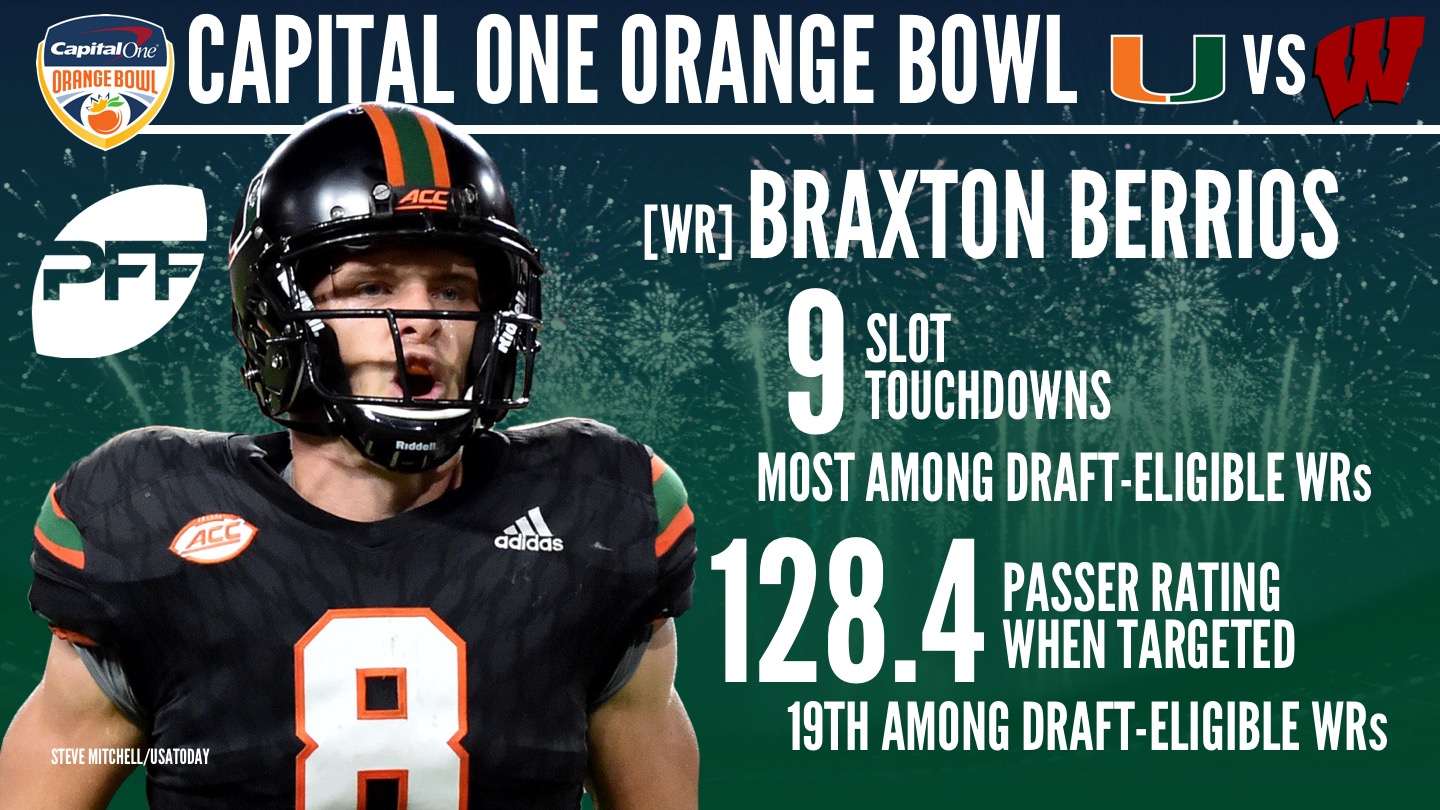 Berrios was extremely efficient as a receiver for Rosier and the Hurricanes offense, hauling in 52-of-79 targets for 635 yards and nine touchdowns, while no pass targeted his way was intercepted. All told, he saw a 128.4 passer rating when targeted, or 19th-highest among all draft-eligible receivers with at least 41 targets. He was extremely valuable as a slot receiver, running 97.1 percent of his routes from an inside alignment. From there, he brought in all his receptions, yards and touchdowns, while his nine touchdowns led all draft-eligible receivers in terms of touchdowns from the slot. – @PFF_Cam
Miami interior defender RJ McIntosh
After a very effective season in 2016 with Miami, McIntosh exploded on the scene with 52 total tackles, 34 defensive stops and 26 total quarterback pressures this season. He graded positively in every game this year and multiple pressures in eight contests. With the size and speed to get off the ball, McIntosh's story will be an interesting journey to watch if he were to declare early. – @PFF_Cam
Miami edge defender Chad Thomas
A vastly-improved all around player, Thomas improved his run defense and pass-rushing in 2017 to the tune of career-highs in pressures, total tackles and run stops, while limiting his missed tackles. For the third consecutive year, Thomas accumulated at least 26 QB pressures, however this year, he made them count more than he had previously. He tallied 11 total pressures that brought the quarterback to the ground, by means of five sacks and six QB hits while recording multiple pressures in 9-of-12 games. He picked the best possible year to have a breakout season, as the 6-foot-6, 275-pound senior will almost certainly hear talk of his name heat up as we close in on draft time. – @PFF_Cam
Miami edge defender Trent Harris
Harris, like his cohort in Thomas, improved his run defense in 2017, and brought in 11 total pressures that put the opposing quarterback on his back this season. Harris however, did that by means of 10 sacks to lead the team. Over his four-year career with the Hurricanes, Harris now has 80 total pressures on the quarterback and 119 tackles, showing his prowess across the field. – @PFF_Cam
Miami cornerback Michael Jackson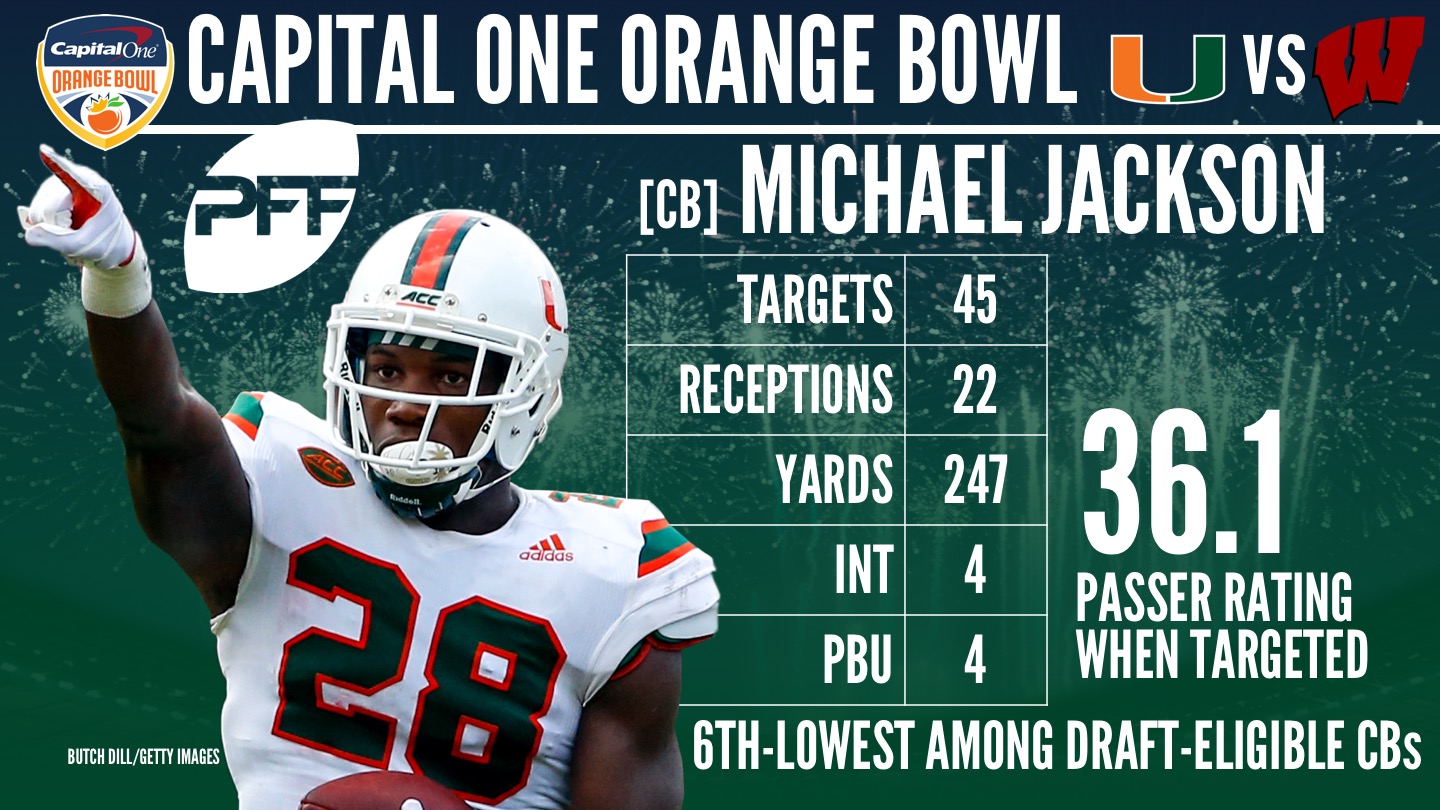 A breakout year for the Hurricane cornerback, Jackson saw just a 36.1 passer rating when targeted allowing only 22 receptions on 45 targets. He intercepted four passes and recording four more pass breakups. On the year, Jackson allowed just one reception over 26 yards. After seeing just 123 snaps over his first two seasons, it still remains to be seen if his breakout season in his first year of extended playing time (635 snaps) will be enough to make the leap early. – @PFF_Cam
Miami safety Jaquan Johnson
The 'Turnover Chain' was among the major storylines of the 2017 season, and Johnson got his hands on interceptions in coverage to claim the chain four times this year. In told, Johnson was targeted 27 times, allowed just 15 receptions and made six plays on the ball by means of those four picks and two more pass breakups. He didn't allow a touchdown in coverage and recorded 20 stops across the board compared to just seven missed tackles on  89 total tackle attempts. – @PFF_Cam