Robby Anderson was really just a deep threat to start his career. The former Temple standout turned NFL undrafted free agent signee in 2016 recorded 48% and 59% of his receiving yards on just go routes and hitches in Years 1 and 2 of his career, respectively.
The keyword is "was" in the above paragraph. Anderson added some new branches to his route tree in 2018 and is expected to continue to grow in that regard under Adam Gase's tutelage this upcoming season.
"We're just going to keep trying to think of ways to get him the ball, ways to create variety in his routes," Gase said, per Manish Mehta of the New York Daily News. "Instead of just doing one or two things, maybe we can open that thing up to five, six, seven things to where he's a threat on multiple levels whether it be underneath, intermediate or down the field."
Gase's interest in taking full advantage of Anderson's ability and expanding his skillset is well warranted.
In 2016 and 2017 combined, Anderson recorded a whopping 47% of his receiving yards on targets of 20-plus air yards and averaged just 6.5 yards per target on passes thrown 10-19 yards down the field. Turning a new leaf in 2018, Anderson recorded just 36% of his receiving yards on passes of 20-plus yards and improved his yards per target average at the intermediate level (10-19 air yards) to 10.3.
Anderson also recorded an impressive 82.9 receiving grade on intermediate targets, beating out his 63.7 and 53.1 receiving grades on such targets in 2017 and 2016, respectively.
Driving Anderson's success at the intermediate level in 2018 was his expanded route tree. His go-to routes of old (hitches and go routes) were no longer his only tools in the toolbox; he recorded just 35% of his receiving yards on such routes this past season. He also recorded 40 or more receiving yards on eight different route concepts in 2018, improving his production significantly on slants, outs and comebacks.
Consistent improvement year after the year is Anderson's calling card. His yards per target and yards per reception averages have improved every year of his career, and while attention has been drawn to his improved production underneath, the 6-foot-3, 190-pound speedster hasn't lost his touch in the deep passing game in the transition.
Among the 84 NFL receivers with at least 150 targets over the past three seasons, Anderson ranks tied for ninth in average depth of target at 15.7. He also ranks tied for 11th in receiving grade (94.1) and inside the top-20 in yards per target (11.7) on targets of 20-plus air yards in his three-year career. He also has just one drop on 84 such targets in the same three-year span.
Anderson, of course, can't have the year he's capable of without plus play under center. Fortunately for him, he should have that in 2019.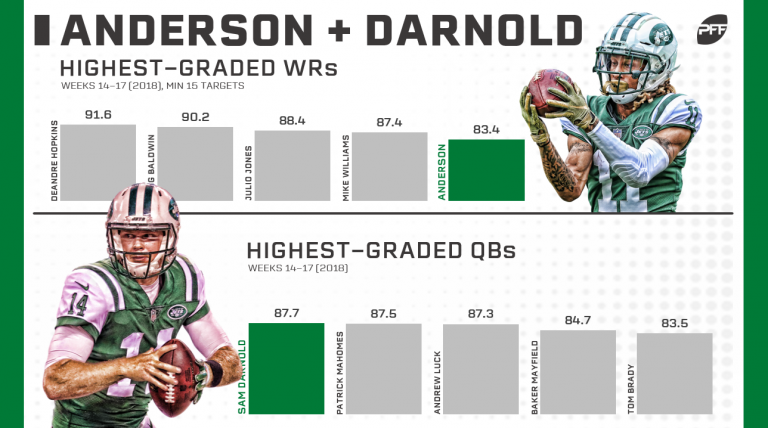 Sam Darnold, the New York Jets' first-round pick a year ago, struggled early and battled injuries in his rookie campaign, but he started to put it all together down the stretch of last season. Among the 30 NFL quarterbacks with at least 100 dropbacks in Weeks 14-17, Darnold ranked second behind Patrick Mahomes in passing grade (85.3). He also ranked first in passing grade from a clean pocket (92.7) and fourth in accuracy percentage (69.1%) among the 31 quarterbacks with 50-plus clean-pocket dropbacks in the same four-week span.
Darnold's improved play, specifically his improved accuracy, will be a sight for sore eyes if maintained in 2019. In 2016 and 2017 combined, just 50.5% of his targets were charted as accurate in PFF's ball location charting process, the ninth-lowest mark among the 129 receivers with at least 50 total targets in the two-year span. That number jumped up to 59.8% in 2018, and Darnold didn't even play the entire season.
Improved quarterback play, an expanded route tree and a coach that wants to get more involved and creative with his usage, all signs point to Anderson taking his game to the next level in 2019.