The Chargers selected Ohio State edge defender Joey Bosa with the third overall pick in the 2016 draft in the hopes of securing a cornerstone player to solidify their defense. However, with contract disputes early on and a lagging hamstring injury, many didn't know exactly what to expect from Bosa in his rookie year.
In his final two years at Ohio State, Bosa graded out as Pro Football Focus' best edge defender in the nation. It was apparent that the Buckeye would likely be successful in his NFL career, but the real question was exactly how successful he could be early. While he possessed the physical tools, many were concerned with how well he would transition to the NFL.
Fast-forward through the 2016 season, and not only does that concern seem comical, but it also appears that the Chargers have themselves a defender capable of becoming a generational player in this league.
A simple comparison for Bosa as far as his impact is Houston's J.J. Watt. Watt has either been the best or one of the best defenders in the league for his entire career, as evidenced by his claim to three Defensive Player of the Year awards. If Bosa's rookie season is any indicator, that's the kind of potential the Chargers' edge defender has.
Bosa did everything the Chargers could have wanted from a rookie. The hybrid outside linebacker and defensive end was capable of setting the edge in run defense and against the pass, and showed a knack for getting after the quarterback. His superior play graded him as our fifth-best edge defender — overall, not just among rookies — in the league.
What has made Bosa so good is how well he plays both the run and the pass. So often you see players, particularly linemen, excel at one of those and have inconsistencies with the other. That is not the case with Bosa. His overall grades against the run (86.8) and the pass (87.4) were both dominant, showing how he is an all-around impactful player.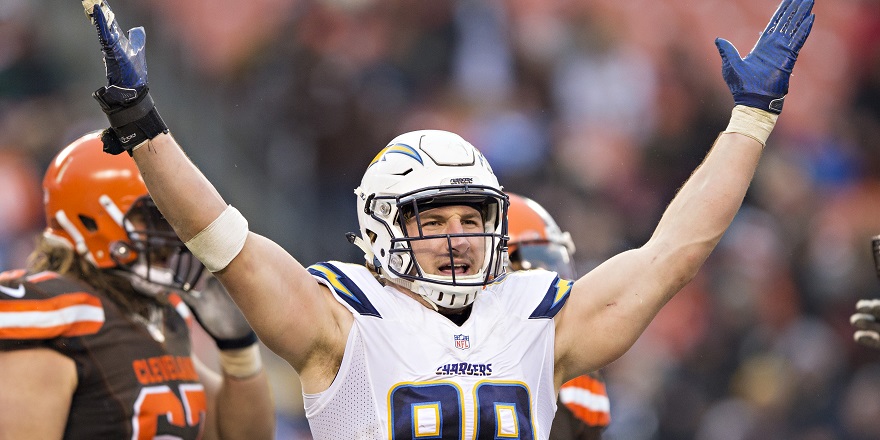 When comparing Bosa's rookie campaign to the rookie years of other top edge defenders, it seems evident that Bosa is on track to be great. Bosa put together 59 quarterback pressures. In Khalil Mack's rookie year, he put up a total of 54, while Von Miller managed to put together 70 pressures in his debut season. However, it is important to emphasize that Mack played in 16 games in his rookie year and Miller played in 15. Bosa, on the other hand, only played in 12 — Miller also had 59 in his first 12 games, the most by a player through his first 12 career games in at least the last 11 years.
Adding to that, Bosa was also able to accumulate 11 sacks on the year. To put that into perspective Mack, who graded out as our best edge defender this season, posted the same number, but with 461 more snaps played than Bosa.
Aside from the numbers, though, what truly separated Bosa from other rookies in 2016 was his relentlessness. Bosa found a way to make his presence known every play that he was on the field and made himself a nightmare for offensive coordinators to plan for every week.
While there are areas of Bosa's game in which he can improve, it is hard to find any real weaknesses. He can beat you in so many ways with his unique skill set. The only noticeable problem he had was his inability at times to disengage when blockers put their hands on him. Even that, though, is somewhat nitpicking as it was not very often that offensive lineman could get their hands on Bosa. He truly is a defensive specimen.
At the NFL honors this year, Bosa received the Defensive Rookie of the Year award. To add to that, Bosa found himself 32nd overall in our top 101 players from the 2016 season. While these may be exceptional recognition for him now, it seems likely that they are only the first of many awards and praises that Bosa will receive on his way to becoming one of the NFL's best defensive players.