[Pro Football Focus recently identified Eagles DE Brandon Graham as the No. 9 player overall in the 2016 NFL season. To see the full list featuring the 101 best players of the season, click here.]
Brandon Graham doesn't get the recognition he deserves as one of the league's most consistent and dominant pass-rushers because people get too caught up with measuring pass rush by sacks alone.
Most pass-rushers set out with the goal of sacking the QB on any given play and ending the snap right then and there (though not all at all times – rushing contain, etc., add layers to that goal), but sacks are an incredibly small percentage of all passing plays, and beginning and ending with that one number would be a terrible way to measure performance in that area.
Vic Beasley led the league in sacks this season, bringing a QB down 16 times, but it took him 469 pass-rushing snaps to achieve that, so we're looking at just 3.4 percent of his pass-rushing snaps if we focus on sacks alone. The difference between that impressive 16-sack season and a moderate eight-sack season would be 1.7 percent of Beasley's pass-rushes.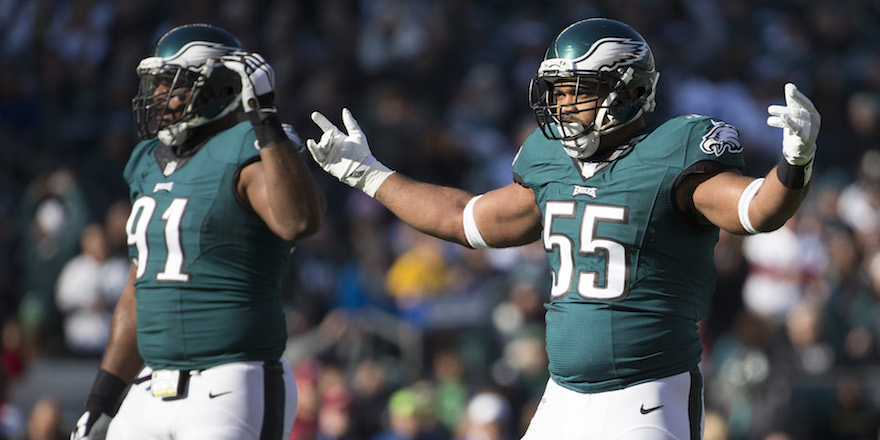 Add to the fact that sacks can be affected by far more than a player's individual pass rush, and it looks even shakier as a methodology. A sack is the same statistic whether a player quickly splits a double team to get it or simply as the QB flushed into his lap as he's being stonewalled by his blocker.
Even if pressure had no beneficial effect on the defense, it would be a very flawed thing to do only to lock in on sacks given the sample size issue and the different ways the same number can come about. Hits and hurries are no less flawed in terms of how they can come about, but there are more of them, so at least we are increasing the sample size we are working from.
But the key point is that pressure has a positive impact for the defense overall. When QBs throw from a clean pocket they can be incredibly productive, and as a league the passer rating of QBs throwing without pressure this season was 96.7, or the equivalent of Derek Carr's overall passer rating.
When under pressure though that passer rating nosedives, and the league's average passer rating in 2016 was just 62.5, which is worse than even Jared Goff's overall passer rating this season. Simply applying pressure on QBs in 2016 was the equivalent of turning an MVP candidate into a rookie in over his head.
Brandon Graham got pressure 83 times in the regular season, more than any other defender outside of Oakland's Khalil Mack, and much of that pressure had a significant positive impact for the defense, even if it didn't result in a sack.
His sack totals though… #TNF pic.twitter.com/0cwabZeZaw

— Mike Renner (@PFF_Mike) December 23, 2016
Graham got pressure once every 5.8 pass-rushing snaps, which is the second-best figure in the league, and while a sack will end the play right there, pressure can cause worse things to happen for the offense, like turnovers from interceptions.
Coming into the Week 8 meeting with the Eagles, Dak Prescott hadn't really had a bad game yet. He had been extremely productive and efficient and was riding a wave of five straight games with a passer rating over 100 and had completed more than 66 percent of his passes in all of those games. Graham didn't manage to sack Prescott, but destroyed the right side of the Cowboys line and had 11 total pressures in 37 pass-rushing snaps (28.9 percent of his rushes). Prescott was under pressure in that game for more snaps (23) than he was kept clean (21) and it resulted in him completing just 48.7 percent of his passes and throwing only the second interception of his season.
Graham has been able to generate pressure consistently in every season he has been on the field for the Eagles, regardless of which side of the line he has played or in what defensive scheme or position. As a pass-rusher, there are few players more guaranteed to apply heat on the opposing quarterbacks, the only question remaining is whether he will ever develop the finishing aspect of his pass rush to finally become that double-digit sack artist everybody looks for.
For his career, Graham has converted just 10.7 percent of all of his pressures into sacks. The average NFL edge rusher this season converted 15.1 percent of his pressures into sacks, with Beasley at an unsustainably high 28.6 percent.
Graham isn't just a player that doesn't convert as well as the best players in that regard (Von Miller was at 17.7 percent in 2016), but he consistently converts at a lower rate than average, which is certainly not a good thing. The key to his game, though, is in appreciating that as a flaw that keeps him from the Defensive Player of the Year conversation, but not ignoring the staggering rate of production he has in spite of that flaw.
Graham is one of the league's most consistently productive edge rushers, well deserving of his place on the PFF All-Pro team this year and at number nine in the Top 101, and he still has a very clear aspect of his game he can work on to get even better. That should concern anybody tasked with blocking him in 2017 and beyond.