With high expectations heading into the season to revive playoff hope for the Raiders, quarterback Derek Carr has not disappointed. Oakland is at the 3-1 mark, the offense sits in the top 10 in nearly every offensive category, and Carr is the No. 2 ranked PFF quarterback (in terms of overall grade) through the four weeks. The year-to-year progression we've seen from Carr has been as intriguing as any in the NFL, entrenching him as a top 10 quarterback on the cusp of being considered one of the league's best.
Last week's road victory against the Ravens further proved that Carr has become a must-watch QB on Sundays, possessing a unique skill-set unlike many in the NFL. Many of his overall QB traits are among the league's best, and can certainly be considered "elite."  The arm talent has always been there, but he's throwing the ball at a degree we have not seen, with the ability to make every kind of throw on the field with any type of ball-speed/trajectory needed.
While he's always possessed a strong arm, Carr is passing the ball with effortless power and showing an Aaron Rodgers-like ability to throw from different body positions while still maintaining velocity. His well-noted tireless work ethic and desire to be great are clearly visible, as no quarterback has improved as much as Carr with the nuances required to play the position since he came into the NFL in 2014.
Carr currently sits at No. 2 behind rookie Carson Wentz in adjusted completion percentage this season, at 79.2 (the Raiders are tied for the fifth-most drops in the league, with 10), finding completions in every direction of the field at every level, excelling especially in between the numbers. The offensive scheme run by Bill Musgrave is as good as any in the NFL at route dispersion, forcing the defense to cover every area of the field repeatedly with a variety of formations and route concepts that are not as standard as some of the pro concepts you consistently see.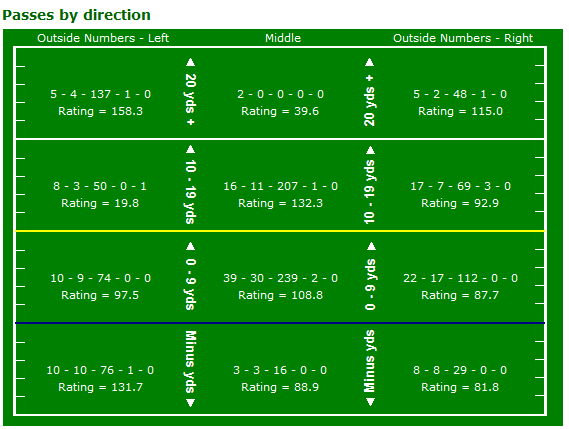 Stats listed as [targets] – [completions] – [yards] – [touchdowns] – [interceptions].
Carr has always possessed good pocket instincts, but this season, his ability to feel the rush close in and quickly find a checkdown or an outlet have led him to being sacked just twice, a league low. He's been salvaging plays, and most importantly, maintaining accuracy for yards-after-the-catch opportunities for his receivers. Carr's passing-under-pressure numbers have been outstanding, with an adjusted completion percentage of 76.0, good for third-best in the NFL.

The most impressive quality Carr has shown this season is decisiveness. He's a quick thinker, and right now is trusting what he sees and letting the ball go confidently. His capability to get the ball out quickly after he sees a receiver pop into his vision has been on display many times, just like in the play below.
Carr starts to his right, where out of the picture is a two-receiver route combination that he ultimately doesn't like. Carr's eyes move quickly to his backside dig route where he locates Amari Cooper incredibly quickly, with the ball coming out of his hand within moments with good velocity and ball location.
The Raiders have done as good of a job as any NFL franchise in building around their QB with not just skill positions. They currently have the largest offensive-line salary cap hit for 2016, tied up with just over $40 million collectively. They've spent the money and are seeing the reward from doing so, as the unit currently ranks sixth in pass protection and fifth in run blocking. Carr has performed well under pressure, but has also been the third-lowest pressured quarterback, with just 22.6 percent of his dropbacks coming under duress.
Nothing has been better for Carr than the presence of the running game. The Raiders made a commitment to help Carr out in that regard after finishing last in the NFL in rushing yards per game in 2014 (77.5) and 28th in 2015 (91.1). They currently sit fifth, with an average of 126.8 yards per game and an impressive 5.3 yards per carry (good for second-best in the NFL).
Every quarterback has his knocks, with just a few in Carr's game holding him back from entering the next level of the NFL QB hierarchy. The Raiders currently rank 25th in the NFL in third-down conversions, at 35.4 percent, for a few reasons you see on tape. While Carr has done a good job of taking care of the ball (one interception this season) and finding completions, there have been snaps where he has had a little more time to let something develop downfield, given his protection. The fine line of aggressiveness and playing smart is hard to balance, but with his vision, creativity within and outside of the pocket, and tight-window throwing ability, there are a few chances on third-and-longer situations where Carr can help spike those numbers.
Like many young progressing quarterbacks, Carr looks a little unsure at times in pass protection, not knowing when he needs to find a hot receiver, or when protection is picked up and he can hang in the pocket to make throws. After getting hit and playing under pressure so much in his first couple pro years, it's easy to see why he may be a little hesitant at times, drifting in the pocket. The good thing is this is fixable issue, and will only get better with the more reps and blitz looks he gets.
The offense the Raiders have built appears to be set up for sustainable success, and if Carr can sure up a few things and own the pre-snap protection process as the season progresses, we may have our next true elite quarterback on our hands.