[Editor's note: this story was originally published on June 22, before Winston's suspension was officially handed down. Now that it is official, Winston will miss the first three games of the 2018 season, and will not appeal his suspension.]
Per ESPN's Adam Schefter, the NFL is "planning to suspend" Tampa Bay Buccaneers starting quarterback Jameis Winston for the first three games of the 2018-19 season, potentially casting now two-year Tampa Bay backup Ryan Fitzpatrick into starting role early this fall. The league has not handed down an official decision to Winston and "the circumstances surrounding [the suspension] could lead to an increase or decrease of the three games," per Schefter.
Fitzpatrick is no stranger to the next-man-up role with the Bucs, as he played at least 30 offensive snaps in five games last season in wake of Winston's shoulder injury. While he didn't wow anyone by any means, he proved he still has plenty left in the tank – a tank he'll surely lean on if asked to take center stage at the start of the 2018 season.
Removing the two games in which he was thrown into the fire to replace an injured Winston, Fitzpatrick started three full games for the Bucs (Weeks 10-12), completing 66-of-115 passes for 745 yards, three touchdowns and one interception in the process. He struggled to complete passes consistently and offered very little as a deep passer in the three-game stint, but he counted said woes with strong play under pressure and consistent production throwing to his spots at the short and intermediate levels.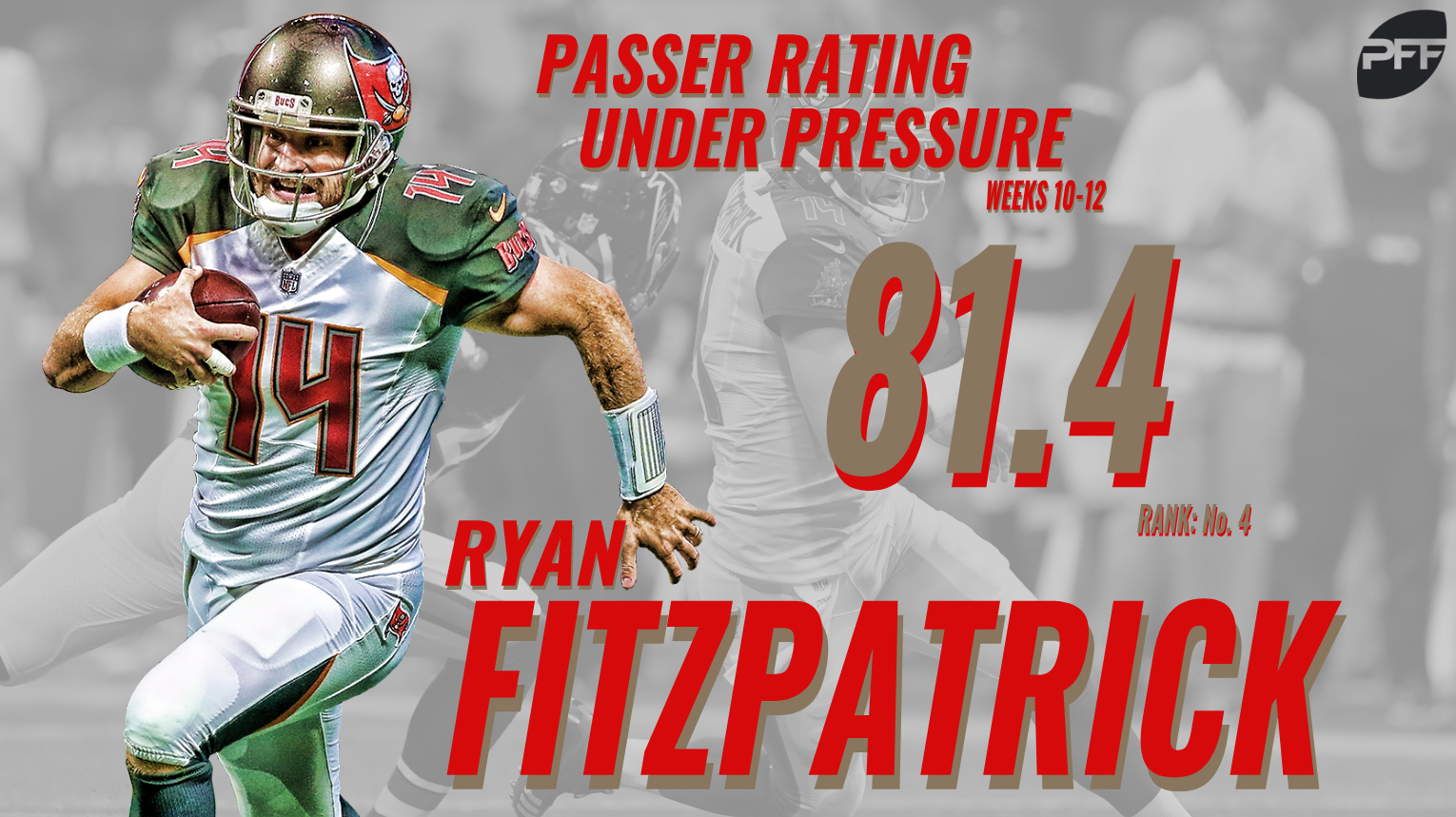 From Weeks 10-12, Fitzpatrick completed 16-of-38 passes for 188 yards, three touchdowns and no interceptions across 43 pressured dropbacks, all combining for the fourth-ranked passer rating under pressure (84.1) among quarterbacks with at least 30 pressured dropbacks in said span. He was also sacked on just seven percent of the pressured dropbacks, which was the third-lowest percentage among the same group of quarterbacks.
As expected for a 35-year-old quarterback, Fitzpatrick's success was highly dependent on what area of the field he targeted. On the season, he seemingly lacked the arm strength to pass deep down the field, as he completed just 6-of-19 deep passes and recorded a 50.0 passer rating in doing so. Conversely, he completed 90-of-136 passes for 926 yards, six touchdowns and just one interception (97.2 passer rating) throwing 19 or fewer yards beyond the line of scrimmage.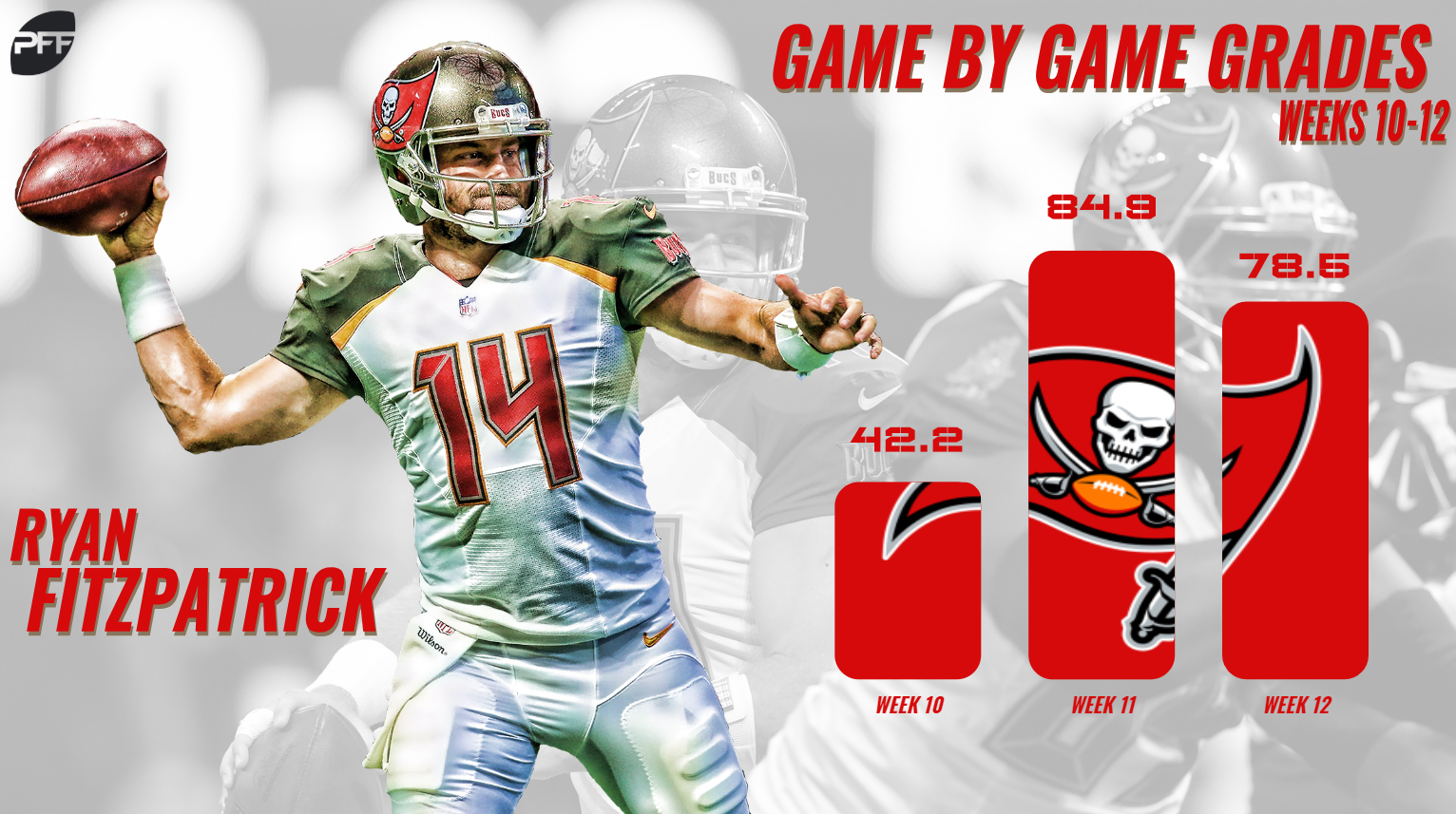 Breaking his production down even further, Fitzpatrick had significant success throwing routes dependent on timing rather than velocity. He recorded passer ratings at least 20.0 points above the NFL average on out routes, in routes and crossing routes but finished at least 25.0 points below the average trying to throw receivers open deep on 'go' routes and firing in deep hitches.
Of course, having a quarterback like Fitzpatrick with such evident limitations tips the scales in favor of well-prepared defensive coordinators, but Buccaneers head coach Dirk Koetter can still make the best of the situation by putting his wily veteran in position to succeed if Fitzmagic does indeed need to pull a rabbit out of a hat in Winston's in place under center in 2018.
In the face of the potential suspension to Winston, Koetter and the Bucs would be wise to key to the aforementioned strengths that Fitzpatrick did showcase in his limited time last season.