The quarterback carousel is already moving, with one big trade and a massive re-signing. The Kansas City Chiefs got things moving by trading Alex Smith to the Washington Redskins (in principle), and Smith will become the long-term option for the Redskins. The San Francisco 49ers then made their move by locking up Jimmy Garoppolo to the richest quarterback contract in history, though it's a front-loaded deal that takes advantage of San Francisco's salary cap space in the early years. The Garoppolo re-signing is not a surprise, though Smith was always going to be one of the most tradable commodities this offseason and QB-needy teams now have fewer options when it comes to filling their holes.
With that in mind, let's see what is left around the league:
The Smith deal all but ensures that Cousins will break the market. There are teams like the New York Jets who have plenty of cap space and a massive need under center while other rumored teams like the Denver Broncos and Minnesota Vikings must get creative in order to secure Cousins' services. Regardless of where the money comes from, Cousins is the next top-half starter to hit the market, which generally means a record-breaking deal is right around the corner. Cousins' biggest competition may be common sense, as many of the desperate teams are also picking in the top-10 in the draft, and with five or six potential first-round quarterbacks, they may err on the side of unknown, but cheaper, rookie quarterback rather than crippling the pay roll for a mid-tier starter.
It's still unlikely that Brees walks away from New Orleans, but the size of the contract will be a key story. The Saints are in great position with young, talented players taking over the roster and Brees likely in the twilight of his career and hoping for one more championship run. A record-breaking contract could limit what the Saints can do from a team-building standpoint in the coming years, while a team-friendly deal could position the Saints to be one of the best teams in the league for the foreseeable future. Despite a step back in counting stats and traditional "production," Brees was still one of the league's best quarterbacks last season and he's more than capable of winning games with his arm.
While a perfect world would limit Keenum's contract to mitigate concerns over him being a one-year wonder, supply and demand says he may be ready for a massive long-term deal. Especially with Smith and Garoppolo off the market and Cousins about ready to cash in, Keenum may be able to grab a mid-level contract which still reads like it's being paid with monopoly money when the terms are revealed. An ideal scenario for either the Vikings or any other suitor is a front-loaded deal that allows for an out at some point, allowing for the development of a younger quarterback on the side.
The injury question marks were only enhanced in 2017, but Bradford's last two full healthy seasons represent the best campaigns of his career. A team may be able to swoop in and steal Bradford for a year or two, and we're still waiting for him to be surrounded by a top-notch supporting cast. Keep an eye on Bradford as other quarterbacks are breaking the bank with long-term deals, he may be the perfect transitional quarterback, especially for teams picking in the top half of the first round.
With little known about Bridgewater's long-term health, the ball appears to be in the Vikings' court and they may be able to keep him in Minnesota on a team-friendly deal. A promising start to his career got derailed by a 2016 knee injury, but if Bridgewater can bounce back, he's a potential great low-risk, high-reward option in this market.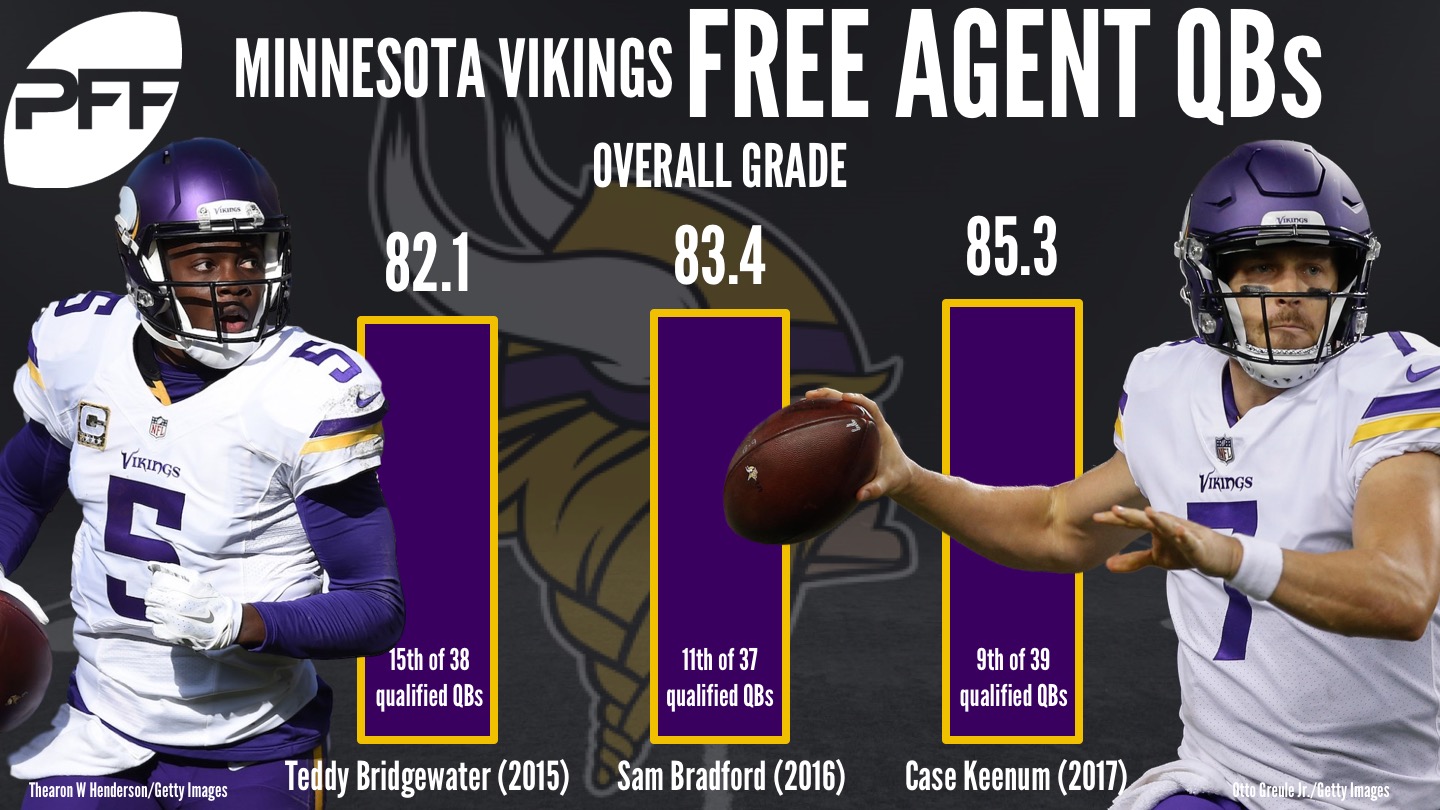 There may be executives around the league who believe in McCarron, especially those putting stock in a winning pedigree coming out of Alabama, but there are still plenty of question marks about his game and he's a step below some of the other options on the market. Expect McCarron to be a second-tier option who may get a look after the top names find their homes.
Trade Potential
No matter the company line, the reality is that the Giants are in prime position to draft their signal-caller of the future and no level of loyalty to Manning should prevent them from making that move. While Manning has been on the decline in recent years, he's still an NFL-caliber starter and he may be able to succeed if surrounded by a better offensive line and running game than he's had in New York. As the chips start to fall on the open market, Manning may be the fallback option for teams who believe they're playoff-bound.
The Bills appear ready to move on from Taylor, and much like Alex Smith, he is on the game-manager spectrum and capable of winning games when surrounded by a run game and strong defense. The key to Taylor is playing to his strengths, from using his athleticism to creating easier throws to offset his inability to sustain long drives on his arm alone. Taylor may not be the top option on the market, but like Manning, a playoff caliber team with the right ecosystem could benefit from his services.
Andrew Luck's health will determine Brissett's potential value, and while he may not be a long-term starter, he's proven that he's at least a top-end backup who is capable of winning games in short-term situations. Brissett was solid overall in 2017, with room to grow, and he's intriguing enough that a team may look to develop him rather than tapping into the draft class. Or perhaps there's a combination of a second-tier draft option and Brissett being paired on the same team, but either way, the Colts have a good situation on their hands assuming Luck is healthy. They either have arguably the league's top backup, or a tradable commodity to use to re-build their roster.
Few could have envisioned Foles' incredible two-game run in the playoffs (his divisional round game was mediocre), but it may be enough to convince a team that he could perform at that level as a long-term option. Foles missed only a handful of throws in the NFC Championship and the Super Bowl, but as great as he was, it's a scary proposition to put stock in such a small sample size of success. However, we've seen teams break the bank for less throughout the history of the NFL, and Foles has entered the quarterback market as a wild card, especially for teams who missed out on their top option.