You better bring help.
The Miami Dolphins benched starting cornerback Bryon Maxwell for Thursday night's game against the Cincinnati Bengals, starting a rookie (Xavien Howard) and a former college wideout (Tony Lippett) at corner to face off against one of the league's premier receivers in A.J. Green.
Like lambs to the slaughter, those two combined to surrender 150 receiving yards to Green, and he picked up another 23 against other Miami defenders in Cincinnati's 22-7 win. Green is one of a number of receivers in the league that are simply too good to be left one-on-one against anything but the best corners the league has to offer. If you don't have one of those, you better bring some reinforcements and come with more creative ways to bracket or double cover him, because he's going to destroy that corner one-on-one.
With that in mind, let's take a shot at ranking the 10 most dominant receivers one on one – 10 guys who demand additional attention from the defense:
1. Julio Jones, Atlanta Falcons
The one kryptonite any wide receiver has is a quarterback who just starts missing him with the ball. Matt Ryan has been playing well so far this season, but has simply been missing Julio too much on underneath passes. When you turn on the tape, however, Jones might be the league's most physically imposing receiver, with an elite blend of size, speed and quickness that makes him near impossible to cover one-on-one. Last week he was held to just one catch for 16 yards on seven targets, but if you look at those targets he was open pretty much all day — Ryan just wasn't able to put the ball where it needed to be. If you're facing Jones one-on-one and you're not one of the game's best corners, you'd better hope Ryan has one of those off-days.
2. Antonio Brown, Pittsburgh Steelers
Brown doesn't have the athletic gifts that Jones does, but he has devastating route-running skills and the ability to release from the line untouched. His playing speed is far quicker than his 40-yard dash time (4.48 seconds), and your one hope as a corner is that you're close enough to try and win the physical battle at the catch point, because otherwise he is capable of making defensive backs look silly both before and after the catch. He might be the single toughest cover in the game right now, but loses out to Jones because of the extra margin for error Jones has with his size and athleticism.
3. Odell Beckham Jr., New York Giants
We saw against Washington's Josh Norman last week that even the game's best corners can't contain Beckham all game long. Sooner or later he is going to break one and make a big play, whether it's over the top, or underneath and after the catch. He has ridiculous hands, with the ability to make catches no other receiver can, and high-end quickness and speed to go along with those. About the only flaw in his game is the tendency to lose control of himself emotionally and get out of his game because of it. If he can keep himself together, he is one of the toughest receivers in the game to deal with.
4. A.J. Green, Cincinnati Bengals
Look no further than Thursday night for evidence of this. Miami started two dangerously under-experienced cornerbacks against Green and he went off, but the truth is it probably wouldn't have made a difference if it had been Byron Maxwell covering him, instead. Green did the same to the Jets' Darrelle Revis earlier in the season, and if you're going to leave one guy on him, it had better be the best of the best, because he will take anybody else to the cleaners. He is dangerous at all levels of the defense, and has caught 76.2 percent of the passes thrown his way this year.

5. DeAndre Hopkins, Houston Texans
There aren't many star receivers who have been dealing with a worse QB situation than Hopkins over the past couple of seasons. Last year the Texans went through a revolving door of disaster QBs, and yet he was still able to put up huge numbers. This season Brock Osweiler was supposed to solve all of those ills, but has been little better overall, and yet Hopkins continues to make plays. He makes one-handed catches for fun (and often necessity, given the passes thrown his way), and is excellent at using his body to shield the ball from defenders — you can be close to Hopkins in coverage, but you're still going to struggle to stop him from catching the ball.
6. Mike Evans, Tampa Bay Buccaneers
Evans looks like a more imposing figure this year. He has always been a dangerous receiver, but now he is rounding out his game and becoming a scary proposition for opposing defensive backs. He scored a touchdown against Arizona's Patrick Peterson in Week 2, and put 106 yards and a score on the Rams' Trumaine Johnson – the cornerback the Rams elected to keep around over Janoris Jenkins (who signed with the Giants in free agency) in the offseason. Evans is an impressive deep threat, but has that easy ability to make spectacular catches that all great receivers have. He isn't uncoverable just yet, but you need to have somebody pretty elite on him if you're going to shut him down.
7. Alshon Jeffery, Chicago Bears
Jeffery's biggest limiting factor over the past couple of seasons has simply been staying on the field. Last season he was one of the best-graded receivers in the game, ending the year third in PFF grades with a 91.9 mark, but he only played 517 snaps due to injury. This year he is once again suffering through QB problems, with an inconsistent and then injured Jay Cutler trying to get him the ball, but in isolation Jeffery is a special receiver who can take most defensive backs to task. He has caught 70 percent of the passes thrown his way in 2016 and averaged 19.4 yards per reception, dropping just one ball.
8. Allen Robinson, Jacksonville Jaguars
There may be no better receiver at the catch point than Robinson. Dating back to Jets rookie QB Christian Hackenberg's freshman season at Penn State, Robinson showed the ability to make spectacular aerial grabs, elevating and taking the ball away from defenders in the air. He still does that to this day, and it's his best trait, but he is an accomplished and well-rounded receiver on top of it. After last year he looked primed for a truly monstrous season in 2016, but Jaguars QB Blake Bortles' regression seems to have put a drag on that.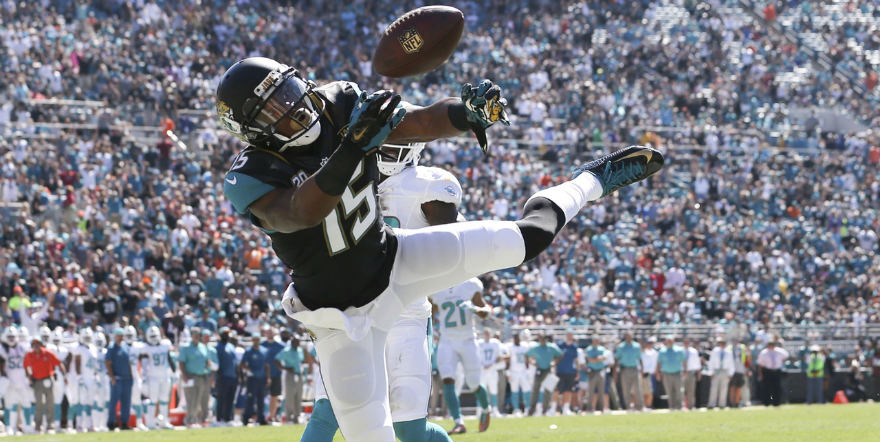 9. Brandon Marshall, New York Jets
He is slowed by injury right now, but Marshall remains one of the game's best receivers, especially one on one. His biggest flaw has always been dropped passes, but he has always compensated for that with the ability to win contested catches, outmuscle defenders with the ball in the air and bail out his quarterback. Nowhere has that been more in evidence than in New York, where Ryan Fitzpatrick practically relies on that ability to generate production, just heaving the ball at Marshall and hoping for the best.
10. Terrelle Pryor, Cleveland Browns
It's time to admit that Pryor hasn't just successfully converted to wide receiver, but looks like he could be a dominant force at the position. When I was at Browns camp this preseason it struck me how natural he looked as a route-runner. He was smooth, sharp and accomplished in that area of the game, leaving only hands to work on. So far this season he has yet to drop a pass, while doing a pretty good Josh Gordon impression with his work as a receiver. This is effectively the first real year of Pryor playing wide receiver, so his potential and ceiling are scary going forward.