This offseason offers a relatively weak free agent class at the linebacker position, with only one player making the top 50 free agents list. While a three-down LB is coveted in the NFL, no one on this list truly fits that bill. A handful of the available free agents will be targeted because of their special teams play and that will be noted when applicable.
To see Pro Football Focus' full NFL free-agent rankings featuring the top 50 players set to hit the market in 2017, click here.
1. Dont'a Hightower, New England Patriots (85.7 overall grade in 2016)
If the Patriots aren't able to re-sign the former first-round pick, expect Hightower to land himself a large contract with several teams competing for his services. Consistent each of his five years and utilized by New England to highlight his strengths, Hightower rushed the passer on 29.4 percent of his pass snaps, most of any ILB in the NFL. The concern for Hightower is that his play took a noticeable step back once Jamie Collins was traded, though still was able to be a productive player.
2. Zach Brown, Buffalo Bills (84.1)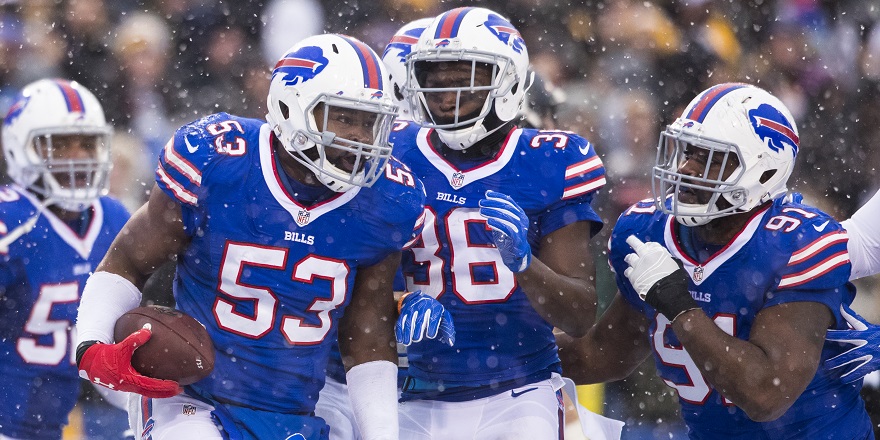 A player that started the 2016 on fire, Brown struggled down the stretch as he graded positively in just two of his final eight games after doing so in all of his first eight games. Brown has posted back to back above-average-graded seasons in coverage and graded well against the run for the first time in his career in 2016. Fourth amongst all ILBs with 38 run stops, Brown showed potential for becoming a complete LB but considering his late-season decline and never doing so in any other season, there will be concern, which could lower his market value.
3. Gerald Hodges, San Francisco 49ers (82.4)
Acquired by the 49ers in a trade with the Vikings, Hodges struggled in his first year with the new team but took a big step in 2016. Hodges has graded well in run defense in his career and has posted solid grades the past two seasons rushing the passer when asked to do so. The concern for the former Penn State Nittany Lion are his inconsistencies in coverage, which will limit his ceiling. While he showed improvement in that area — yielding a career low 87.3 passer rating when targeted — he was also targeted a career-low 24 times in 2016 while still allowing 2 touchdowns.
4. Perry Riley, Oakland Raiders (84.8)
Riley put together an impressive 2016 campaign but the caveat is it is the only season in his career in which he has done so. Riley's emergence this year was unexpected as he had graded very poorly the previous three seasons. Any team looking to sign the veteran from LSU will do so knowing his one good season might be a fluke and the fact he will be 31 for the 2017 season will also lessen his market.
5. Kevin Minter, Arizona Cardinals (81.0)
Another player with a track record of poor play prior to the 2016 season, Minter had an interesting season in which he had five excellent games paired with four really bad games. In the end, he came out with an above-average overall grade with his play in coverage being the best. If Minter is able to continue flashing those great games and reduce his number of poor games, a few of them marred by several missed tackles (missed 20 in 2016), the former LSU Tiger has potential to become a solid every down LB.
6. Sio Moore, Arizona Cardinals (76.7)
Moore enjoyed a solid season defending the run as he ranked 15th in the NFL among all LBs in run defense. Moore was quite limited in his ability as he struggled in coverage and didn't show much rushing the passer creating a total of five pressures. Moore was cut early in the season by the Indianapolis Colts but played well in the final four games of the season with the Cardinals. A player that has been a little below average in his career, his market will be small and should provide depth and a veteran presence to teams needing such attributes.
7. Nick Bellore, San Francisco 49ers (55.3)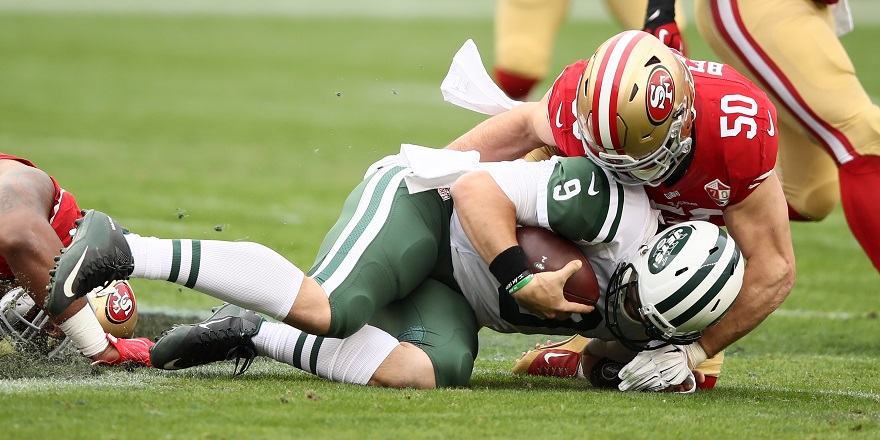 A special-teams ace the past four years, Bellore earned himself a starting role in Week 5 due to NaVorro Bowman's injury. Bellore didn't exactly light it up in replacing Bowman but considering the 49ers' DL was atrocious in 2016, having better players up front could help the former undrafted free agent from Central Michigan. Considering Bellore's excellent special teams play in his career, Bellore will be targeted if only for that ability.
8. Spencer Paysinger, Miami Dolphins (68.4)
Another player landing on this list because of his special-teams play, Paysinger has graded well in three straight seasons on the "other" third of the game. Getting his first major action on defense since 2013, Paysinger was below average in all three phases of the game but had issues missing tackles as he did so every 6.4 tackle attempts. That said, Paysinger's excellent play on special teams will create a market for the former Oregon Duck.
9. Bruce Carter, New York Jets (73.8)
A theme developing at the bottom of this list, Carter is another linebacker who has shown good play on special teams. Over his career, Carter has missed zero tackles on special teams while grading well every year he has contributed in the kicking game. Carter saw just 121 snaps on defense this year but did show well in coverage although he had been poor defending the pass the previous two years. Carter is a player who should excel on special teams and only contribute on defense when needed.
10. Audie Cole, Minnesota Vikings (52.9)
Finishing out the list is another player that has graded well each season on special teams. His contributions on defense have been limited the past two years, but he did show some impressive coverage grades in 2013 and 2014. That said, Cole is a great special-teamer that teams shouldn't expect to see much on defense. A former seventh-round pick out of NC State, Cole would do well for any team looking to shore up its special-teams unit.