Rashaan Evans earned a 41.0 overall grade across his first 185 defensive snaps in the NFL, which was the second-worst overall grade we've ever given a rookie off-ball linebacker with 150-plus defensive snaps through the first six weeks of a season in the PFF era (2006-Present). With his back against the wall and the bust label (prematurely) nearing, Evans flipped the script of his rookie campaign.
Evans' next 172 defensive snaps with the Tennessee Titans have been among the league's best, as his 83.5 overall grade in Weeks 7-13 (six games) ranks seventh among the 72 off-ball linebackers with 150-plus defensive snaps in the seven-week span. He also ranks second in run-defense grade (90.4) and 22nd in coverage grade (69.7) among the same group of linebackers.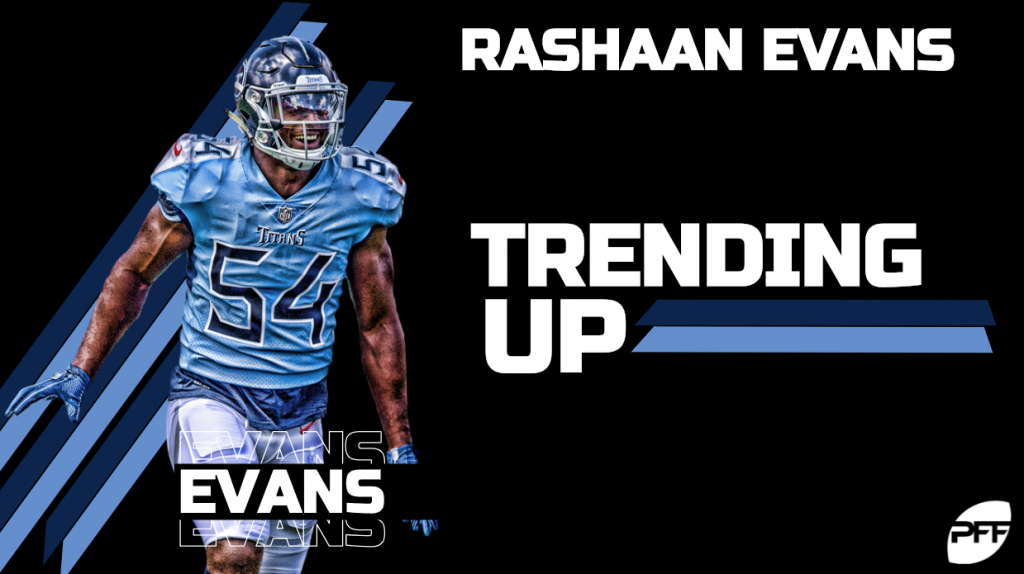 As evidenced by his elite 90.4 run-defense grade in Weeks 7-13, Evans is at his best against the run. He recorded eight defensive stops, including four tackles for a loss or no gain, across his 69 run-defense snaps in the seven-week span, ranking tied for sixth in run-stop percentage. He was also the first defender to make contact with the ball carrier on 15.9% of his run-defense snaps and missed zero tackles in the run game, the former metric ranking tied for 14th among qualifying off-ball linebackers.
No play epitomizes Evans' peak ability as a run defender better than his goal-line stop against the New England Patriots in Week 10. Here, he takes the brunt of the fullback's block without wavering and remains steady in his pursuit of the running back following the fullback's lead to secure the stop.
This is quite easily the best play of Rashaan Evans' young NFL career.

After a rough start in Tennessee, Evans has played much, much better of late. The game is clearly slowing down for the former #Bama LB. pic.twitter.com/8wi1Y8BcwQ

— Austin Gayle (@PFF_AustinGayle) November 19, 2018
Evans, though far from a polished coverage linebacker, has improved significantly on passing downs. His coverage grade in Weeks 1-6 (48.6) has jumped up to 69.7 in Weeks 7-13, and he's only allowed 17 total yards in coverage in the latter weeks – the lowest of any off-ball linebacker with 50-plus coverage snaps in the seven-week stretch. He's also added five total pressures across his 33 pass-rush snaps.
Success in bursts, of course, doesn't mean much in the NFL. Evans' play since Week 7 is a positive sign for himself and the Titans, but he'll need to prove his high-end play is sustainable to warrant considerable praise. Trending in the right direction is just the start – not the end goal.