In Week 1 of the 2018 season, Tennessee Titans star tight end Delanie Walker suffered a gruesome ankle injury that caused him to miss the entire year. The absence of Walker left a huge void in the Titans' passing attack, and that absence, coupled with the unstable health and the underwhelming clean-pocket play of quarterback Marcus Mariota, led the Titans to finish the campaign with the 25th-ranked passing offense in the NFL. 
Last year, Mariota had only single-game grade above 80.0, in comparison to three from the 2017 campaign. If the Titans want to take the next step and make the playoffs in 2019, they need a healthy Delanie Walker on the field. 
Saying that Delanie Walker's return will boost the Titans offense is an understatement. Walker's two-year stats (2016-17) have him with a combined overall grade of 79.6 which is the eighth-highest among tight ends in that span. During this time, he finished with an 81.3 receiving grade, which was the eighth-highest among tight ends, as well. In addition to this, he averaged 1.85 yards per route run, which ranked fourth, and he hauled in 10 touchdown receptions which were the eighth-most among tight ends. The Pro-Bowler has also proved to be a hard man to bring down, as he forced 15 missed tackles (fourth-most among tight ends) and totaled 510 yards after the catch (10th). Walker's impressive numbers don't stop there, as he hauled in 92.6% of catchable passes, which ranked eighth among tight ends during the two-year span.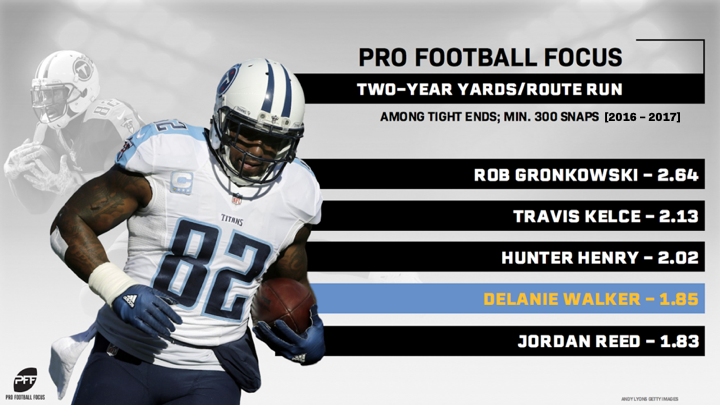 Given the above, it is clear that a healthy Walker is one of the top playmaking tight ends in the NFL. No receiver has had a higher receiving grade than Walker's 84.6 in the Titans' offense during Mariota's tenure at quarterback in Tennessee. In fact, the Pro-Bowler has received a heavy workload since the Titans drafted their quarterback out of the University of Oregon. Mariota has targeted Walker 263 times since entering the NFL, which is almost 100 more targets than the next receiver. Out of those, Walker hauled in 186 receptions, resulting in 2,256 yards and 12 touchdowns. When Mariota is under center, Walker is averaging 2.05 yards per route run and has a 99.3 passer rating when targeted. More impressively, Walker has snagged roughly 95% of catchable passes thrown by Mariota — a truly impressive feat. 
After looking at the stats, it is evident that Mariota needs Delanie Walker in the lineup to maximize his success at the quarterback position. While Walker has been healthy, he has been heavily used by the young quarterback and is crucial to the flow of the offense. Overall, Marcus Mariota and the Titans need a healthy Delanie Walker in the lineup if they want to forge ahead in the AFC South.