For former Carolina Panthers center Ryan Kalil, a 12-year career with the same team that drafted him was surely all he could have ever hoped for at the NFL level. Embedded in that span was eight seasons with an overall grade of 70.0 or higher and six campaigns with 1,000-plus snaps — most recent of which was just last year.
So when the iron man decided to hang up his cleats following the 2018 season, it appeared to be a fitting end to a career defined by an ability to stay on the field and produce while doing so. In recent years, though, it had become clear that Kalil's play had begun to fall off. After not allowing a pressure rate above 5.0% in any of his first eight seasons, he did so twice in his past four campaigns.
Last season, he ranked 29th among qualifying centers in pressure rate (4.5%) and finished 31st among 39 centers in pass-blocking grade (63.2). It certainly wasn't the pinnacle of his career, but Kalil's skillset hadn't exactly crumbled underneath him, either — hence why the New York Jets came calling his name Aug. 1.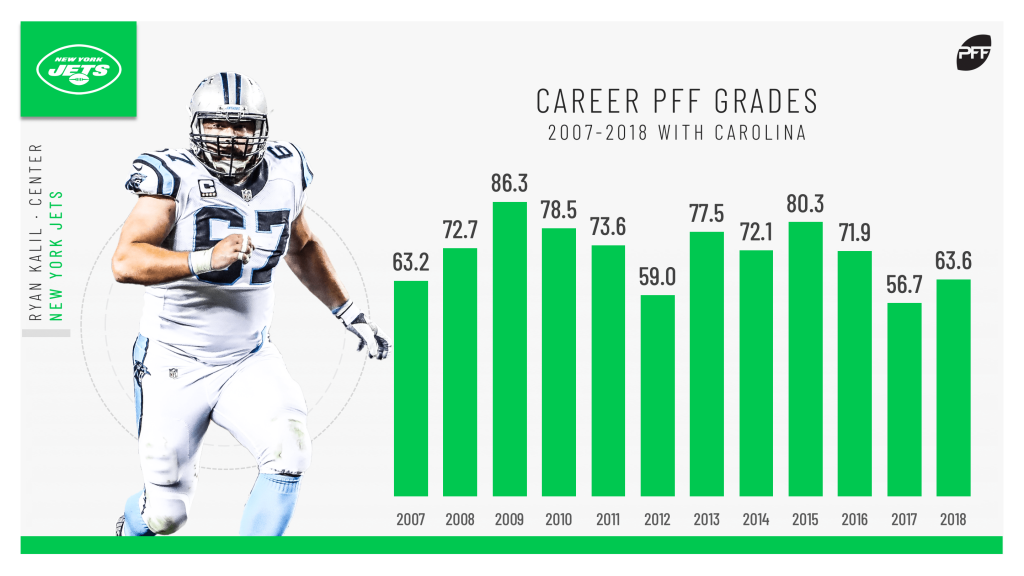 Jonotthan Harrison was set to assume full-time center duties in 2019, but with Kalil's arrival, those plans are no more. Harrison barely graded out as a better pass-blocker than Kalil in 2018, with a 63.6 mark. But he played less than half the pass-blocking snaps Kalil did and still garnered three more penalties than the veteran.
That's precisely what Kalil brings to this Jets squad: a veteran leadership presence.
He's been there and done it as a top-five center in his prime, and unfortunately, that means Harrison will have to make way. The Jets' offensive line was relatively average in 2018 outside of their trials and tribulations at center. The overall unit combined for the 14th-best pass-blocking efficiency (85.5) and allowed 151 pressures on the season (21st).
However, Harrison and fellow center Spencer Long combined to allow 40 of those as the two worst-graded qualifying offensive linemen on the Jets. On about 150 fewer pass-blocking snaps than that duo's 801, Kalil surrendered 29 pressures.
From a pure pass-blocking perspective, the argument could be made that Kalil isn't much of an upgrade from Harrison and Long's 2018 performance. When run-blocking is factored in, though, Kalil is a clear step ahead.
With a 25% first-down/touchdown rate when rushing to the left or right of Kalil in 2018, the Panthers ranked tied for fourth while Jets centers helped generate a mere 15% rate (T-25th) in the same situation. As such, Kalil's run-blocking grade of 61.1 ranked 17th among 39 centers.
No matter how the Jets managed to convince Kalil that New York could be his new stomping ground, they should reap the benefits immediately with him on the field, just as the Panthers did last season in what was a down year by the veteran's standards.
Panthers running backs also averaged 5.1 yards per carry (T-6th) when rushing to the right or left of Kalil in 2018. In the same scenario for the Jets' centers, running backs averaged just 3.2 yards per carry (31st). There are plenty of other factors at play there, but two yards is a massive difference in the NFL — the difference a veteran presence like Kalil can make along that shaky Jets offensive line.