It's not often that rookies are among the top five players at their position in the NFL, and since we began grading back in 2006, only four linebackers have finished their rookie seasons with a top-five grade at the position. Through 15 weeks of the 2018 season though, both Dallas Cowboys first-round draft pick Leighton Vander Esch and Indianapolis Colts second-round draft pick Darius Leonard rank among the top five linebackers in the NFL in terms of PFF grade. Both have made an instant impact on their respective defenses, and both have been able to contribute as three down linebackers since their arrival in the NFL. So what makes these two rookies so special? Let's dig into the numbers and find out.

Coverage
It's stating the obvious at this point, but excelling in coverage is particularly important for a linebacker in today's NFL, with the continued progression of the passing game putting even more pressure on linebackers across the middle of the field. Whether it's being asked to deal with an athletic tight end on a seam route or running back in the flat, or handle a slot receiver that can range from a small, quick playmaker to a big tight end, what's being asked of linebackers has never been greater. That's why it's especially impressive that these two rookies have stood out in this regard, with Vander Esch ranking seventh, and Leonard 11th in terms of PFF coverage grades among linebackers through the first 15 weeks of the season.
Teams have gone after them, with Vander Esch leading all linebackers with 78 targets in coverage, and Leonard just three behind him at 75, but both have made plenty of plays on the ball. Vander Esch has two interceptions and four pass breakups, whereas Leonard has one interception and five pass breakups, but each has six combined plays on the ball, tied for fifth among all linebackers so far this season.
Run defense
In today's NFL, running may not be as crucial as it once was, but linebackers still need to be able to make plays and stop running backs when teams do run the ball, and these two rookies do just that. Vander Esch has registered a defensive stop on 11.1% of his snaps against the run, ranking third among linebackers, while Leonard comes in fifth with a 10.2% run stop percentage. Leonard has more total tackles against the run than the Cowboys' star, beating him by 56 to 42, but he also has more missed tackles, as he's missed four compared to the Vander Esch's three. Whatever way you slice it, both of them have been among the best linebackers in the NFL against the run.
Blitzing
Blitzing makes up just a small percentage of snaps for both players, with Leonard rushing the passer on 38 snaps and Vander Esch even lower with just 12 pass-rushing snaps so far this season. That being said, both have been productive when they have. Vander Esch has racked up pressure on 25% of those rushes, with a hit and two hurries. Leonard has been even more impressive, with a whopping six sacks, a hit and a hurry, giving him a pass rushing productivity rating of 35.7 – the best mark among linebackers with 20 or more pass-rushing snaps.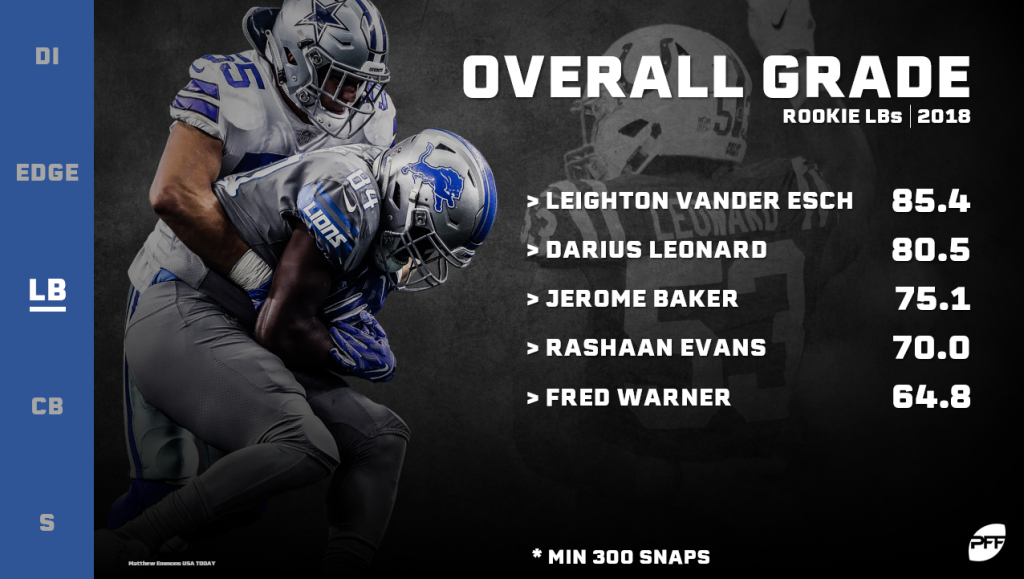 The debate over who is having the better rookie season will continue for the next few weeks, with both in the running for defensive rookie of the year, but what is clear is that both the Colts and Cowboys have landed key players on their defense for the foreseeable future. With both able to make plays whether it's in coverage, against the run or as a blitzer, the future is very bright for these two young linebackers.