Elusive rating is a PFF Signature Stat created to help determine a running back's success beyond the point of being helped by his blockers. It takes into account not only missed tackles forced by the player, but also how much extra yardage is gained after contact on run plays.
Join PFF Elite for access to PFF Signature Stats across all positions.
Here were the top-five running backs in elusive rating in 2016, out of 59 qualifying players with a minimum of 100 offensive touches, including the postseason.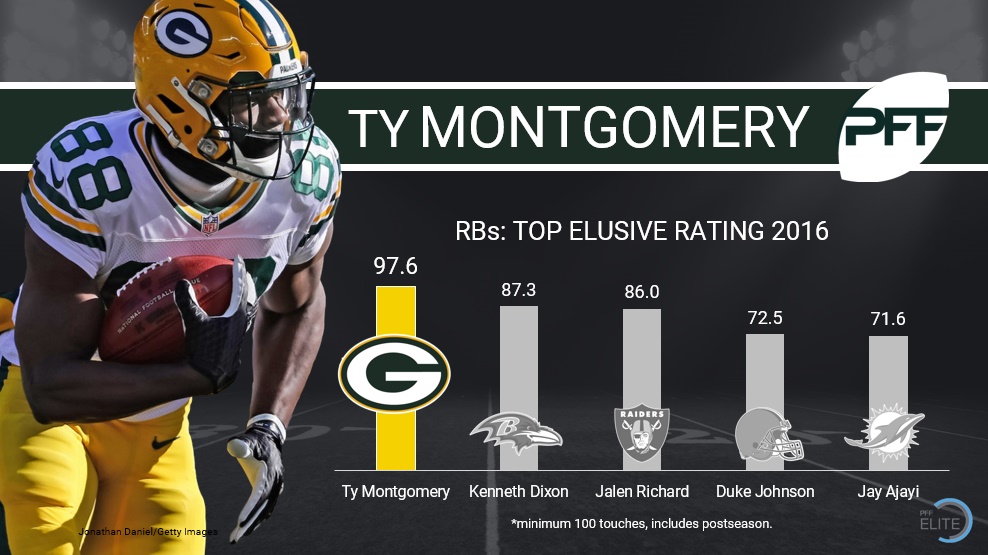 1. Ty Montgomery, Green Bay Packers
Elusive rating: 97.6
With multiple injuries at the running back position last year, the Packers chose to move Montgomery into the backfield from wide receiver, a move that paid off well. Including the postseason, Montgomery led the league in average yards after contact at 4.6 yards per carry, a whole yard better than the next qualifying running back. He also tied for third in broken tackle rate as a runner as he averaged a broken tackle once every 4.6 carries.
2. Kenneth Dixon, Baltimore Ravens
Elusive rating: 87.3
Dixon missed the first four games last season due to injury and saw little playing time in his first four games after he returned. However, he had a strong performance during the second half of the year as he forced 32 missed tackles over the final eight weeks of the regular season. That ranked third-most by a running back in that span despite 26 other players having more touches. In the entirety of the season, Dixon led the league in touches per missed tackle, forcing one once for every 3.4 touches.
3. Jalen Richard, Oakland Raiders
Elusive rating: 86.0
An undrafted free agent last spring, Richard spent his rookie year splitting time with DeAndre Washington as the two backups behind starter Latavius Murray. He had the benefit of running behind one of the better offensive lines in the league, but it was clear that he was creating extra yardage for himself at a better rate than Murray or Washington, who ranked 32nd and 43rd in elusive rating, respectively. Although Richard saw fewer snaps than the other two backs, he was highly effective when given the opportunity. He ranked second in the league in both average yards after contact (3.6) and touches per missed tackle forced on rushes (4.1).
4. Duke Johnson, Cleveland Browns
Elusive rating: 72.5
Johnson stands out from the rest of the group based on how he made his way into the top-five in elusive rating. He was an above-average runner who ranked outside the top-10 in rush attempts per missed tackle, but was one of the best as a receiver when he had more open space to work with. Johnson's 21 broken tackles as a receiver were second-most in the league by a running back, behind only David Johnson's 27. Duke Johnson did so on 53 receptions to give him one of the highest broken tackle rates as a receiver.
5. Jay Ajayi, Miami Dolphins
Elusive rating: 71.6
Ajaji was one of the most effective pure runners in the league last season. He gained 900 yards after contact — second-most in the league — on what was close to amounting to three-fourths of a season with just 18 carries over the first four weeks. He led the league with 60 broken tackles forced as a runner despite having the eighth-most rush attempts. Even though he had 30 catches last year, he wasn't all that productive as a receiver, which reiterates just how good he was as a runner to still crack the top-five in elusive rating.