The 2011 draft will quite easily go down as one of the best of all time. Of the first 11 picks, five are all but locks to make the Hall of Fame (Von Miller, Patrick Peterson, Julio Jones, Tyron Smith and J.J. Watt) while two more will have a legitimate case (Cam Newton and A.J. Green). While it's in the argument for the most talented draft ever, there's no argument on the fact that it's the single best pass-rushing draft class of all-time.  
Since we started grading in 2006, we've seen 35 instances where an edge rusher has earned a 90.0-plus grade over the course of a single season. Twenty-one of those seasons were produced by the 2011 draft class alone, as you can see below (members of the 2011 draft class are highlighted).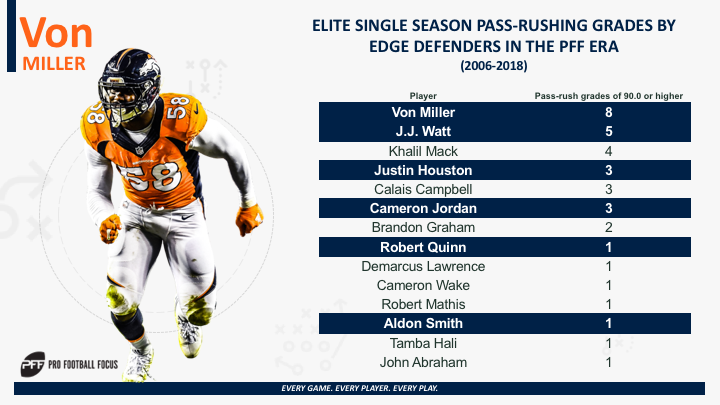 Maybe the most absurd thing about the 2011 class is that it not only had staying power but also had some players produce some elite seasons then fade off. Aldon Smith earned the highest overall grade of any edge rusher as a rookie before off-field issues derailed a potential Hall of Fame career and Robert Quinn set the single-season record for overall grade (93.6) by an edge defender in his utterly dominant 2013 season. The record still stands to this day, but injuries haven't allowed Quinn to come near that level of play since. 
Four men from the 2011 class have continued to produce year in and year out through their eight seasons in the NFL. Von Miller has been the pinnacle of consistency in the NFL. He's the only player we've ever graded to earn a 90.0-plus overall grade in eight straight seasons. Even still, he may not even go down as the best player in the class, as J.J. Watt's peak was more dominant than anything we've ever seen. His 65 combined sacks and hits back in 2014 are 12 more than the next closest player, who just so happens to be 2015 J.J. Watt (53). 
Cameron Jordan and Justin Houston didn't have the pre-draft or early hype that Miller and Watt did, but they're still playing elite football. Jordan is coming off his fourth straight season with at least 70 pressures, while Houston bounced back from a couple of injury-plagued seasons to earn an 89.1 pass-rushing grade last season.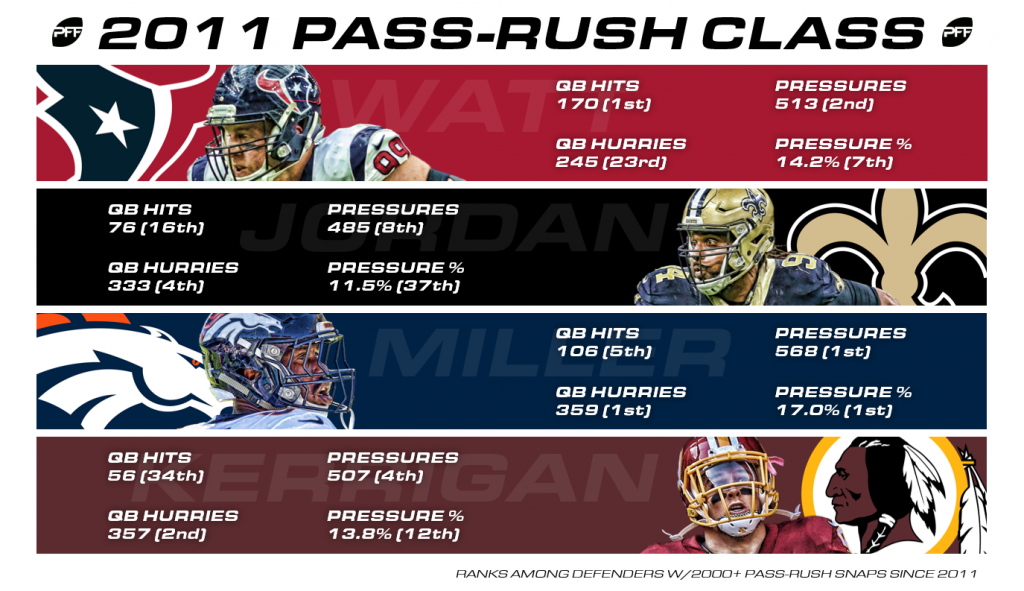 In any other draft class, players like Ryan Kerrigan, Cameron Heyward and Jabaal Sheard would be headliners, but we haven't even mentioned them until now. That's how deep the 2011 edge class is and how special it will be remembered as in the years to come.