Last offseason, the PFF analysis team went back and graded the entire 2006 season. While it wasn't terribly exciting, pouring over games that occurred almost a decade prior, there were a handful of interesting insights to be gleaned. By far the most noticeable difference was the use of shotgun and the yet to be implemented pistol. Nowadays, any third down longer than three yards is ran from the gun. Back then, there were third and 10+ situations that were taken under center.
In 2016, 52.9 percent of snaps were taken out of the shotgun. That number was just 16.7 in 2006. There are many reasons the game has evolved to be more shotgun-heavy, but one of the biggest reasons has been the rise of option football. While run options were in their infancies among NFL circles in the mid-2000's, run-pass options (RPOs) were non-existent – at least in their current form. You'd be hard pressed to find a game this upcoming season that doesn't feature at least one.
The concept behind RPOs is simple: why waste receivers blocking on runs, when they can take away the same defenders, and sometimes more, out by running routes? Put even more simply: free yards. Now not every run concept, nor running back, translates well to the gun, but the pros still often outweigh the cons. No team understands that more than the Cincinnati Bengals.
First off, RPO's are essentially an extension of the running game, so the numbers for them should be looked at as such. On every single one, no matter if the quarterback keeps it to throw or not, the offensive line will be run blocking. That forces passes to be short and quick or else they risk getting flagged for illegal man downfield. Usually receivers are running screens/slants/hitches; routes that don't demand elite level quarterback play to execute.
The Bengals gained more yards on RPOs than any team in the NFL last season. When executed correctly, they're free yards pic.twitter.com/DY3m8briQO

— Mike Renner (@PFF_Mike) July 7, 2017
We charted 1,321 instances of run-pass options a season ago – over five a game. No team gained more yards on them though than the Bengals' 444, even though they only had the third most RPO attempts. Cincinnati averaged 6.2 yards per play on RPOs! Remember, this is all an extension of the running game and completely removed from any traditional dropback passing concepts. Even on just their rushing attempts, Cincinnati's yards per attempt went from 3.9 yards per carry without the option look, to 4.6 yards per carry with it. Maybe the biggest advantage of all is that these are not risky plays. On 648 RPO pass attempts last year, only five were intercepted (Cincinnati had none) – a 0.77 percent turnover rate. The league-wide fumble rate was over double that at 1.6 percent.
With all these tangible benefits, why was Cincinnati – a team without a lot of weapons I'd classify as 'dynamic in space' – the class of the league though when it came to RPO's? There are two main reasons: commitment and creativity. The commitment part we've already covered. They averaged 4.5 RPO looks a game while four teams (Houston, Buffalo, Baltimore, and San Diego) averaged under one. The creativity part is why they are the Teaching Tape for RPOs.
One doesn't have to dig too far to find examples of the Bengals getting imaginative with their looks. Their very first RPO of the season midway through the first quarter against the Jets is shown below. As you can see, that's not normally how football teams line up. The tackles are split wide like receivers – a perfectly legal tactic as long as they don't release down the field. While the guard-center-guard block inside zone normally, the two tackles on the outside wait a tick before heading downfield to screen block.
The Bengals gained more yards on RPOs than any team in the NFL last season. When executed correctly, they're free yards pic.twitter.com/DY3m8briQO

— Mike Renner (@PFF_Mike) July 7, 2017
This is what I meant early when I wrote 'free yards'. They have two defenders trying to guard three players. The defenders can execute their assignment perfectly and it would still generate a first down.
What Andy Dalton is reading here is the overhang defender on both sides circled below.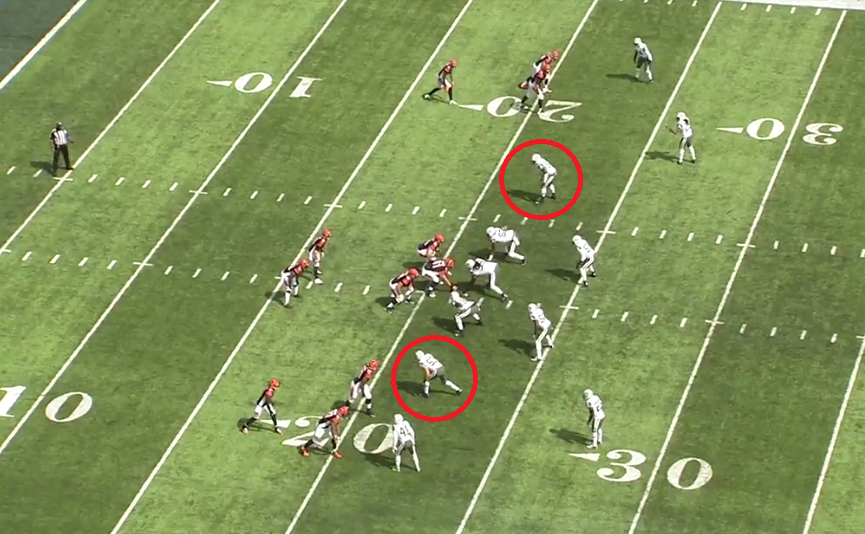 With the wide splits of the receivers, those defenders can't possibly execute both their run and coverage assignments if the ball gets out quickly. Before the ball is even snapped, they have to choose which one to prioritize with their alignment. On the play above, the linebacker chose the run. On the play below, he chooses the pass.
Only the Jaguars and 49ers ran more RPOs, but I don't think anyone else was quite as creative pic.twitter.com/jJzE5bcmhq

— Mike Renner (@PFF_Mike) July 7, 2017
 You can actually see Andy Dalton's eyes post snap as he reads that overhang defender. The defender stays put, so Dalton hands it off and they have yet another big play through little more than schematic advantage. The Bills had no clue how to deal with the two linemen split to the same side and completely abandoned the run threat leaving three men in the box versus three offensive linemen. If you or I could have picked up a first down, that's usually an indicator of good a play call.
While innovative play design is one aspect of RPOs, not all RPOs work through gadgetry. Sometimes, they simply give favorable matchups through the hard run action fake. With a receiver like A.J. Green, any one-on-one look is usually a favorable matchup and on the play below that was certainly the case.
RPOs aren't just gadget plays though. Sometimes all they serve to do is simplify looks and get one-on-one matchups pic.twitter.com/cDv6Rx4oIZ

— Mike Renner (@PFF_Mike) July 7, 2017
Once again, the quarterback's progression is evident post snap. He sees the slot defender bite on the run which causes Dalton to pull it. His eyes then turn to the safety who is forced to jump the slant route. It all happens in a split second, but Dalton has drilled it enough to know what it all means: the corner guarding A.J. Green has no help over the top. The Red Rifle throws the go perfectly and Green does the rest.
RPO's aren't going anywhere anytime soon. They add an explosive element to any shotgun rushing attack, and maybe best of all, they are incredibly safe plays. A team can't simply throw it in a playbook as an afterthought and expect to get good results. It takes commitment and creativity. With the success the Bengals and others have seen, it seems we'll see the usage of RPO's only continue to rise in the coming years.