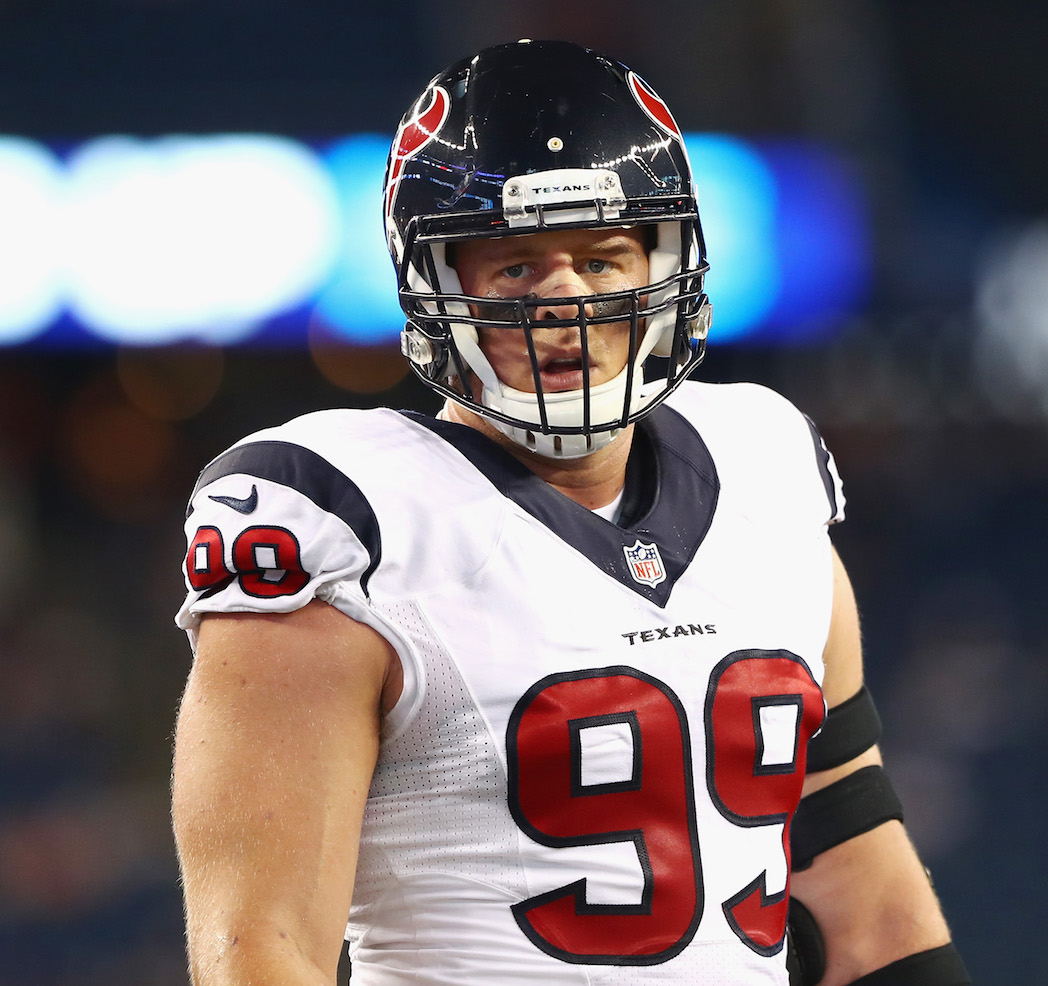 FOXBORO, MA - SEPTEMBER 22: J.J. Watt #99 of the Houston Texans looks on before the game against the New England Patriots at Gillette Stadium on September 22, 2016 in Foxboro, Massachusetts. (Photo by Tim Bradbury/Getty Images)
After returning from offseason surgery, Houston DE J.J. Watt hasn't been the same force we have come to expect. The Texans have been able to overcome that so far this season because of the play of Whitney Mercilus and Jadeveon Clowney, who have both been on a tear, but the Patriots effectively shut down all three.
Watt had another weak performance, ending with a grade of 46.5 for the game. The bigger problem is that Watt's mark was the highest grade of any of Houston's big-three pass rushers. Watt, Mercilus (41.3), and Clowney (42.2) combined for three total QB pressures in the game, with one hurry each.
With rookie Jacoby Brissett, the Patriots dropped back to pass on just 22 snaps, and they were quick throws. Brissett averaged just 2.17 seconds per attempt last night, which was almost half a second per pass quicker than Texans QB Brock Osweiler, and would be the second-quickest figure in the NFL over the season so far. With those factors in mind, it was already unlikely that Houston trio would find much success as pass-rushers, but their run defense was absent, too, against an offensive line they should have been able to have largely prevail against.
The Patriots used double teams a lot, and they were effective, driving the Texans' edge defenders off the line and down it, opening up space for LeGarrette Blount. Tight end Rob Gronkowski only saw 14 snaps in his first game back from injury, but he did some impressive work in the run game on these blocks.
Martellus Bennett was on the field for 61 snaps, missing just one all game, and he was once again an impressive blocking force, but Nate Solder and Joe Thuney in particular on the left side of the New England line also made an impact on double teams.
In essence, we saw once again the New England Patriots reigning supreme when it comes to crafting a game plan to neutralize the opposition, even on a short week. They took away Houston's biggest strengths, and did it while also playing to their own, which is a combination that has to be merely applauded as a coaching performance.
What is worrying for Houston is that they are now three games into the season without having seen the real J.J. Watt, and the Texans have to be asking themselves how long it will take him to get back and firing on all cylinders.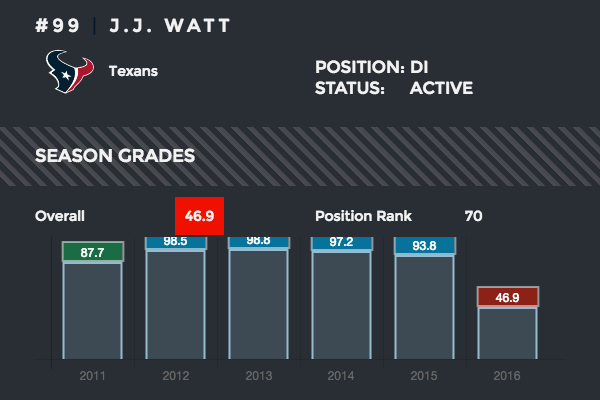 Watt has nine total pressures through three games, down from the 5.75 he averaged a year ago—which itself was an injury-affected figure down from the 7.4 he averaged the year before. He has recorded only two sacks and three defensive stops this season. Houston's defense has been a good unit overall in 2016, but taking one of the best players in football out of it, or at least making him like just another player, is going to impact the team as a whole over the season.
Right now, the Houston Texans need J.J. Watt back—not just on the field.