The Buffalo Bills' offense has been disappointing this season, to say the least, but there is a glimmer of hope shining forth from the defensive unit. There is a young emerging corner who is showing promise and giving reason for hope in an otherwise lost season, and it's not just Tre'Davious White. Rookie Taron Johnson is one of the league's best young cornerbacks and a reason Bills fans should be getting excited.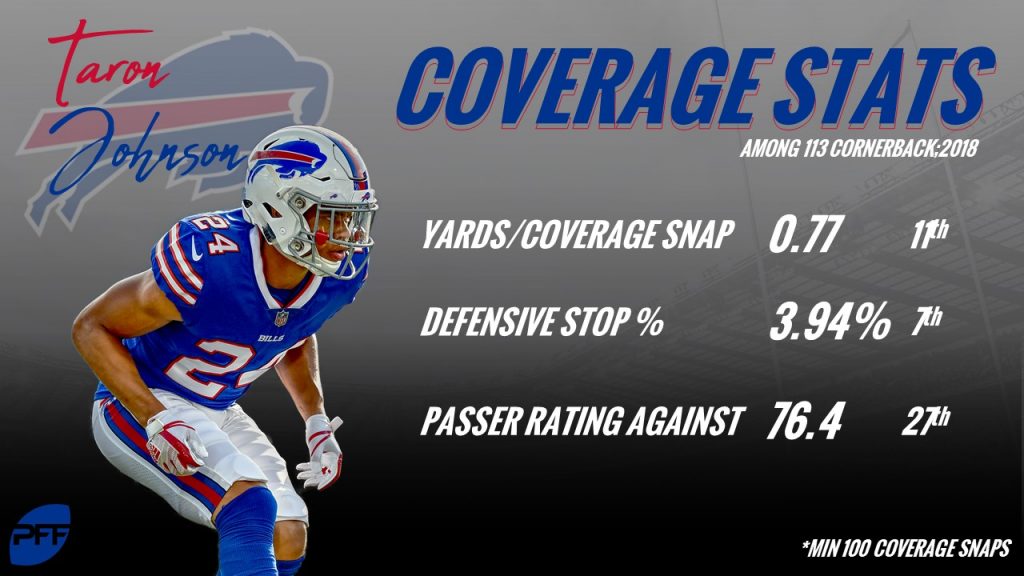 While first-round picks like Denzel Ward and Jaire Alexander are getting a lot of attention, Johnson deserves to be in the conversation for the best rookie cornerback for his performance this season. His 76.3 overall grade is the 16th-best mark among qualifying cornerbacks. He's allowed a measly 6.5 yards per reception, and the longest play he's allowed was 13 yards, both of which rank first among all corners. Not only that, but he has also allowed just 156 yards, the seventh-best mark among corners with 200 or more snaps on the season. Five of the six cornerbacks with fewer yards have also played in fewer games than Johnson.
Covering the slot, where Johnson has seen 90.6 percent of his 320 snaps this season, is more important in today's NFL than ever. Despite his draft pedigree, the stage has yet to look too big for the fourth-round Weber State product. Among corners with at least 100 snaps covering the slot this season, Johnson's 0.81 yards per coverage snap ranks ninth and his 77.9 passer rating when targeted ranks seventh.
Looking at Johnson's coverage ability as a whole, his season becomes even more impressive. Johnson is one of the most frequently targeted cornerbacks in the league, as evidenced by his 5.2 snaps per target, which ranks sixth-highest among qualifying corners. Despite being targeted so frequently, the rookie has allowed just 0.77 yards per coverage snap, ranking 11th among qualifiers. He has also produced a coverage grade of 73.0 that is 22nd among corners with at least 200 snaps on the season.
In the play above, Johnson flashes great coverage ability, ball skills and athleticism. The first-year cornerback takes advantage of a poor route by the receiver, diagnoses the quick throw coming in his direction and makes a sudden decision to propel himself toward the play. Because of his quickness in reacting to the unfolding play in front of him, Johnson uses his physicality and athletic ability to bump the receiver and make the diving interception.
Johnson's value for the Bills' defense extends beyond his coverage ability. He has been strong against the run too, producing a 75.0 run-defense grade that ranks second among rookie corners. He has also generated 14 defensive stops, which is tied for fifth-best among cornerbacks with 200 snaps on the season. He has also added a run-stop percentage of 6.7 percent, the third-best mark among qualifying corners.
As if being a quality cover corner and stout against the run wasn't enough, Johnson also has been an effective pass-rusher. His 76.3 pass-rushing grade ranks sixth among qualifying corners, and he has generated a sack and two hurries on 11 pass-rushing snaps. In the play below, you can see Johnson come around the edge on the blitz to sack an unsuspecting Aaron Rodgers while also forcing the fumble for his team to recover.
Johnson is one of the league's young, talented cornerbacks that isn't getting talked about enough because of the Bills' struggles. The fourth-round pick has far exceeded expectations coming into this year and has demonstrated that he can impact the game in a variety of ways. Currently, Johnson is one of only four cornerbacks in the league to have a sack, an interception and a forced fumble.
The Bills' rookie deserves to be talked about like one of the stud corners in the league for his play this season. He has shown a penchant for making game-changing plays while limiting the big plays for opposing offenses.