Earlier this season, I wrote that Julio Jones was the toughest receiver to cover one-on-one in the National Football League. When Carolina tried it, he torched them for 300 receiving yards. The Denver defense cycled through a variety of different coverages to try and get the Falcons off their game, and forced them by and large to attack the linebackers and the middle of the field more than the cornerbacks.
This week, though, we are going to see some fireworks between one of the league's best receivers and best cornerbacks: Jones versus Seahawks CB Richard Sherman.
The one thing everybody knows about Sherman is that he typically doesn't track receivers.
When the "best cornerback in the game" debate was between Jets CB Darrelle Revis and Sherman, that was always the silver bullet Revis had. The same is true when the debate became Cardinals CB Patrick Peterson versus Sherman.
The Seahawks believe their defense has better integrity overall if Sherman stays at LCB, and they leave him on an island to take away whichever receiver lines up to that side. By isolating him in man coverage that way and forgetting about him, they can lean coverage away from him to the other side of the field, bracketing or straight double-teaming on the right side.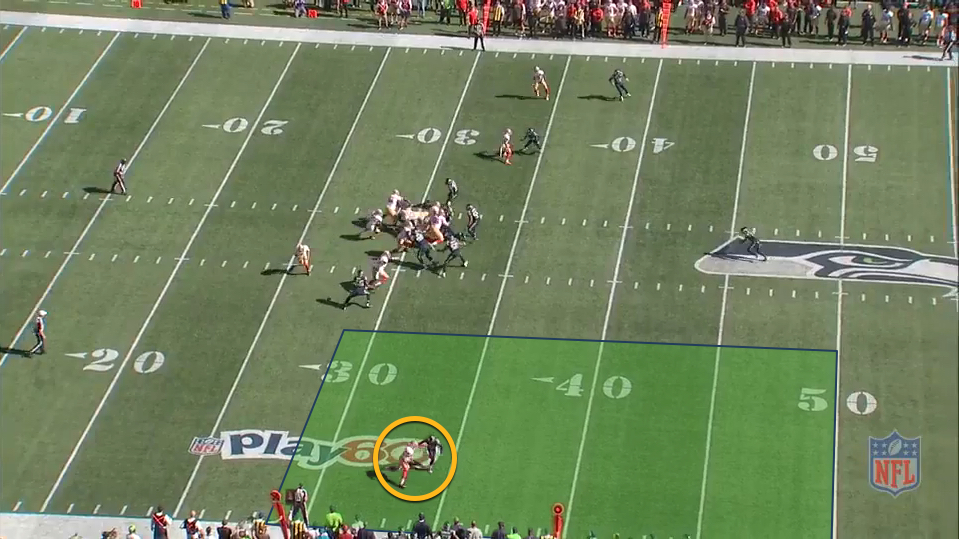 Including the playoffs last season, Sherman was lined up at left cornerback on 76.0 percent of his snaps.
The thing is, though, Sherman does sometimes track receivers. Every now and then, Seattle decides it wants to put him on a specific receiver, and he follows that player throughout the game. It happens more than you probably think, and you don't need to go back any further than the last game Seattle played to see it in action. Against the Jets in Week 4, Sherman tracked WR Brandon Marshall all game.
Last season, Sherman tracked A.J. Green, Antonio Brown, Dez Bryant, and—for less understandable reasons—Torrey Smith of the 49ers twice.
The one thing Sherman doesn't do even when he tracks receivers is play in the slot. In those games where he tracked receivers in 2015, he played a combined 11 snaps in the slot, and they were two-receiver formations with both aligned to one side, so one of the two perimeter cornerbacks was going to be lining up in the slot.

If we include the numbers against Marshall this season, Sherman gave up an average of just two catches and 32 yards to that group of receivers. They combined for one touchdown against him (Marshall), and he picked off three passes (two intended for Marshall). In one of the games against the 49ers, he completely eliminated Smith from the contest, with the San Francisco wideout receiving no targets.
The 12 times Sherman was targeted in Week 4 this season was the most in his career over a single game, and only the third time since his rookie season that he has been thrown at 10 or more times. As a rookie—a fifth-round pick out of Stanford who had been a former college WR—Sherman was targeted a lot. He was an obvious potential weak point to go after and exploit. Only eight CBs were thrown at more often on a per-snap basis in 2011 , but he picked four of those passes off, allowed a passer rating of just 57.3 into his coverage, and by the end of the year, was playing like a Pro-Bowler. The league soon caught on, and stopped sending it his way.
In his second season, Sherman had jumped up to the other end of the list, with only 11 corners being targeted less frequently, and only one (Sam Shields) giving up a reception at a better rate. Over the next three seasons, he was the least-targeted CB in the game, and the least likely to give up a reception on a per-coverage snap basis.
That becomes relevant when it comes to tracking receivers. If you knew Sherman was always going to line up at LCB, you could go elsewhere with the football, even moving your favorite receiver out of his coverage. If Sherman is going to follow that guy, you need to test the CB or accept that you're not going to be throwing to your top target all game.
Ryan Fitzpatrick—in typical Fitzpatrick fashion—chose to throw it anyway, and it cost him two interceptions. Nobody throws a "YOLO" pass with greater gusto than Fitzpatrick, but most QBs in the league aren't as cavalier with the football. He has two more interceptions this season than any other quarterback through the first five weeks of the season. Matt Ryan has a fifth as many (two), and has shown already this season that he isn't going to force the ball to Jones just because he's the best receiver the team has. Jones has 39 targets across five games, but they haven't come in an even split. He has one game with 14 targets from Ryan, and one with five.
Ryan won't just force the ball to Jones if Sherman has him blanketed all game long; the Falcons' No. 1 receiver is going to have to earn any targets he gets in this game by winning in the route against one of the game's best cover guys.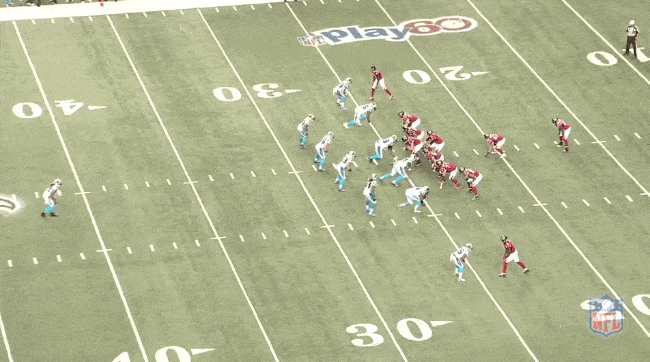 On the flipside of that, Julio Jones doesn't need much of a mistake to punish you badly, as his 75-yard catch and run touchdown against the Panthers demonstrates. This is ugly from Bené Benwikere—both on the release and then the subsequent stiff-arm—but it ably demonstrates the kind of danger posed by Jones. He isn't just a threat to pick up a first down with a catch, but is capable of turning a reception into a touchdown because of the speed and athleticism he has.
Sherman doesn't get beaten often—he hasn't surrendered more than 500 receiving yards in any of the last three seasons—but it does happen. For his career, he has only allowed 11 receiving touchdowns, but has surrendered a reception of 40 or more yards in all but one of his seasons (2013), and receptions of 50 or more in three of them.
Against the Jets and Brandon Marshall, Sherman was beaten for 41 yards on a play that could have been a lot worse, but for Kam Chancellor coming over quickly from his safety position.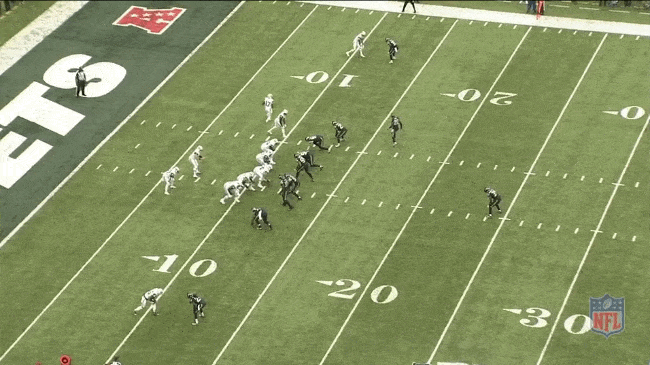 Marshall got Sherman off his balance by engaging him hard on his release before breaking inside and catching a well-thrown and well-timed pass. The line of scrimmage on the play was the 12-yard line, and I'm not sure Sherman was catching Marshall without Chancellor cutting him off. At the very least, there was plenty of additional yardage coming before he did.
Marshall is a good athlete, but he isn't Julio Jones. At his best, Marshall's 40-yard dash time was a 10th of a second slower than that of Jones' mark, and if anything, that gap is likely wider now given where they are in their respective careers. Whether or not Marshall would have taken this the distance isn't the point—Jones certainly would have.
This is the kind of lapse that Sherman can't afford if he wants to shut down Jones when they meet on Sunday.
Statistics say that Sherman is very unlikely to get torched the way Jones has been able to do to other receivers in the past. He is one of the league's best cover guys for a reason; he has never allowed a single receiver to catch 100 yards in a game, or has he given up more than a single touchdown, but the degrees between that and a true shutdown performance is what will determine who wins this battle.
Sherman and Jones are going to go one-on-one for the majority of the game, and it's a true clash of two of the game's best players. Can Sherman avoid the big lapse throughout the game and limit Jones to hard-fought, short gains? Or, will Jones catch him once or twice and get that big play that can change the game's complexion?
I can't wait to find out.