The Tennessee Titans defeated the Dallas Cowboys, 28-14,  in Week 9 of the 2018 NFL season.
PFF's ReFocused series this season features immediate takeaways and a key to the victory from two Senior Analysts who graded the performance, watching every player on every play of the game. For more data and analysis from the game, utilize our Premium Stats 2.0 dashboard to expand your knowledge on the key players, signature stats and much more.

FINAL SCORE
Tennessee Titans 28, Dallas Cowboys 14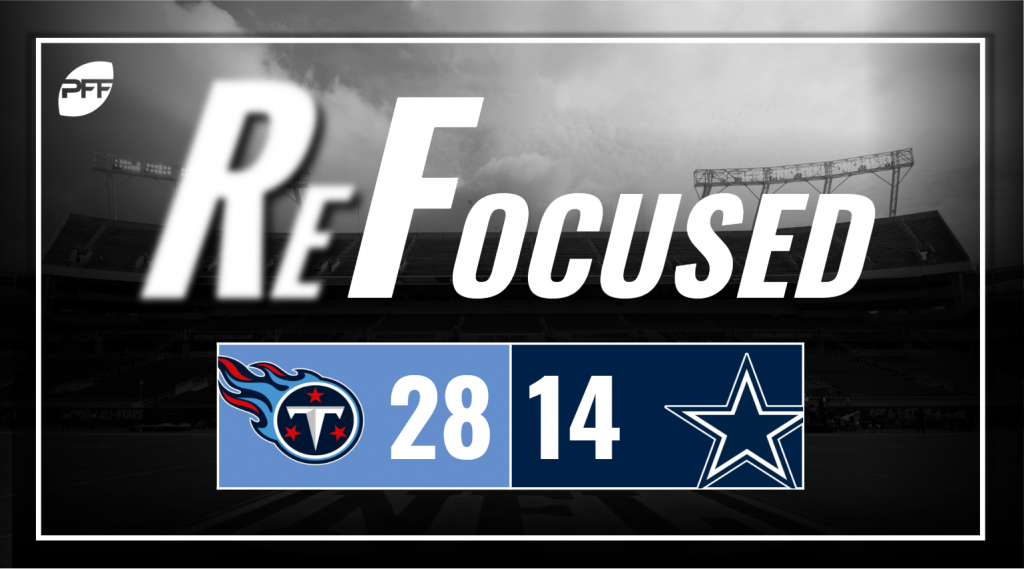 Rookie linebacker Rashaan Evans had one of his better games of the season, which isn't saying much given his slow start, but it's surely a step in the right direction for the former 'Bama standout.
Cowboys new wideout Amari Cooper torched Malcolm Butler early and often in the contest, creating easy separation on short and intermediate routes multiple times.
Marcus Mariota wasn't perfect, but he made plays on money downs and had a handful of strong throws on the night. He will likely look to build on this performance as Tennessee aims to keep their playoff hopes alive.
Interior offensive linemen Quinton Spain and Ben Jones both turned in strong performances up front, keeping Mariota upright and opening up inside rushing lanes on multiple occassions.

Dallas' offensive line struggled mightily against Tennessee's pass-rush, giving up multiple pressures and keeping Dak Prescott from finding any sort of rhythm.
Zack Martin, as expected, was still his dominant self despite the Cowboys' offensive line woes. He continues to show he's one of the best in the league at the guard position.
Demarcus Lawrence flashed brilliance rushing off the edge, as he stripped Mariota on a picture-perfect sack early in the contest. He hasn't had the same production as a year ago, but he continues to shine bright for the Cowboys' defense.
Sean Lee exited the game early with a lower leg injury, pushing rookie Leighton Vander Esch into a larger role down the stretch. LVE has had better games this season, as he put together an up-and-down performance in relief of Lee.
Keys to the Game
Tennessee
Mariota was great when he needed to be, giving Tennessee the upper hand all night long.
Dallas
Without any level of consistency in pass protection, Prescott & Co. struggled to get anything going on offense to compete with Mariota's Titans.