The Kansas City Chiefs defeated the Cleveland Browns, 37-21,  in Week 9 of the 2018 NFL season.
PFF's ReFocused series this season features immediate takeaways and a key to the victory from two Senior Analysts who graded the performance, watching every player on every play of the game. For more data and analysis from the game, utilize our Premium Stats 2.0 dashboard to expand your knowledge on the key players, signature stats and much more.

FINAL SCORE
Kansas City Chiefs 37, Cleveland Browns 21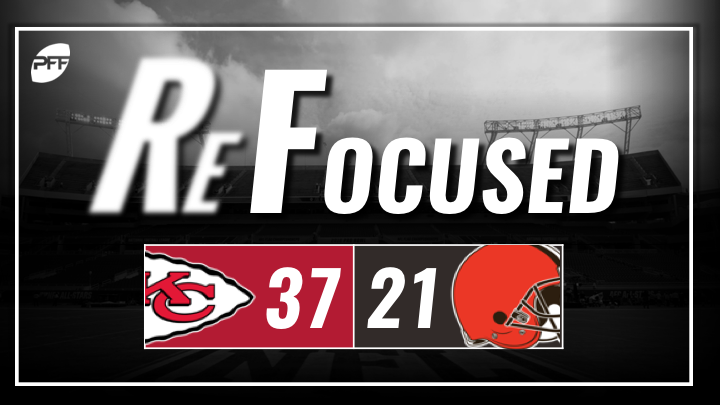 Patrick Mahomes picked apart a banged-up Cleveland secondary, throwing for a season-high 375 yards. He likely would have topped 400 if not for a few dropped passes. He found Travis Kelce seven times for 99 yards and two touchdowns.
Kareem Hunt and Spencer Ware moved the chains well both on the ground and through the air. Hunt accounted for nearly 150 offensive yards and three touchdowns, while Ware had four catches for 69 yards. Their only bad plays were that each dropped a pass.
Steven Nelson continued his busy season against Cleveland, capping off a strong game in coverage with an interception to end any realistic threat from the Browns in the fourth quarter. Nelson gave up his share of catches, but as he has in many games this season, he answered with close coverage and cut-offs.
Dee Ford was held largely in check and couldn't, at least officially, add to his nine sacks so far this season. His two sacks both were nullified, once because he jumped offsides himself and the other came on a two-point conversion that doesn't officially count. Otherwise, he was held to only a couple of hurries in what was the quietest performance to date of his breakout season.

The Browns suffered more injuries on defense, forcing them to go further down the depth chart, and it certainly didn't help their chances. Christian Kirksey and E.J. Gaines were having fairly poor games before leaving, and their subs did fare much better. Tanner Vallejo missed a few tackles, and Denzel Rice saw his first action of the year and played as many snaps on Sunday as he had career snaps over the past three and a half years entering the game.
Cleveland struggled with missed tackles, with Jamie Collins being one of the worst offenders. He also busted a coverage that led to a first down and didn't play well in run defense nor coverage overall. 
It's not often a former No. 2 overall pick deputizes for an undrafted rookie, but Greg Robinson did just that and raised the level of play on Baker Mayfield's blindside over Desmond Harrison's recent performances. He struggled at times as a run blocker but didn't surrender a hit and gave up only a couple of hurries on 50 plays in pass protection. That's progress over the last month for the Browns at left tackle.
Nick Chubb ran the ball hard all game long, and his touchdown run was just desserts on the scoreboard for hard work, overcoming an average platform for much of the game. Chubb gained more than three quarters of his rushing yards after contact and broke multiple tackles to help give the Browns some balance on offense in spite of the Chiefs putting a lot of trash in his way at the line of scrimmage.
Keys to the Game
Kansas City
The Kansas City offense was nearly unstoppable. They only got to fourth down three times all game, settling for a field goal on one drive, and didn't punt until their final two drives late in the fourth quarter.
Cleveland
This wasn't the Big 12 shootout from the last time Mayfield and Mahomes met but in their one-on-one matchup. Mayfield just couldn't keep pace with Mahomes and the Chiefs' offense this time around.