The Washington Redskins defeated the Dallas Cowboys, 20-17,  in Week 7 of the 2018 NFL season.
PFF's ReFocused series this season features immediate takeaways and a key to the victory from two Senior Analysts who graded the performance, watching every player on every play of the game. For more data and analysis from the game, utilize our Premium Stats 2.0 dashboard to expand your knowledge on the key players, signature stats and much more.

Final Score
Washington Redskins 20, Dallas Cowboys 17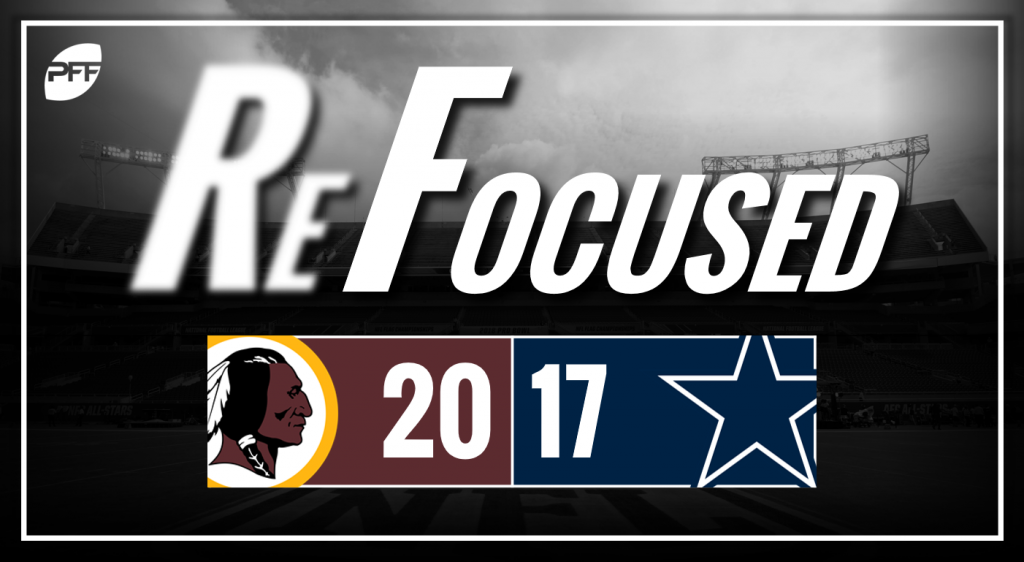 The Redskins' defense was dominant at all three levels of the field but most notably their front seven. Ryan Kerrigan and Preston Smith were disruptive off the edge with Kerrigan wracking up pressures on top of the two sacks he logged. Da'Ron Payne and Jonathan Allen threw back to their college days at Alabama and were forces from the interior. The linebacker crew of Zach Brown and Mason Foster were all over the field making plays.
Outside of cornerback Greg Stroman biting badly on a double move by Michael Gallup, the Redskins' secondary played tight coverage all game long. Josh Norman was excellent outside of a missed tackle, and solid contributions were delivered from the rest of the secondary.
After starting the game off with a touchdown on their opening drive, Washington's offense failed to finish off drives with just two field goals the remainder of the game. Part of that came as their passing game lagged, as Alex Smith uncharacteristically missed a few easy throws and completed less than 60 percent of his passes.
Adrian Peterson was maybe the only standout performer on the Washington offense. He easily would have eclipsed 100 rushing yards if not for a couple penalty calls that cut down some bigger runs and gained a good portion of his yardage after contact.

It was easily Ezekiel Elliott's worst game of his career where he saw at least 10 carries, as he had career lows in yards per carry (2.3) and yards after contact per carry (1.7). He wasn't helped at all by his offensive line that was thoroughly dominated by the Redskins front seven.
Dak Prescott played quite well considering how often he was under duress – outside of an egregious fumble recovered for a touchdown by the defense. He almost brought the Cowboys back and drove the offense into field goal range with some big-time throws and timely scrambles.
The Cowboys struggled to get much pressure on Smith. He was sacked once and hit a couple other times, but the Washington offensive line kept Demarcus Lawrence and company at bay.
Sean Lee returned from injury to split time in the Cowboys' linebacker rotation. Lee seemed like he was healthy, flying around the field to make stops even if he was late to recognize one pass out of the backfield that gave up a first down. Unquestionably, he played better than Leighton Vander Esch, who didn't do a great job of shedding blocks against the Washington offensive line.
Keys to the Game
Washington
Despite mediocre performances from most of the offense, Washington was able to eek out a win thanks to a defensive touchdown and a missed field goal the the end of the game that could have forced overtime.
Dallas
The Cowboys' once-great offensive line has been decimated by age and injuries, which the Redskins' defense took advantage of.