TheTampa Bay Buccaneers defeated the Cleveland Browns, 26-23,  in Week 7 of the 2018 NFL season.
PFF's ReFocused series this season features immediate takeaways and a key to the victory from two Senior Analysts who graded the performance, watching every player on every play of the game. For more data and analysis from the game, utilize our Premium Stats 2.0 dashboard to expand your knowledge on the key players, signature stats and much more.

Final Score
Tampa Bay Buccaneers 26, Cleveland Browns 23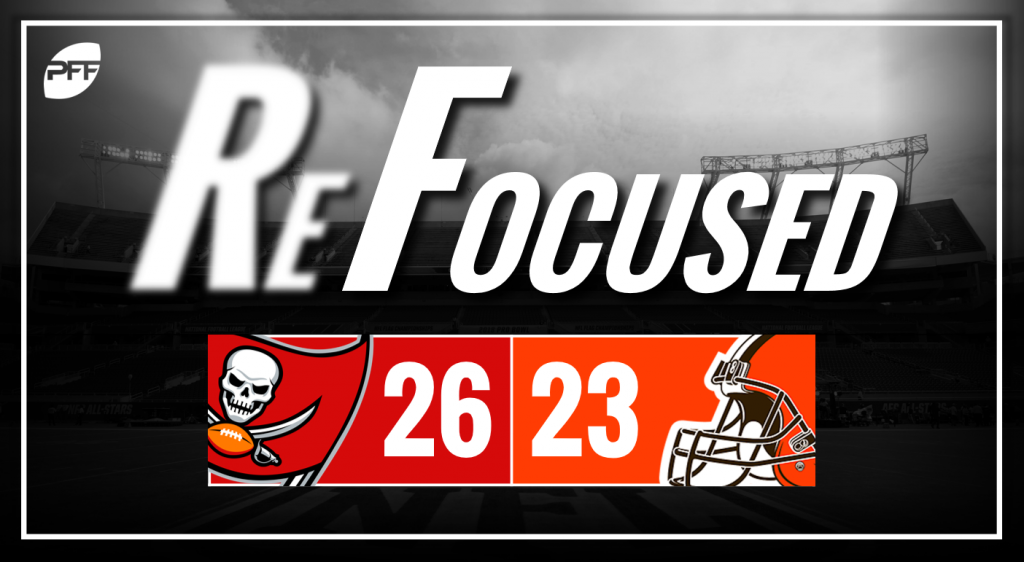 Gerald McCoy's absence up front was noticeable. While Baker Mayfield was sacked four times, the Bucs didn't get all that much pressure on him. Beau Allen did little as a pass-rusher and didn't make much impact in the running game, either.
For the most part, the Buccaneers held the Browns' passing offense in check. They allowed only two passes to go for 20-plus yards, kept the short stuff in front of them and did a decent job making tackles after the catch.
Tampa Bay didn't get a whole lot going on the ground in this one, but the offensive line held their ground in pass protection. Jameis Winston dropped back to throw the ball 68 times and only faced pressure about 25 percent of the time. Donovan Smith had his hands full with Myles Garrett all afternoon (and Garrett did beat him a handful of times, but Winston was able to get the ball out before any pressure could land). But, all in all, it was a solid game in pass protection for Tampa's offensive line.
Winston had a mixed day throwing the ball. He pushed the ball downfield and connected with receivers throughout the afternoon in the intermediate range, but he missed on a handful of open throws and struggled under pressure. It wasn't an awful day passing the ball for Winston; it just wasn't his best day. On the ground, he had a solid performance, gaining 57 yards on seven scrambles, picking up either a first down or touchdown on five of them.

In the Browns' first game since trading Carlos Hyde, rookie Nick Chubb was given more touches than he had entering the game, taking 19 of the 20 carries by running backs. He didn't have a lot to work with on several carries, but he did manage to rip off a few big runs and forced several missed tackles. In all, it was a good debut for him as a starter.
The Cleveland offense struggled to move the ball consistently for most of the game. Two of their three touchdown drives started inside the Tampa 30-yard line, and they didn't convert a first down on either of their overtime drives. The Browns also didn't seem to attack downfield with the passing game very much compared to other games.
No surprise that Garrett was a force Cleveland's defense down in Tampa. Garrett tallied two sacks (including one strip sack), and he won consistently throughout the afternoon on his pass-rush snaps. He didn't record pressure too often, though, due to some quick throws.
On the back end of the defense, Denzel Ward once again showed why he was worthy of the No. 4 overall pick in this past offseason's draft. Ward was beaten down the field early in the game by DeSean Jackson on a pass that fell incomplete due to an overthrow, but that was one of his few blemishes of the day. Ward went on to play solid coverage and made positive plays in run defense. Ward broke up two passes in this game. Heading into this week, he was ranked eighth among all cornerbacks with eight forced incompletions.
Keys to the Game
Tampa Bay
Sometimes you just need an opportunity for redemption. Today – thanks to some timely play by Tampa Bay's punt coverage unit – Chandler Catanzaro cashed in on that opportunity.
Cleveland
It was a heartbreaking loss for the Browns, but they were too inconsistent and failed to do anything on their overtime possessions to seal a close win.