The Detroit Lions defeated the Miami Dolphins, 32-21,  in Week 7 of the 2018 NFL season.
PFF's ReFocused series this season features immediate takeaways and a key to the victory from two Senior Analysts who graded the performance, watching every player on every play of the game. For more data and analysis from the game, utilize our Premium Stats 2.0 dashboard to expand your knowledge on the key players, signature stats and much more.

Final Score
Detroit Lions 32, Miami Dolphins 21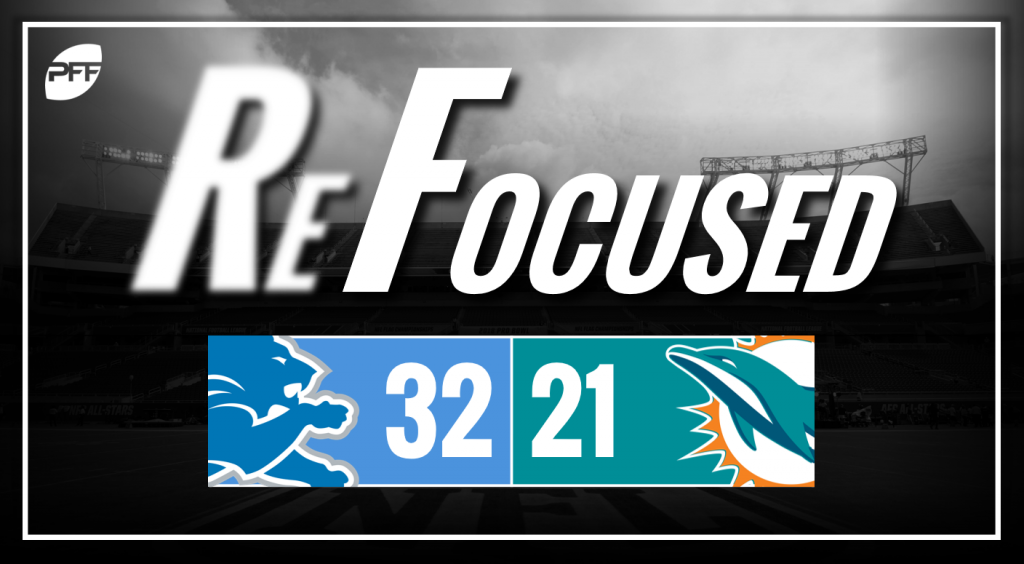 Matt Stafford played mistake-free football, took what the defense gave him and missed very few throws. Most of his throws were very quick, which did not allow the Dolphins a chance to get much pressure on him.
Rookie running back Kerryon Johnson continues to show why he deserves more touches in this offense. He found open space and showed very nice burst and elusiveness in the open field, forcing a handful of missed tackles in the process. Johnson showed good power as well, picking up a number of tough yards through contact.
Defensive interior Ricky Jean Francois submitted one of the better performances of the game, defeating Miami offensive linemen on five occasions, including a sack on the third play of the game by splitting the double-team by both Travis Swanson and Ted Larson.
Jean Francois' fellow defensive interior, A'Shawn Robinson also played a vital role in putting pressure on Dolphins' Brock Osweiler. However, Robinson saved his best for the final quarter, stacking together each of his three quarterback pressures when the Dolphins were in comeback mode.

The Lions' game plan to get the ball out quick kept the Dolphins from generating any type of pressure to rattle Stafford. The few times Dolphins pass-rushers were able to beat blocks, the ball was already out well before they got to the quarterback.
The Dolphins did a decent job at plugging initial points of attack in the ground game but failed to finish plays and allowed Johnson to find the open lane elsewhere too often. Defensive tackle Akeem Spence made a positive impact, as he was able to shed some blocks and cause disruption on the interior. Linebacker Kiko Alonso missed multiple tackles on the day and took a poor angle of pursuit on one play that led to a big run.
One can count on a single hand the number of snaps where Osweiler was gifted with a clean pocket. Each of the Dolphins' offensive linemen permitted at least three pressures sans Laremy Tunsil, who did not allow a single pressure on the day. Swanson allowed Detroit defenders to pressure the pocket on six occasions and allowed one sack, while Larson allowed five pressures.
It was simply a poor showing all around from Miami, who received its best performances from Tunsil and, surprisingly, Osweiler. The replacement quarterback was able to maneuver through a hotly contested pocket to do his best to keep the Fins in the game. Some of the highlights included connecting with Kenny Stills on a corner route from the Detroit five-yard line and a sensational scoring toss to a diving Danny Amendola on a crossing route to bring Miami within 10 points early in the fourth quarter.
Keys to the Game
Detroit
High percentage throws and dominance on the ground led to a convincing victory, in which the Lions were in control from start to finish.
Miami
Osweiler was far from perfect but did a serviceable job generating offense despite the significant shortcomings from his offensive line.