The Denver Broncos defeated the Arizona Cardinals, 45-10,  in Week 7 of the 2018 NFL season.
PFF's ReFocused series this season features immediate takeaways and a key to the victory from two Senior Analysts who graded the performance, watching every player on every play of the game. For more data and analysis from the game, utilize our Premium Stats 2.0 dashboard to expand your knowledge on the key players, signature stats and much more.

Final Score
Denver Broncos 45, Arizona Cardinals 10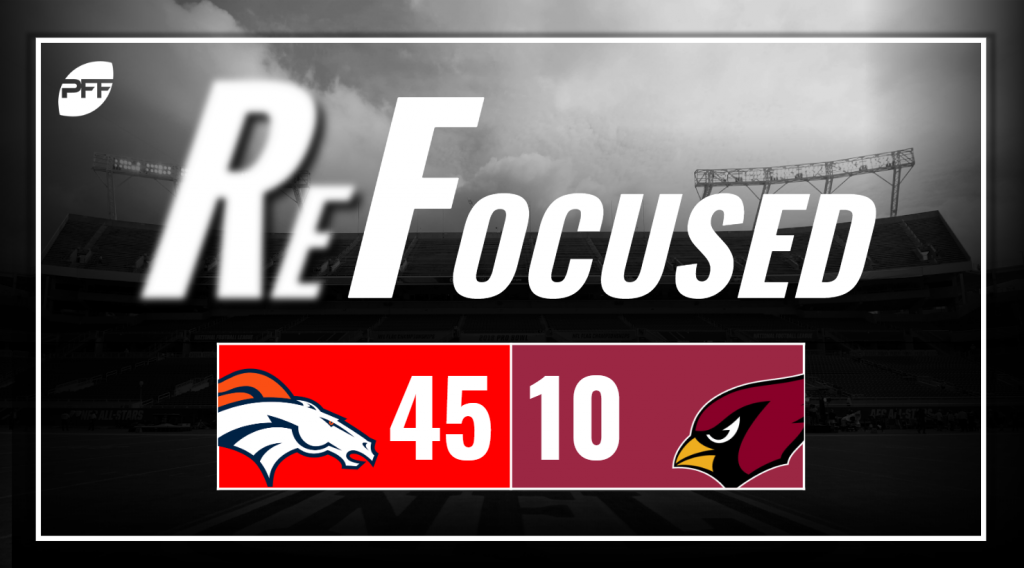 In a game that got out of hand quickly, the Broncos were able to lean on the running game enough to successfully milk the clock and keep this game out of reach. Phillip Lindsay's 28-yard touchdown run in the third quarter was the highlight, but Royce Freeman was better than his 2.8 yards per carry showed, turning a few near-negative plays into positive ones.
Emmanuel Sanders did most of the heavy lifting for a Broncos' passing game that didn't need to do a whole lot. After throwing a touchdown pass on a trick play for Denver's first offensive score of the night, he got behind the Cardinals' secondary on a deep post route for a score that effectively put this game away early in the second quarter.
The Broncos' pass-rush fared well against the Arizona offensive line, led by none other than Von Miller. He picked up two sacks and two forced fumbles and had to be pushing double-digits in total quarterback pressures when it was all said and done.
The back-end played just as well, highlighted by Bradley Roby. The fifth-year Ohio State product picked off Rosen once and broke up at least another three passes. Chris Harris Jr. also made his impact felt with a pick-six and had a generally solid coverage on the night.

Arizona was completely unable to generate any semblance of consistent pressure on Case Keenum. Most of the pressure they did manage to get came late in the down after Keenum was unable to find anything open downfield or on a few snaps where they managed to scheme up a free rusher. But when it came to winning one-on-one matchups up front, those wins were nearly nonexistent.
There weren't many opportunities for the Cardinals' defense to make a mark on this game, but the closest thing they had to a standout was slot cornerback Budda Baker. The former Washington superstar, who's been one of Arizona's best defenders this season, made several stops near the line of scrimmage in both phases.
The Cardinals found themselves in a big hole early, which caused them to more or less abandon the run fairly early in the game. It's not like they were having much success anyway, however, as David Johnson and Chase Edmonds combined to average just 2.5 yards per carry.
There was some stuff out of Josh Rosen's control, like three batted passes, one of which was picked and returned for a touchdown. But he also made a couple disastrous throws and fumbled the ball on multiple occasions. No matter what, he needs to take better care of the ball, but his blocking wasn't making things any easier for him.
Keys of the Game
Denver
Denver's defense did enough to win this game on their own; the offense simply needed to not mess it up. Keenum & Co. cleared that bar tonight.
Arizona
Absolutely nothing went right for the Cardinals, as they turned the ball over five times. Quickly falling behind by three scores only made things more difficult for Rosen and company with the Broncos' pass rushers able to pin their ears back.