The Kansas City Chiefs defeated the Oakland Raiders, 35-3, in Week 17 of the 2018 NFL season.
PFF's ReFocused series this season features immediate takeaways and a key to the victory from two Senior Analysts who graded the performance, watching every player on every play of the game. For more data and analysis from the game, utilize our Premium Stats 2.0 dashboard to expand your knowledge on the key players, signature stats and much more.

FINAL SCORE
Kansas City Chiefs 35, Oakland Raiders 3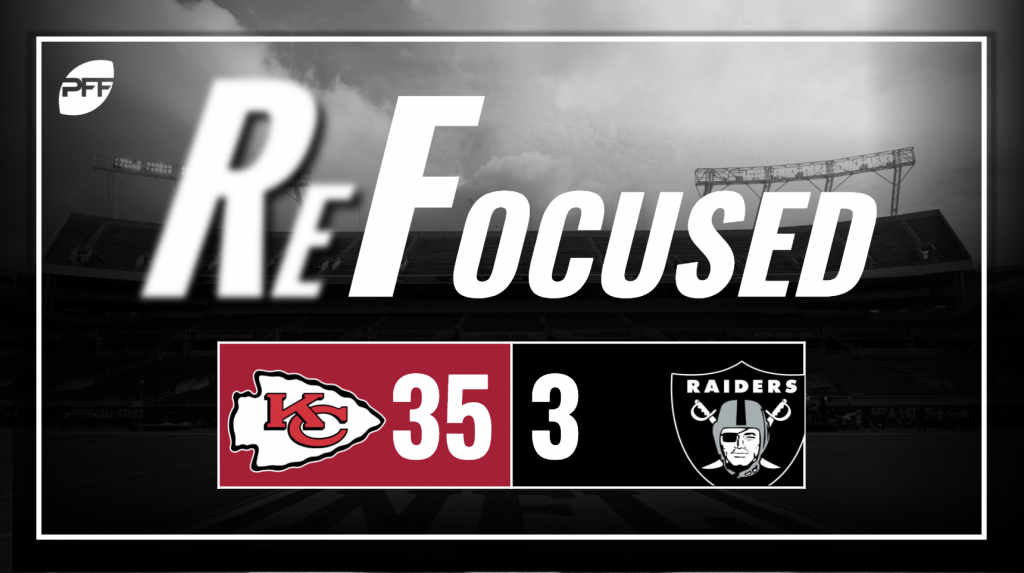 Tyreek Hill capped off a fantastic regular season with another excellent performance in Week 17. Hill's speed was simply too much to handle for Nick Nelson on the opening drive, as Hill blew by him for a 67-yard touchdown and then later on he took advantage of some excellent blocking on the edge for a second touchdown on a jet sweep handoff.
It was a little bit of a mixed bag for Patrick Mahomes on his record-setting day. He made a couple of big-time throws and all in all played well, but he was a bit fortunate early on to not throw a couple of interceptions on a pair of throws that bounced right off of Tahir Whitehead's hands.
Kansas City's defensive front gave Oakland's offensive line problems all day in both phases, and Justin Houston, Chris Jones & Co. consistently made life difficult for Derek Carr in the pocket whenever he wasn't looking to immediately get rid of the ball.
Big plays early on led the day for the Chiefs' defense, with a number of defenders forcing turnovers (or turnover opportunities). Allen Bailey kicked things off, ripping the ball for Doug Martin's grasp on the first drive of the game. Daniel Sorensen and Reggie Ragland intercepted Carr passes, while Houston and Dee Ford both managed strip sacks.

Carr closed the season on a low note, throwing two horrible interceptions, fumbling two more times (one of which he can be forgiven for), and generally failing to make much in the way of positive plays for the Raiders' offense. As has become the norm with Carr, he mostly stayed underneath, choosing to get rid of the ball quickly and failing to complete a single throw that traveled over 10 yards in the air.
Doug Martin fumbled on Oakland's opening possession, but he put together a solid effort after that point, breaking tackles and gaining yards after contact to hit 100 yards on the day despite only getting four carries in the second half with the game out of hand.
Oakland's pass rush was virtually non-existent in their final game of 2017. Mahomes wasn't sacked once all game, and the Raiders only managed one hit to go with just a handful of hurries. Oakland's pass-rush has been an issue for them much of the year, and it was more of the same in Kansas City.
Frostee Rucker was one of the few standouts on Oakland's defense in Week 17, especially in run defense. Rucker tallied a handful of stops, as the veteran defender saved arguably his best game of the season for last.
Keys to the Game
Kansas City
Mahomes, Hill and the Chiefs' offense was just too much to handle for the Raiders' defense, especially when compounded with the turnover woes suffered by Oakland's offense.
Oakland
Turnovers on the first four possessions of the game led to a 21-0 deficit the Raiders would never get close to eliminating.