The Los Angeles Rams defeated the Detroit Lions, 30-16, in Week 13 of the 2018 NFL season.
PFF's ReFocused series this season features immediate takeaways and a key to the victory from two Senior Analysts who graded the performance, watching every player on every play of the game. For more data and analysis from the game, utilize our Premium Stats 2.0 dashboard to expand your knowledge on the key players, signature stats and much more.

FINAL SCORE
Los Angeles Rams 30, Detroit Lions 16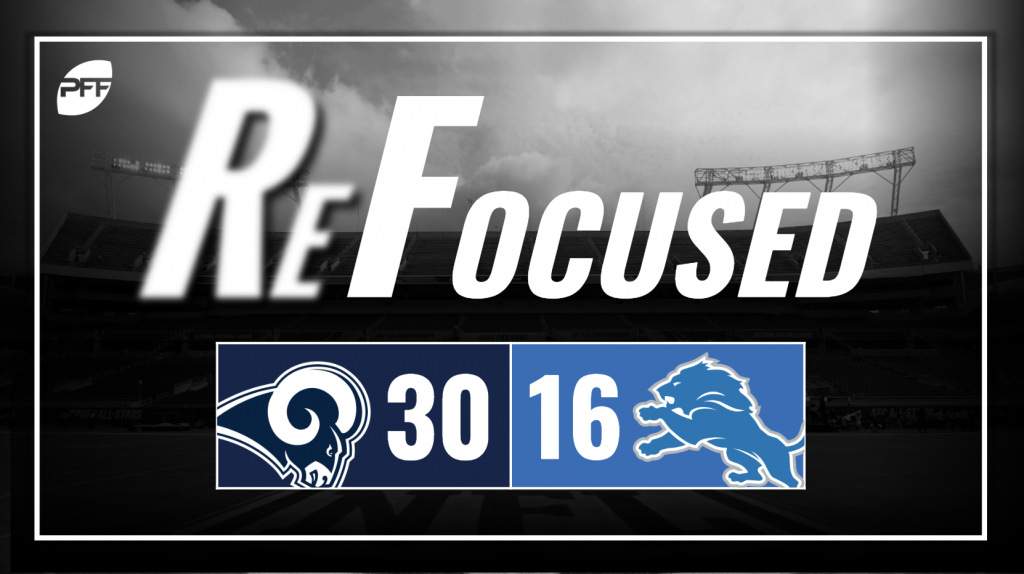 Jared Goff had an uncharacteristic bad day against the Lions. The Los Angeles quarterback was off target on multiple occasions, as he barely completed more than 50 percent of his throws. Furthermore, he also put the ball in harm's way, fumbling once and throwing an interception while he was fortunate not to see a batted pass returned for a touchdown.
With the struggles of Goff, it was up to running back Todd Gurley to carry the Rams' offense and delivered against Detroit. Gurley was useful both in the running game and the passing game and broke multiple tackles on his way to 165 yards from scrimmage and two rushing touchdowns.
Star interior defensive lineman Aaron Donald had an outstanding game, as he was too much to handle for the Detroit offensive line. Donald recorded two sacks, including one where he forced a fumble on Matthew Stafford. He was tough to move in the running game, as well.
While cornerback Aqib Talib returned from injury, he played just 26 snaps against Detroit. Talib was not tested heavily in his limited playing time, as he allowed just one reception on two targets against the Lions.

Interior defensive lineman Damon Harrison once again showed why Detroit traded for him earlier this season. Harrison, as usual, made multiple plays against the run; however, he also recorded a strip-sack today when he took advantage of Goff climbing too far up in the pocket.
Like Harrison, A'Shawn Robinson also had an outstanding game on the Detroit defensive line. Robinson was one of the key reasons why Gurley had to fight for every yard, as Detroit won the battle in the trenches against the Rams' offensive line.
Stafford didn't have his best game on Sunday afternoon. He had a fumble where he did not secure the football as he was sacked by Donald. In addition, while he threw just one interception at the end of the game, he had multiple dropped interceptions, as Troy Hill had a chance to return one of Stafford's passes for Kenny Golladay for a touchdown.
Detroit's interior offensive line had a tough day against the Rams' defensive line. Guards Kenny Wiggins and Frank Ragnow and center Graham Glasgow all struggled to keep the Rams interior defensive linemen in check as they wreaked havoc both as pass-rushers and against the run.
Keys to the Game
Los Angeles
Even though the Rams' offensive line and Goff struggled on Sunday afternoon, Los Angeles was able to overcome this thanks to the work of their defensive line and Gurley.
Detroit
The Detroit interior offensive line was not up to the task to slow down the Rams' defensive line, as they made life hard on the Lions running backs and Stafford.