The Los Angeles Chargers defeated the Arizona Cardinals, 45-10, in Week 12 of the 2018 NFL season.
PFF's ReFocused series this season features immediate takeaways and a key to the victory from two Senior Analysts who graded the performance, watching every player on every play of the game. For more data and analysis from the game, utilize our Premium Stats 2.0 dashboard to expand your knowledge on the key players, signature stats and much more.

FINAL SCORE
Los Angeles Chargers 45, Arizona Cardinals 10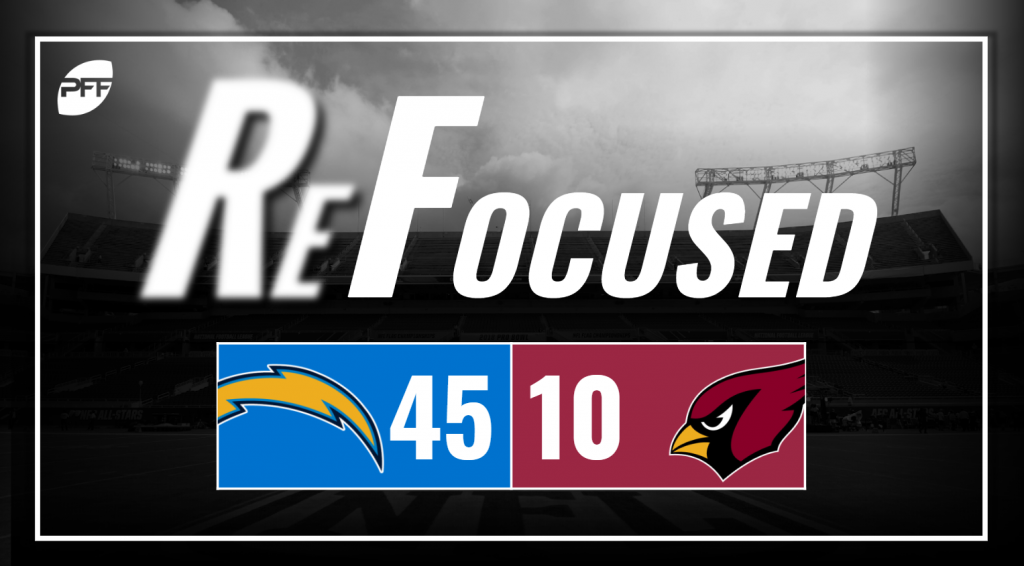 It sure is nice to have Joey Bosa back. The Chargers' third-down packages have way more pop, and combined with Melvin Ingram, they had a few nice stunt combinations Sunday. 
Derwin James continues to be the best defensive rookie in the NFL. He allowed very few yards in coverage and came away with an interception in this one.
Philip Rivers was scintillating Sunday. He was helped out by some impressive toe-taps along the sidelines by his receivers, but Rivers only miss on his 29 attempts came on a play where he was hit as thrown.
Hopefully, Melvin Gordon's injury isn't serious, but the Chargers are still in good hands with Austin Ekeler. He broke multiple tackles and constantly added yards above expectations both on receptions and runs. 

Outside of the very first drive of the game, there really wasn't much of anything to be encouraged by for the Cardinals' offense. It was extremely conservative despite trailing the majority of the game and rarely tested down the field with only one deep shot from Josh Rosen.
The Cardinals' usage of David Johnson remains wholly uncreative. He was repeatedly pounded right into an overmatch offensive line and rarely given a chance to excel in space.
The lone silver lining for the Cardinals was the performance of Robert Nkemdiche. Going against a weak Chargers interior, he feasted for three sacks and three run stops.
The Cardinals' attention to detail in this one can be summed up well by Markus Golden lining up in the neutral zone twice on the same drive.
Keys to the Game
Los Angeles
Rivers' accuracy was record-setting, and it looked like the Chargers could move the ball at will.
Arizona
The Cardinals had no answers on either side of the ball and got completely dominated.