The Washington Redskins defeated the Arizona Cardinals on Sunday afternoon, 24-6, during the NFL's first full Sunday of action.
PFF's ReFocused series this season features immediate takeaways and a key to the victory from two Senior Analysts who graded the performance, watching every player, on every play of the game. For more data and analysis from the game, utilize our Premium Stats 2.0 dashboard to expand your knowledge on the key players, signature stats and much more.

FINAL SCORE
Washington Redskins 24, Arizona Cardinals 6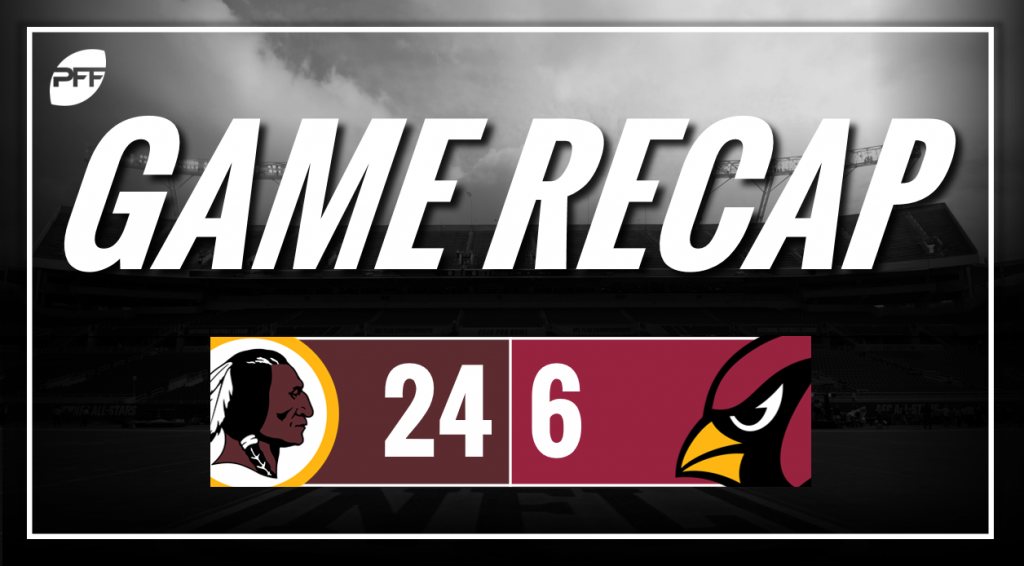 Analyst Takeaways

Quarterback Alex Smith is a perfect fit in the Redskins offense. Not only does his timing and accuracy fit what Jay Gruden wants to do, his athleticism also opened up a ton of option looks in the running game.
Running back Adrian Peterson doesn't quite have the elite juice he once did, but he still runs incredibly hard. His vision on a handful of concepts today was impressive, and he benefitted from a dominant offensive line performance.
Pernell McPhee looks like a useful budget free-agent signing already. He was putting on a clinic against left tackle D.J. Humphries in obvious passing situations in the second half.
The Redskins had a lot of question marks in their secondary heading into this season after dealing Kendall Fuller early in the offseason. Quinton Dunbar did his best to answer some of those questions this week as he seemed to always be around the football.

David Johnson picked up where he left off from his 2016 campaign. He could have put up a huge game if he was given a heavier workload on the ground. The offensive line was opening up holes, and Johnson found them with ease at times. 
Sam Bradford's adjustment period to the Cardinals offense was incredibly rocky in Week 1. He looked reluctant to push the ball down the field, and when he did, his receivers didn't seem to be on the same page.
Robert Nkemdiche hasn't produced much over his first two seasons, but if this week is any indication, he could be close to living up to his first-round pedigree. He was one of the only Cardinals defenders capable of pressuring Alex Smith as he pushed the pocket repeatedly. 
It was a day for Deone Bucannon to forget. Besides not being able to get off blocks in the run game, he frequently got shook by Redskins receivers and backs in underneath zones in the passing game.
Keys to the game
Washington: With Alex Smith at the helm and a healthy offensive line, the Redskins can execute a deadly and balanced offense.
Arizona: Arizona's offensive line was overmatched in pass-protection the whole second half, and their poor performance gave them no chance of a comeback.