The  Cleveland Browns tied with the Pittsburgh Steelers on Sunday afternoon, 21-21, during the NFL's first full Sunday of action.
PFF's ReFocused series this season features immediate takeaways and a key to the victory from two Senior Analysts who graded the performance, watching every player, on every play of the game. For more data and analysis from the game, utilize our Premium Stats 2.0 dashboard to expand your knowledge on the key players, signature stats and much more.

FINAL SCORE
Cleveland Browns 21, Pittsburgh Steelers 21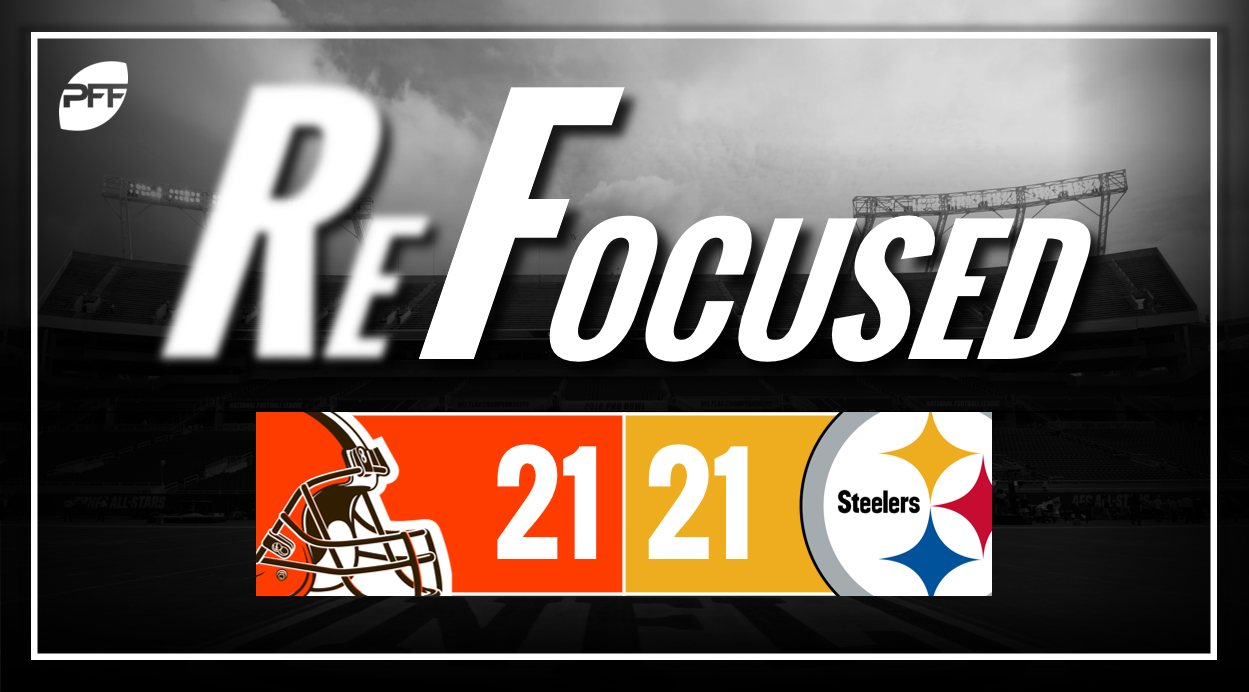 Analyst Takeaways

It was a tough day for center Maurkice Pouncey. Interior defensive lineman Larry Ogunjobi zeroed in on him early and often, realizing if he just unleashed his bull rush against him, Pouncey had no answer to it. This was the case late when Ogunjobi was credited with a sack after he pushed Pouncey into quarterback Ben Roethlisberger.
It's interesting to watch running back James Conner now. He's still a guy who forces guys to miss tackles at a great rate, but he's a more patient runner and his vision in finding the right running lane was crucial to his big day.
It was also a feisty day for the Pittsburgh's defensive backs, who were never far away from their receivers and made a number of plays on the ball. Cornerback Mike Hilton was a standout member for his team's secondary on the day. 
The defense largely had their way, outside of one drive at the start of the second half, when they struggled to stop the Browns outside zone running game. The linebackers were aggressive against the run with both Vince Williams and Jon Bostic making some noise around the line of scrimmage.

The conditions weren't ideal, but the performance of Tyrod Taylor will have done nothing to quieten those wanting Baker Mayfield to start. He was skittish in the pocket, held onto the ball too long and struggled to get his receivers involved. His saving grace, that he doesn't throw turnover-worthy balls, failed him with a late pick with the Browns close to field goal range that would have presented an opportunity to win it.
They didn't fail to win because of their UDFA left tackle Desmond Harrison. He held up for the most part, though three penalties and some blown assignments made life harder than it should have been. He'll face more varied pass-rushers than Bud Dupree this year though.
He wasn't flawless, but Denzel Ward was a standout performer for the Browns. A late pass break up, and a nice break on a ball for an interception were the highlight plays, but he also showed his all-around skill by drawing a flag on a screen while disrupting the rhythm of the play.
What to make of Myles Garrett? He made two big plays, but couldn't find a way past left tackle Alejandro Villanueva all game, although he did have more joy late when he moved inside to more of a 5-tech position against guard Ramon Foster. Still, his two big splash plays created points (though his two penalties cost the Browns points).
Keys to the game
Pittsburgh: The Steelers defensive backfield did a great job shutting down the Browns pass attack on a consistent basis.
Cleveland: The Browns defense was able to make plays at the right time to get them back into the game with three forced fumbles and three interceptions.