The Los Angeles Chargers defeated the San Francisco 49ers on Thursday evening, 23-21 continuing the fourth full week of preseason action in the NFL.
PFF's ReFocused series this season features immediate takeaways and a key to the victory from two Senior Analysts who graded the performance, watching every player, on every play of the game. For more data and analysis from the game, utilize our Premium Stats 2.0 dashboard to expand your knowledge on the key players, signature stats and much more.

FINAL SCORE
Los Angeles Chargers 23, San Francisco 49ers 21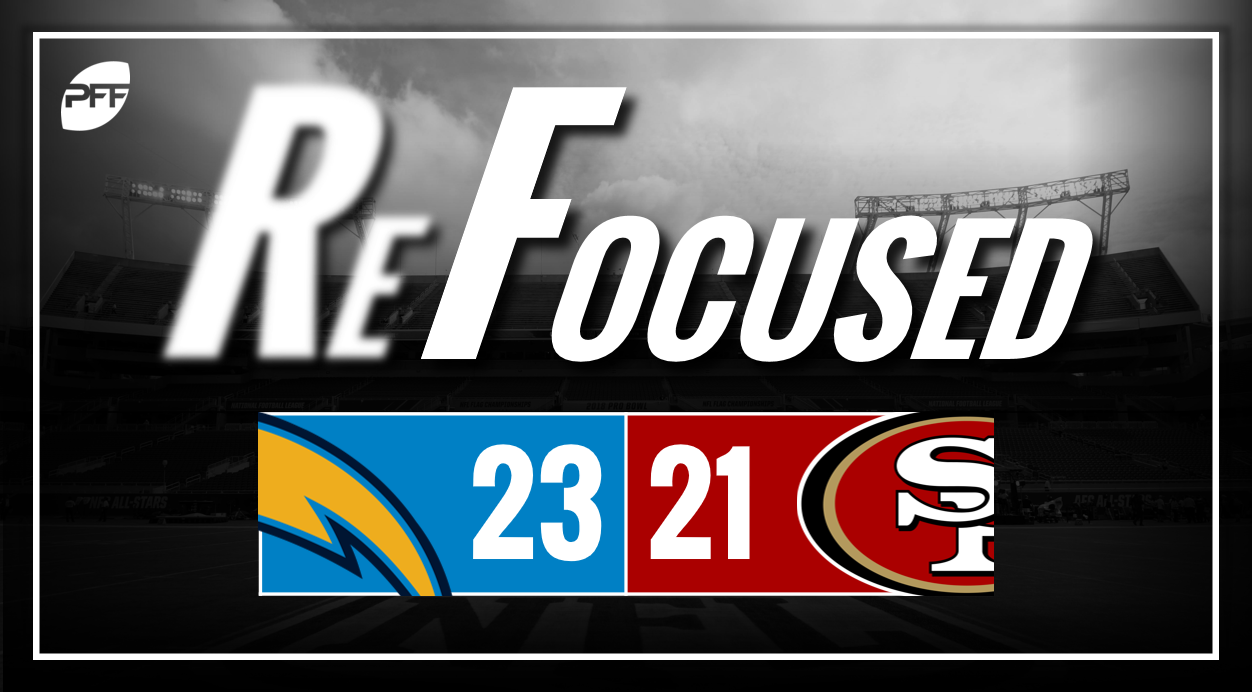 Analyst Takeaways

Second-string quarterback Geno Smith played the entire first half, going 4/6 for 16 yards but he once again utilized his legs rushing four times for 36 yards. The Chargers game plan throughout the night was to keep the ball on the ground, and they were successful when doing so, rushing 31 times for 138 yards and a touchdown on the night. 
The Chargers were able to put consistent pressure on the 49ers all evening long. Rookie edge-rusher Uchenna Nwosu stood out and capped off his impressive preseason by recording four tackles, a sack, and a quarterback hit. 
Among the solid performances by the second and third-string unit were edge-defender Chris Landrum, who recorded two sacks and two quarterback hits and linebacker D'Juan Hines, who consistently shed blocks against the run and showed he could be a strong contributor on special teams. 

Third-string quarterback Nick Mullens saw the bulk of the action Thursday night, going 10/17 for 106 yards and he displayed strong chemistry with seventh-round pick Richie James, who made big plays in the second half and ended up with seven catches for 80 yards.
Solomon Thomas showed his potential on the night, albeit against second stringers. He made two tackles after he shed the block quickly to disrupt the play in the backfield. Reuben Foster also saw action, notably making a tackle for loss on a screen pass.
Among the standouts for the defense was Ronald Blair III, he generated consistent pressure off the edge and was able to set the edge in the run game, finishing with five tackles and a sack.
KEY TO THE GAME
Los Angeles:  The great effort by Detrez Newsome on the kick return late in the fourth quarter helped propel the Chargers to victory. They also came in with the mindset to establish the run and did just that, rushing 31 times an average of 4.5 yards per attempt.
San Francisco:  Surrendering a long kick return ultimately did them in. It gave the Chargers great field position, and they weren't able to produce a stop to keep  Roberto Aguayo out of field goal range.