The Denver Broncos defeated the Arizona Cardinals on Thursday evening, 21-10 continuing the fourth full week of preseason action in the NFL.
PFF's ReFocused series this season features immediate takeaways and a key to the victory from two Senior Analysts who graded the performance, watching every player, on every play of the game. For more data and analysis from the game, utilize our Premium Stats 2.0 dashboard to expand your knowledge on the key players, signature stats and much more.

FINAL SCORE
Denver Broncos 21, Arizona Cardinals 10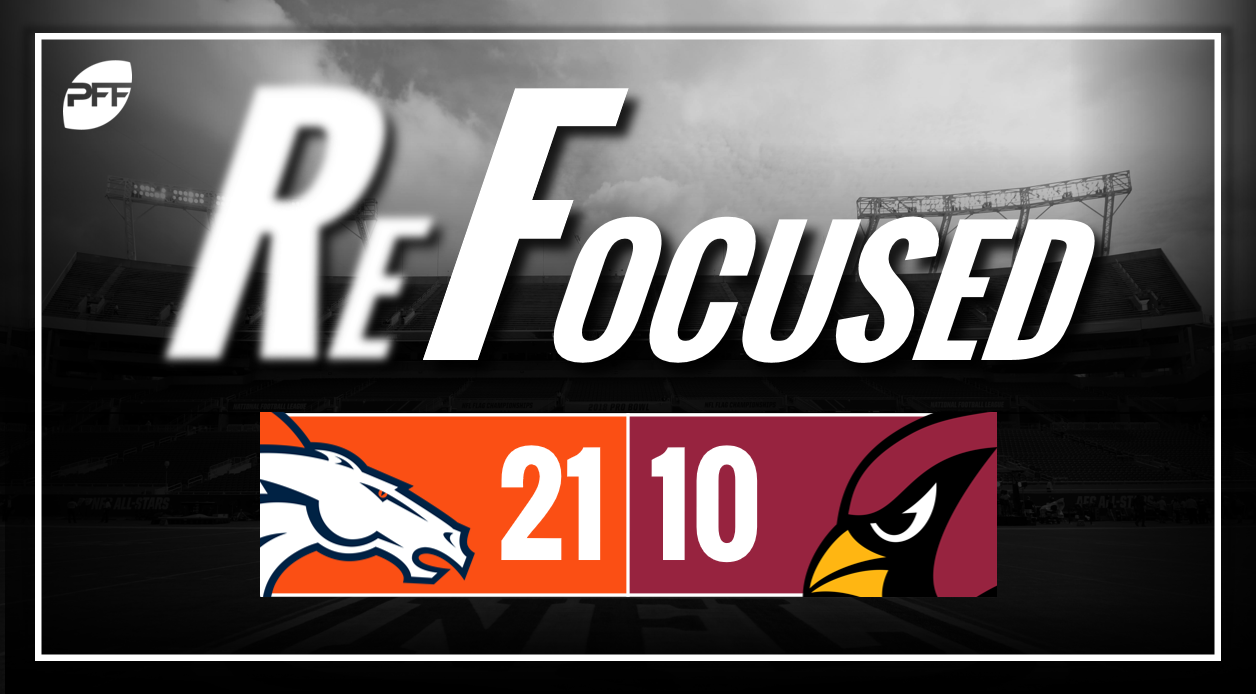 Analyst Takeaways

De'Angelo Henderson didn't have his best blocking all night, but seemingly every time he touched the ball he was able to force miss tackle or drive defenders for extra yards on a consistent basis. QB Paxton Lynch will have a stat line that may make people think he has turned a corner with only one incompletion on 15 attempts. But the reality was nearly every pass was either a run-pass option or short into the flat. His second touchdown pass was his best throw of the night as it came on one of his passes actually thrown downfield.
The Broncos played their third- and fourth-string defensive players and were able to show that they can find edge rushers out of nowhere as both Marcus Rush and Jeff Holland were able to cause pressure even if it was against the tail end of the Cardinals offensive line. Safety Trey Marshall was shot out of a cannon all game as he was physical in the passing game early, dislodging a deep pass to being a factor in the run game. Out of all the players on the Broncos roster, he is someone to keep an eye on as cut day approaches.

Mike Glennon showed reason why teams still take a chance on him as he was efficient even if he was not an electric passer. Completing 8-of-10 attempts with a couple of nice deep passes, the Cardinals will have a tough choice behind Sam Bradford as to whether to go with a veteran like Glennon or the rookie first-round pick Josh Rosen.
Ezekiel Turner, an undrafted rookie, was able to shine during the last preseason game as he was all over the field making tackles, one of which was a sack. Brandon Williams struggled even in the last week of preseason, he recorded six tackles but a lot of those were because he was unable to close down receivers.
KEY TO THE GAME
Denver: The Broncos running game was able to allow both Chad Kelly and Lynch to throw high-completion passes rather than having to take shots downfield and that led to the high yardage output.
Arizona: The quarterback play of Charles Kanoff was a prime example of preseason Week 4, it allowed a player who hadn't had many reps the chance to either succeed or fail. Unfortunately, in the case of Kanoff, he really struggled even against the bottom of the Denver defense.