The Dallas Cowboys knocked off the Kansas City Chiefs 28-17, behind a strong second half from their sophomore standout duo in QB Dak Prescott and RB Ezekiel Elliott.
Elliott punched in a two-yard touchdown plunge late in the third quarter to re-take the lead for Dallas and Prescott found WR Cole Beasley for their second scoring connection of the game midway through the fourth quarter to make the contest a two-possession game. Prescott finished the day completing 21-of-33 passes for 249 yards and the two scores to Beasley, while Elliott carried the ball 27 times for 93 yards and his score.
On the opposite side of the field, led by quarterback Alex Smith, climbed back from a 14-3 hole to take their first lead of the game, 17-14, half way into the third quarter on the heels of Smith's second touchdown throw of the game. However, those would be the last points the potent Chiefs offense would score in the game, as they fall to 6-3 on the season, losers of three of their last four games. The NFL's leading rusher in Kareem Hunt was bottled up to just 37 yards on nine carries, and with that, we give you our PFF exclusive takeaways from the contest for each team.

Top 5 Grades:
C Travis Frederick, 87.5 overall grade
WR Terrance Williams, 86.4 overall grade
RB Ezekiel Elliott, 85.6 overall grade
S Xavier Woods, 83.2 overall grade
QB Dak Prescott, 82.7 overall grade
Performances of Note:
With Dez Bryant taking most of the attention, it was Terrance Williams that was able to have a big day, catching all nine of the passes thrown his way for 141 receiving yards, beating seven different Chiefs defenders for receptions.
Dak Prescott had a mixed day, but ended up on the right side of all of the luck. He had a very risky pass dropped by S Eric Murray which turned a possible interception into a third down conversion, and he needed WR Dez Bryant to help him avoid another costly pass later in the game, but he was able to make some good decisions with his legs and impact the game that way.
Lee was all over the field, finishing with eight solo tackles and seven assists, including a team-high five stops. He attacked the screen game for an early tackle for loss in the first quarter and stayed right with RB Charcandrick West on a short route in the fourt quarter, keeping it to a short gain. Lee also found his way to the ball in the run game, making an all-around impact to lead the Dallas defense.
While Lawrence was held without a sack for the first time all season, he still made an impact with a number of quick wins as a pass-rusher. He finished with a QB hit and four hurries on only 28 rushes, while registering other wins that didn't register as pressures due to Kansas City's quick passing game. It wasn't a perfect outing as Lawrence was handled by RT Mitchell Schwartz in the run game on a number of plays, but he remains one of the most feared pass-rushers in the NFL this season.

Top 5 Grades:
TE Travis Kelce, 86.3 overall grade
DI Chris Jones, 85.6 overall grade
S Ron Parker, 81.0 overall grade
CB Kenneth Acker, 80.6 overall grade
DI Rakeem Nunez-Roches, 79.8 overall grade
Performances of Note:
The final stat line still looks nice as Smith finished with a passer rating of 102.9, but that number drops to 86.3 when taking out the free 56-yard touchdown in which Tyreek Hill juked the entire Cowboys' defense at the end of the first half. Smith missed on a number of throws, while throwing an interception into double coverage with the game on the line with 5:12 to go in the fourth quarter. Smith appeared as though he was feeling pressure early in the game though he was only pressured on 11 of his 39 dropbacks, goin 2-for-7 for eight yards to go with two scrambles and two sacks on those plays.
Kelce was the most dependable receiver for the Chiefs, catching 7-of-9 targets for 73 yards and a touchdown. He moved the chains with five of his seven catches, doing a fine job working both the middle of the field and the perimeter. Kelce also got into the game as a blocker, making a key downfield block on Hill's spectacular end-of-half touchdown and he had a number of key blocks in the run game.
Jones could have been an absolute monster in this game, but seemed unable to finish plays behind the line of scrimmage, whether when getting quick pressure leading to a sack from somebody else, or when knifing into the backfield only to miss a tackle on Ezekiel Elliott. Jones also added a pair of batted passes in the passing game.
Marcus Peters had an interesting game overall. He allowed four receptions on five targets, with Dez Bryant getting him for 33 yards on two catches, but he also made a spectacular play, coming from the far side of the field to impact a dig route when he realized he had no reason to stay on his side, and could help out the far side corner.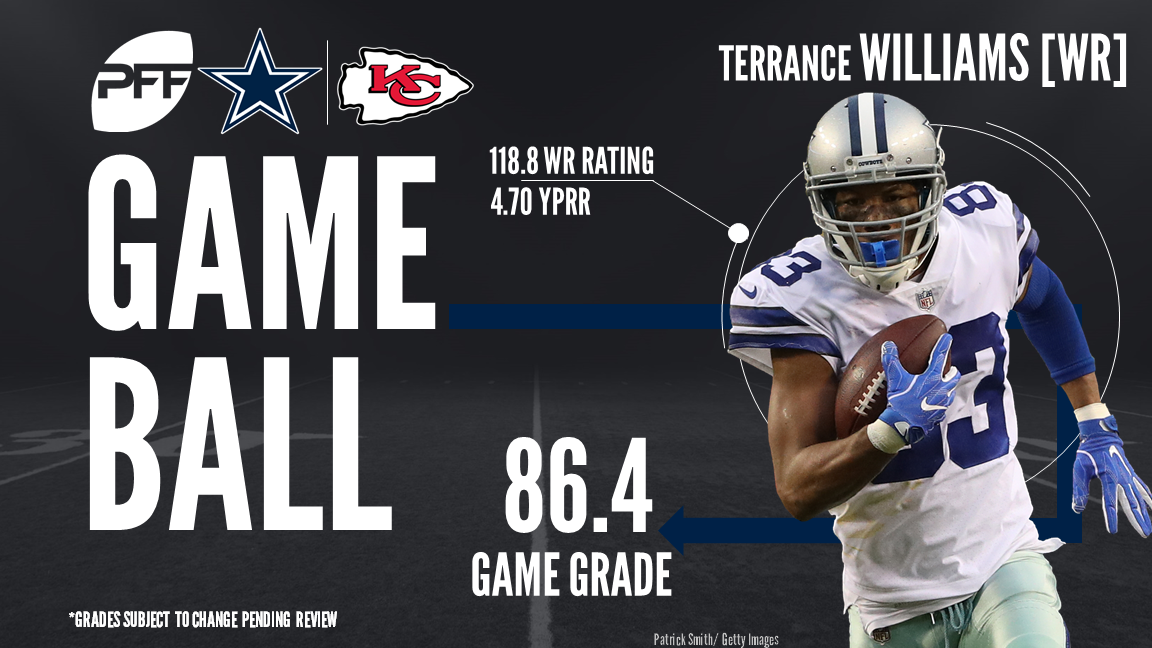 *Grades are subject to change upon review