Forcing five Green Bay Packers turnovers, the Baltimore Ravens' defensive unit carried their team to a 23-0 victory on Lambeau Field early Sunday morning, giving Green Bay their first shutout loss at home since 2006.
Packers rookie quarterback Brett Hundley was the man responsible for four of Green Bay's five turnovers, as he threw three interceptions and fumbled the ball once He finished the contest having completed 21-of-36 passes for 239 yards and zero touchdowns in addition to his three picks.
Serving as a catalyst to Hundley's woes under center, Baltimore's defense sacked the former UCLA product six times for a total loss of 49 yards.
Offensively, Ravens running back Alex Collins couldn't get going on the ground, as he averaged just 2.5 yards per carry on 20 attempts en route to a measly 50-yard performance. However, his fourth-quarter score and wide receiver Mike Wallace's 21-yard touchdown were enough to keep Hundley & Co. at bay. With that, we give you our PFF exclusive takeaways from the contest for each team.

Top 5 Grades:
RB Alex Collins, 85.1 overall grade
S Eric Weddle, 84.8 overall grade
DE Willie Henry, 84.6 overall grade
LB C.J. Mosley, 84.6 overall grade
Edge Matthew Judon, 84.3 overall grade
Performances of Note:
QB Joe Flacco, 64.7 overall grade
This won't go down as one of Flacco's greatest efforts, but the Raven can at least say his team having the better quarterback played a huge role in deciding who won. The team continued to struggle moving the ball down the field with no completions over 20 yards in the air and just three completions going further than 10. This win won't mask anything in that regard.
On the surface of it, 50 yards on 20 carries might not seem like a good day. But with 47 of those yards coming after contact Collins worked tirelessly to keep the chains moving forward and was rewarded with a garbage-time touchdown. Even with the return of Danny Woodhead (13 snaps), Collins was still very much the feature back with his 38 snaps more than Woodhead and Javorius Allen combined (23).
Henry is one of those guys you don't hear an awful lot from but he's quickly become a big part of the Ravens defense. This was arguably his finest game as a pro, wracking up a career-best five combined sacks, hits, and hurries while adding two further defensive stops. The fourth-rounder has now played 61.1 percent of the team's defensive snaps and that number is trending up.
It was quite the day for Judon, who got to Brett Hundley three times while making a total of five defensive stops in an all action display, He owed his sack tally to a quarterback intent on holding the ball for as long as possible but beyond that number it was his work in the run game and coverage that really caught the eye.

Top 5 Grades:
WR Davante Adams, 84.8 overall grade
Edge Nick Perry, 84.5 overall grade
S Josh Jones, 82.8 overall grade
RG Jahri Evans, 82.3 overall grade
Edge Ahmad Brooks, 81.1 overall grade
Performances of Note:
That wasn't pretty. Hundley has if nothing else been careful with the ball since becoming the starter, but on Sunday even that deserted him. Three picks and six sacks (four of which can be attributed to him either holding onto the ball too long or moving out of a clean pocket) tell it all. Even Green Bay fans, used to Aaron Rodgers holding onto the ball for a long time, must be wondering what it is when their quarterback has an average time to throw of 3.65 seconds (Rodgers was at 2.83 seconds by way of comparison). Something has to change behind center if the Packers season is to go anywhere.
There wasn't a whole lot to get excited by on offense but Adams took what chances came his way to finish the day with 126 receiving yards and a number of impressive grabs. The usually reliable Jimmy Smith had some issues with the former Fresno State wideout, with three of his grabs for 47 yards coming against the Ravens top cornerback.
With Clay Matthews leaving the game with a groin injury (after picking up a sack and two hurries), in came Fackrell for heavy snaps and he responded well. Rushing the passer he had one sack where he beat Austin Howard as quick as a hiccup, while his work in the run game was impressive if not particularly splashy. A solid showing all round.
In what might be something of a lost season for the Packers it's important to remember there are positives. The rookie Jones looks like he belongs on an NFL field and picked up a couple of tackles in coverage for short gains while drawing a holding call in the run game to bring a play back. After a rough few weeks for him it was good to see the now every-down player return to his early season form.
PFF Game Ball: Edge Matthew Judon, 84.3 overall grade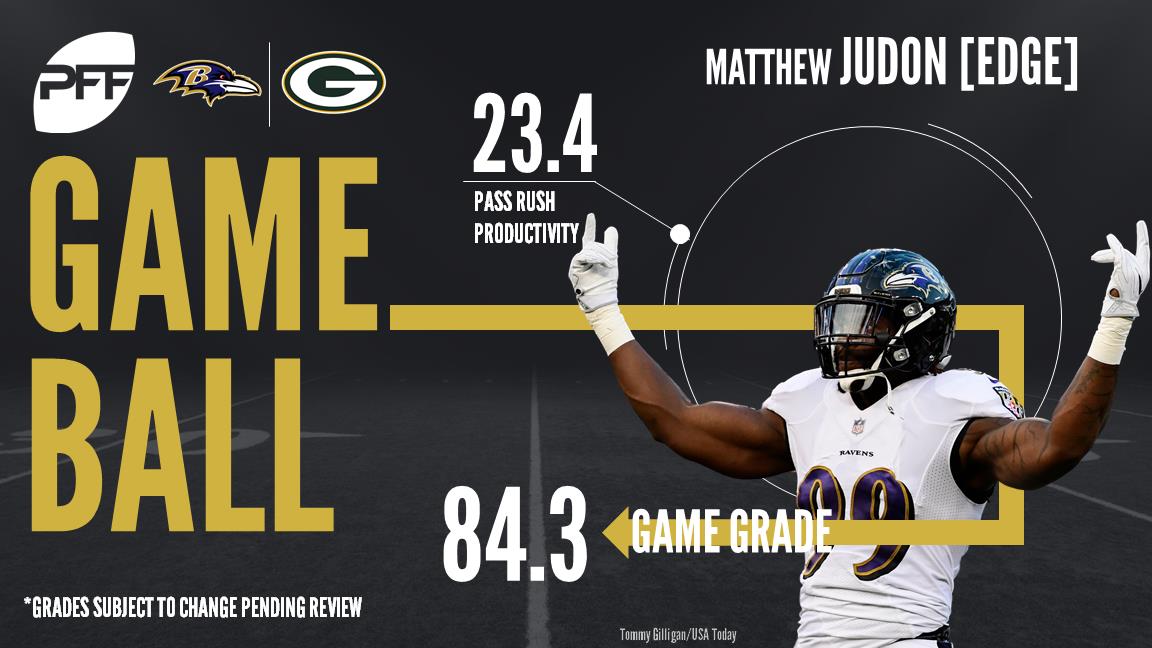 *Grades are subject to change upon review