The Pittsburgh Steelers defeated the Philadelphia Eagles on Thursday night, 31-14 opening the first full week of preseason action in the NFL.
Who impressed the most when the Pittsburgh Steelers defeated the Philadelphia Eagles last night? pic.twitter.com/MgagHBx6yy

— Pro Football Focus (@PFF) August 10, 2018
PFF's ReFocused series this season features immediate takeaways and a key to the victory from two Senior Analysts who graded the performance, watching every player, on every play of the game. For more data and analysis from the game, utilize our Premium Stats 2.0 dashboard to expand your knowledge on the key players, signature stats and much more.

FINAL SCORE
Pittsburgh Steelers 31, Philadelphia Eagles 14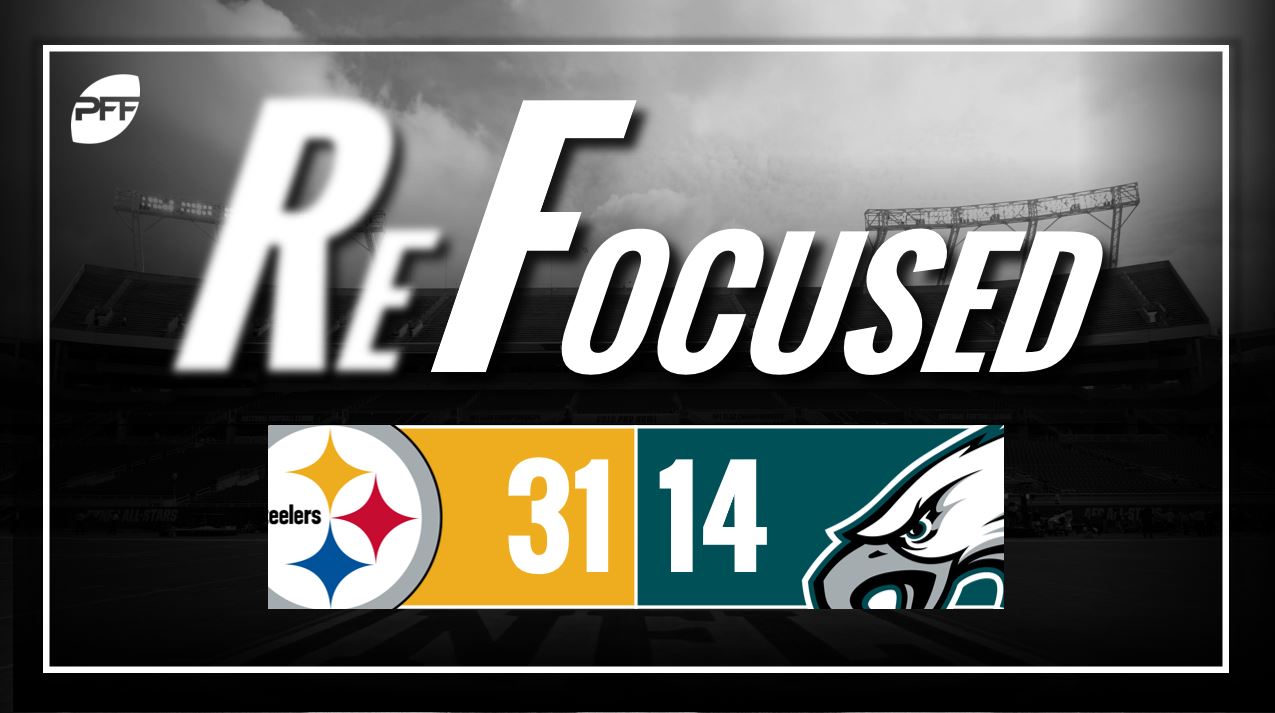 Analyst Takeaways

The key to the game for the Steelers offense came with two big plays from JuJu Smith-Schuster and Damoun Patterson. Each had big-time touchdown catches from Landry Jones and Joshua Dobbs. Overall, the Steelers took care of the football aside from one interception by Dobbs and the team made enough key plays to win the game in the end. Although Mason Rudolph, in particular, took two sacks that shouldn't have happened, he did a good job of avoiding catastrophic mistakes in his preseason debut.
Last year, the Steelers had major issues with missed tackles, finishing with the lowest tackling grade out of any team last season. Against the Eagles, this trend contiuned as they had nine missed tackles. On a bright note, Cameron Sutton was able to force an interception on a Nate Sudfeld misread, and then also manged to strip Sudfeld of the ball close to the sideline which unfortunately for the Steelers fell out of bounds.

With both Nick Foles and Carson Wentz out, the starting quarterback role went to Nate Sudfeld. Sudfeld threw a poor interception early in the game as he failed to read the Cover-2 cornerback but made up for it later in the game with a perfect pass deep down the sideline for a 63-yard touchdown.
The Eagles mixed around their running backs, but no matter who the back was they got their offensive linemen on the move, either by pulling them or by using a lot of trap plays. The Eagles gained 61 yards on these run plays.
The Eagles pass-rush stood out consistently throughout the game. Michael Bennett and Fletcher Cox set the tone early on while Steven Means and Joe Ostman did good things as the game progressed.
KEY TO THE GAME
Pittsburgh: The Steelers wide receiver group was the key to victory for them. With the big-time catches they made, especially down the field, the Eagles had little chance of keeping up on the scoreboard.
Philadelphia: The Steelers starting secondary was able to effectively shut down the Eagles passing game, once the starters came out, though, there were clear cracks in the unit that Philadelphia should have been able to exploit.