The Indianapolis Colts defeated the Seattle Seahawks on Thursday night, 19-17 opening the first full week of preseason action in the NFL.
Andrew Luck returned, Quenton Nelson debuted and Russell Wilson impressed in limited duty. Key takeaways from Colts-Seahawks. pic.twitter.com/ZpKSJAa8br

— Pro Football Focus (@PFF) August 11, 2018
PFF's ReFocused series this season features immediate takeaways and a key to the victory from two Senior Analysts who graded the performance, watching every player, on every play of the game. For more data and analysis from the game, utilize our Premium Stats 2.0 dashboard to expand your knowledge on the key players, signature stats and much more.

FINAL SCORE
Indianapolis Colts 19, Seattle Seahawks 17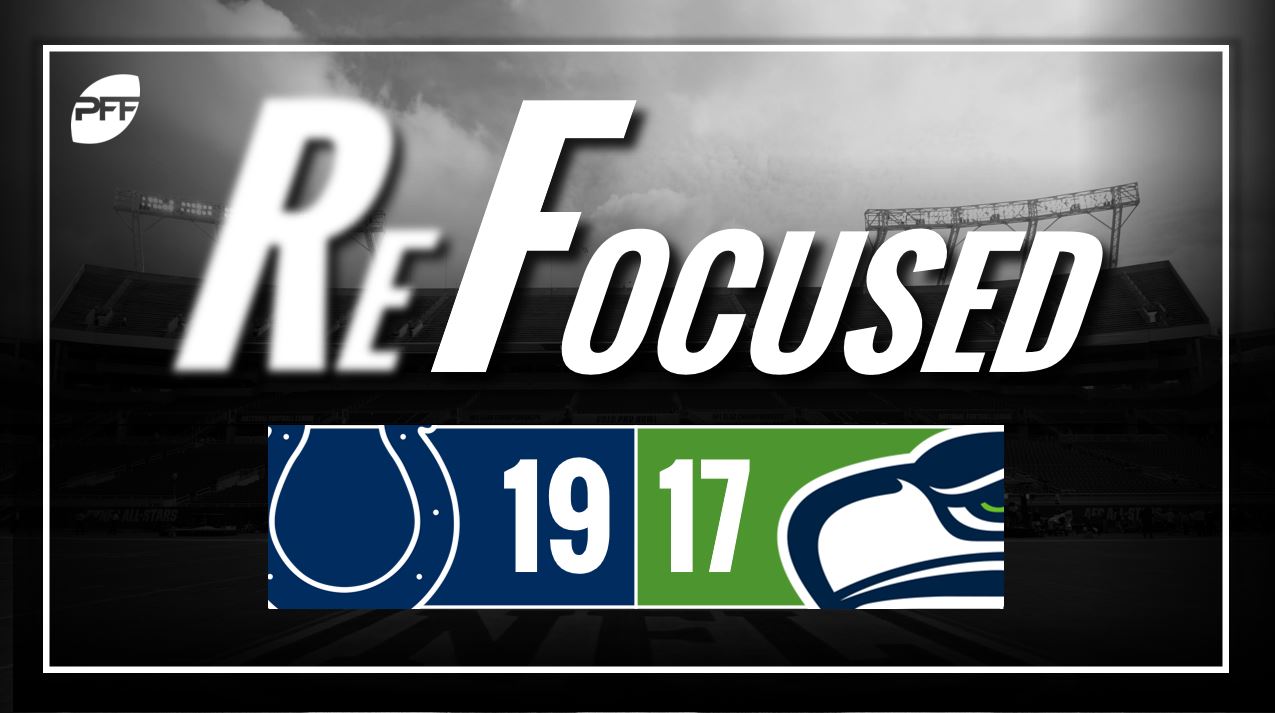 Analyst Takeaways

The majority of Andre Luck's passes were checkdowns and screens. It seemed clear that the coaching staff emphasized getting the ball out of his hands quickly. On the few passes that he threw that weren't checkdowns, he looked a bit rusty, missing T.Y. Hilton high at one point and not putting enough arm strength on a quick out on another play.
Quenton Nelson looked a bit shaky in pass protection, losing two pass reps to backup Seattle defensive lineman Joey Ivie to allow pressure. Although he was inconsistent in pass protection, he was as advertised as a run blocker, delivering some nice blocks. Center Ryan Kelly looked very good today getting to the second level and winning consistently in the run game.
On the edge of their defense, John Simon racked up two sacks for the Colts defense. Hassan Ridgeway made plays against the run and as a pass-rusher, generating multiple pressures.

Russell Wilson looked in control of the offense in his limited playing time, including a nice scrambling red zone touchdown pass to tight end Nick Vannett. First-round draft pick Rashaad Penny showed off a burst to get to the edge and Mike Davis also ran hard and forced missed tackles as a runner and as a pass catcher.
Michael Dickson was booming punts with great distance and hangtime showing that he was worth the investment of a draft pick. Dickson produced the highest graded single season by a punter in our four years of grading college football a year ago.
Shaquem Griffin's debut was a mixed bag. While he made some plays, including several tackles, he got blocked too easily in the run game at times and missed his gap on a play, allowing a run to go for a first down.
Seattle's defensive line did a good job of pressuring Andrew Luck, with lesser-known players like Joey Ivie consistently applying pressure. The secondary wasn't perfect, but they held their own throughout the game.
KEY TO THE GAME
Seattle: The offense struggled to get much done on offense once Russell Wilson's night was done. On defense, they were able to turn a fumble recovery into a touchdown but they just weren't able to put enough points on the board.
Indianapolis: Despite numerous wasted plays on snap miscues, including a defensive touchdown, the Colts were able to move the ball enough with a few splash plays and relied on field goals to put points on the board.