The Tampa Bay Buccaneers defeated the Miami Dolphins on Thursday night, 26-24 opening the first full week of preseason action in the NFL.
PFF's ReFocused series this season features immediate takeaways and a key to the victory from two Senior Analysts who graded the performance, watching every player, on every play of the game. For more data and analysis from the game, utilize our Premium Stats 2.0 dashboard to expand your knowledge on the key players, signature stats and much more.

FINAL SCORE
Tampa Bay Buccaneers 26, Miami Dolphins 24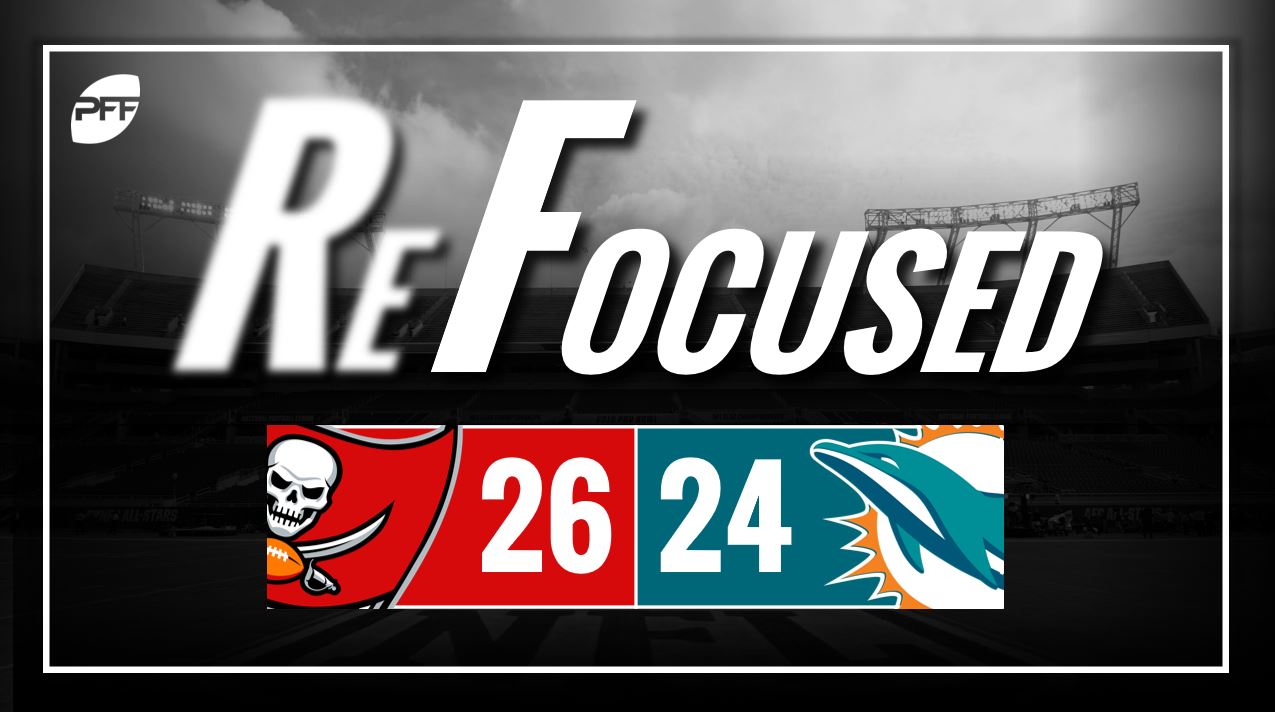 Analyst Takeaways

Ryan Griffin found a home for each of his four attempts on the final drive that drove the Bucs 67 yards down the field, capped by Chandler Catanzaro's 26-yard game-winning field goal.
Jameis Winston's connection with TE Cameron Brate was evident as the two worked together almost seamlessly when they were on the field. Brate was not only Winston's security blanket, check down and go-to receiver, he was the game's leading receiver in terms of receptions, hauling in all five of his targets.
Buccaneers defensive tackle Stevie Tu'ikolovatu man-handled Miami center Mike Matthews to the outside making a stop on an early second quarter inside zone play after beating the Miami line earlier in the drive for a pressure. The second-year player made an impact with the absence of rookie first-round pick Vita Vea.

David Fales had the most productive night of the four Miami quarterbacks and the best throw of the night in the third quarter, on the first play after a Tampa touchdown drive, he threw an absolute laser through double coverage right on the money to WR Francis Owusu.
Rookie RB Kalen Ballage, without much space to operate, took it upon himself to create space and make plays. However, he tried to make too much out of a drop-off pass on third down deep in Miami territory leaping over Bucs defenders but failed to take the ball with him.
Minkah Fitzpatrick was seemingly all over the field during his Miami debut. He closed in on Chris Godwin during a first quarter vertical route that appeared to be an easy reception until Fitzpatrick jarred the ball lose at the last second. Miami will need this type of consistent play out of Fitzpatrick pairing with the abilities of strong safety Reshad Jones to overcome its young cornerback unit.
KEY TO THE GAME
Tampa Bay: Tampa Bay's quarterbacks each played a key role in the victory over Miami. Ryan Fitzpatrick completed 6-of-8 attempts, followed by 11-of-13 for Winston while Griffin closed out the victory completing 20-of-26 for 179 yards.
Miami: Ballage's success he found on passing downs as his limited work during his collegiate career sparked concerns.