Continuing our season of highlighting the best of the best at the mid-season mark, we turn our attention to the best defenses in the NFL over the first 8 weeks. These are a retrospective look and not necessarily who we think is the best at the moment.
The following ranks purely run off of our team defense grades, which are updated weekly and made available to all ELITE subscribers. This is the final installment of a four-part series that will cover all 32 teams' pass-rush, run-defense, coverage and total defense grades over the last two weeks.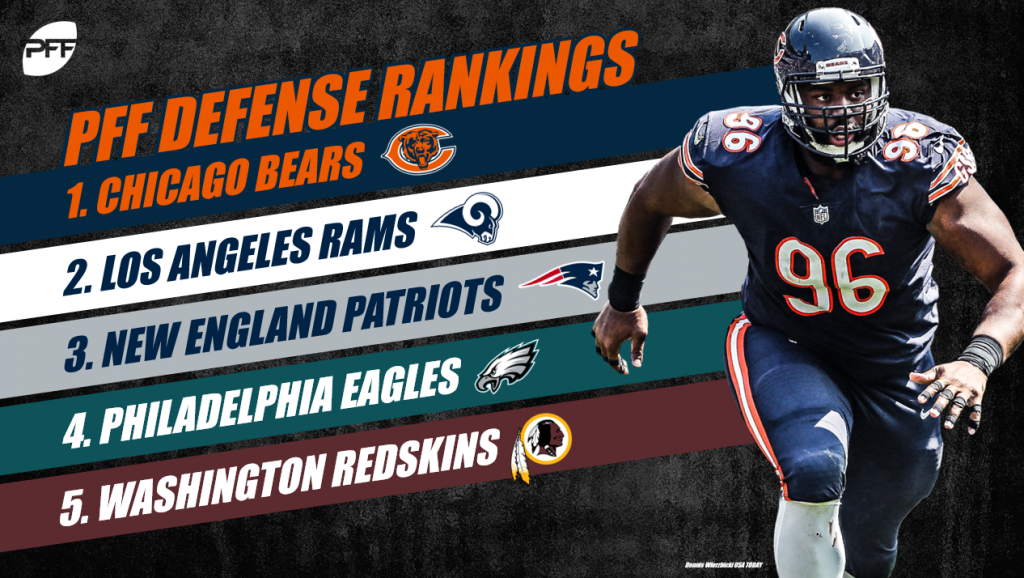 Total Defense Grade: 90.5
Chicago has basically come and gone with the healthiness of Khalil Mack. When healthy, they were dominant, allowing all of 16.3 points per game over the first four weeks. Over the last three, that's jumped up to 26.3. It's no coincidence that Mack has only three pressures the past three weeks (two games for him) after generating 24 through the first four weeks.
Putting all the success of this defense on him though would be doing a disservice to some of the other outstanding performances on this team. Akiem Hick was recently honorable-mention for midseason All-Pro. Their secondary has also been outstanding, but it might not be the names that first pop into mind. Slot corner Bryce Callahan has the second most coverage stops of any corner in the league while Eddie Jackson is the seventh highest graded safety in the league.

Total Defense Grade: 89.0
Very much like Chicago, this has been a tale of two defenses for Los Angeles. The defense that existed when Aqib Talib was healthy and the one that has existed since. In the first three weeks of the season, they earned three single-game defense grades above 70. In the last five weeks, they've only earned three more. Talib had a 77.7 overall grade before being sidelined while his replacements Sam Shields and Troy Hill have grades of 67.9 and 60.6 respectively.
Also, very much like the Bears, this is a one-man pass-rush. While they have earned the fifth most pressures of any defense in the NFL, over a third of them have come from Aaron Donald alone. The defensive tackle is playing the best football of his entire career and his 28.4 percent win rate as a pass-rusher would be the highest we've seen from any player – interior or edge – for a single season.

Total Defense Grade: 87.5
Much of the perception of the Patriots defensive struggles this season come from getting owned by Blake Bortles early in the season. Since then though, much of their issues on the backend have been righted. New England currently owns the highest coverage grade of any defense in the NFL and have allowed the third lowest passer rating on targeted passes of any defense in the league.
They are the single most man heavy team in the NFL, playing some variation of the coverage on over half of their snaps. As such, they are also fourth in completion percentage against. Somewhat surprisingly though for a team that plays that much man is that they are second in the league with 11 interceptions so far. Stephon Gilmore's play has been a huge part of that as he's allowing a league-best 40.9 percent of his targets to be completed.

Total Defense Grade: 84.0
The overwhelming (and maybe only) strength of the Eagles defense is their front-4. It dictates everything they do. They've collected 204 total pressures as a unit – 38 more than the next best team in the NFL. The difference between them and the 2nd place Chiefs is the same as the difference between the Chiefs and the 17th place Browns. Philadelphia's defensive line is in its own stratosphere at the moment. They have issues at other places defensively, most notably Jalen Mills' 516 yards allowed in coverage already, but with their front four, they'll continue to be a top-10 defense.

Total Defense Grade: 80.8
There's a reason the Redskins are 5-2 and it has everything to do with how the defense has improved. The key to the defensive turnaround hasn't been high-priced corner Josh Norman or first-rounders Jonathan Allen and Daron Payne. No, it's two defenders in the middle of the defense that anyone could have had more a moderate price before last year. Safety D.J. Swearinger is having a career year and is PFF's top-graded safety so far as he leads the league with four interceptions. Linebacker Zach Brown was just named an honorable mention for the Mid-Season All-Pro team and has missed only one tackle on 44 attempts this season. The scary thing is, after trading for PFF's third-ranked safety this season Ha Ha Clinton-Dix at the deadline, they could be even better over the second half.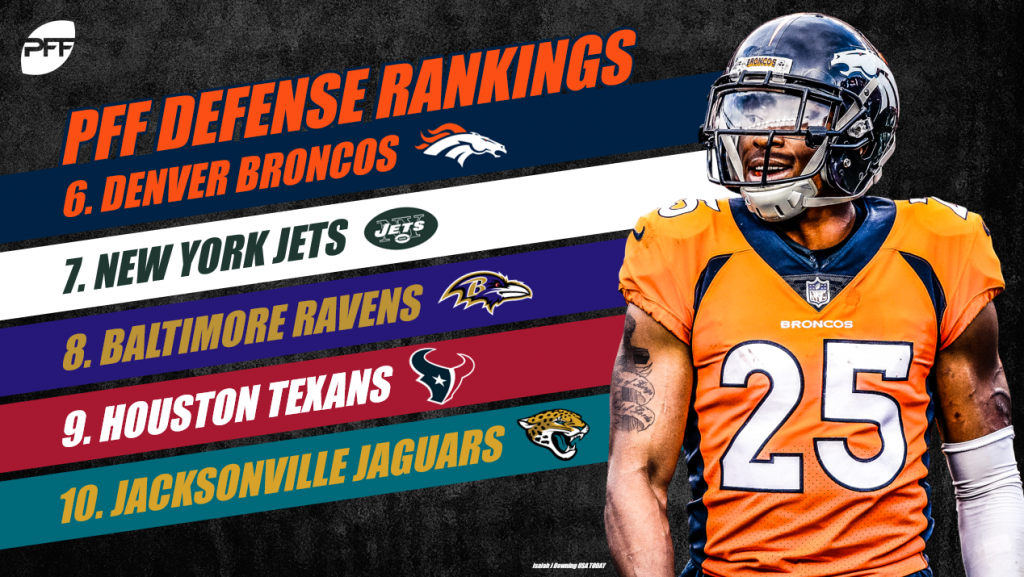 Total Defense Grade: 79.8
It's rare to see a team whose run defense has actually been the issue in today's NFL, but that's where the Broncos are at. They've allowed 135.8 yards per game on ground, including 200-plus in back-to-back games earlier this season. Our team metrics weigh pass-defense far more highly though and that's why you see the Broncos where they are. Cornerback Chris Harris Jr. was named a mid-season All-Pro for his performance so far. The Broncos stalwart on the back end has yet to allow a touchdown and has yielded a passer rating of 56.2 on his 42 targets so far this season.

Total Defense Grade: 78.9
It's been masked by the performance on the other side of the ball, but the Jets defense is one of the most improved units in the league this year. It's a turnaround that actually started before last season. With their first and second picks in the 2017 draft, the Jets selected their brand-new pair of starting safeties. Jamal Adams and Marcus Maye had their ups and downs as rookies but now look like one of the most dynamic safety duos in the NFL with both grading out in the top-15 among all safeties in the league. Adams' versatility, in particular, has been the lynchpin of what Todd Bowles does defensively. He's graded out highly despite playing 161 snaps as deep safety, 55 snaps as box safety, 186 snaps at linebacker, 77 snaps on the edge, and 85 snaps at slot/boundary corner.

Total Defense Grade: 78.7
The crazy part about the Ravens league-leading scoring defense so far is that it's come basically without the help of their number one cornerback Jimmy Smith. In his 105 coverage snaps since returning from injury, he's allowed 182 yards on 12-15 targets for a passer rating of 139.1. Last season he allowed only 292 yards in 355 coverage snaps for a passer rating of 49.2. Luckily for Baltimore, second-year corner Marlon Humphrey has picked up the slack. He's allowing a completion percentage of only 52.8 so far, the 14th best of any corner in the league.

Total Defense Grade: 78.4
This ain't close to the same Texans defense we saw a season ago. After allowing a league-worst 27.2 points per game last year, they've righted the ship to only 20.9 points per game through the first eight weeks. There are two huge reasons for this.
J.J. Watt is back
He isn't quite the Watt that shattered PFF records before injuries struck, but he's doing a pretty good impersonation. Last season, they were 25th in overall pass-rushing grade. This season, they're 12th. Watt's 16 combined sacks and hits are the third most of any edge defender in the league this season.
Consistency in the Secondary
This could just as easily read 'No More Kevin Johnson' and still hold true. The Texans are one of the most man-heavy teams in the league, playing it on 43 percent of their snaps. In it, you need talent, and the former first-round corner earned the lowest grade at the position last year. He allowed a passer rating of 137.3 in his coverage but has been now limited to only 65 snaps this season. The versatile trio of Kareem Jackson (87.0), Justin Reid (73.5), and Tyrann Mathieu (76.8) have upgraded this defense massively.

Total Defense Grade: 78.2
How the mighty have fallen. PFF's top-ranked defense from a season ago just feels off this year. Despite almost identical personnel and no major injuries, the Jaguars defense has not been close to the unit that earned a 92.0 grade for the entire season in 2017. And it hasn't been one guy, it's been across the board. Below are the overall grades of key Jaguars this year compared to last:
| | | |
| --- | --- | --- |
| Player | 2017 | 2018 |
| Jalen Ramsey | 91.3 | 68.4 |
| Calais Campbell | 91.0 | 84.4 |
| A.J. Bouye | 84.5 | 70.9 |
| Telvin Smith | 81.9 | 55.0 |
| Myles Jack | 79.0 | 69.9 |
| Malik Jackson | 78.1 | 59.5 |
| Barry Church | 72.5 | 56.7 |


11. Buffalo Bills 77.9

12. Minnesota Vikings 77.5

13. Tennessee Titans 76.8

14. Cincinnati Bengals 76.7

15. Green Bay Packers 75.8

16. Seattle Seahawks 74.8

17. Indianapolis Colts 74.6

18. Dallas Cowboys 74.5

19. Pittsburgh Steelers 73.8

20. Carolina Panthers 72.6

21. New Orleans Saints 72.0

22. Los Angeles Chargers 71.6

23. Cleveland Browns 71.1

24. Kansas City Chiefs 70.2

25. Arizona Cardinals 69.6

26. New York Giants 67.3

27. Miami Dolphins 66.7

28. Detroit Lions 64.1

29. Oakland Raiders 63.3

30. Atlanta Falcons 62.8

31. Tampa Bay Buccaneers 62.6

32. San Francisco 49ers 54.7

[Editor's Note: In case you didn't read the second introductory paragraph, this is the final installment of a four-part series that will cover all 32 teams' pass-rush, run-defense, coverage and total defense grades over the next two weeks.]
PASS-RUSH | RUN-DEFENSE | COVERAGE | TOTAL DEFENSE