The Los Angeles Rams have found a dynamic, playmaking safety in four-year defensive back Lamarcus Joyner, a discovery made within the team's own cornerback room.
Playing 66 percent of his defensive snaps at either free or strong safety, Joyner leads all NFL safeties with his 94.0 coverage grade and ranks fourth in terms of overall grade (90.8), both marks being substantial improvements from his grades at cornerback in years prior.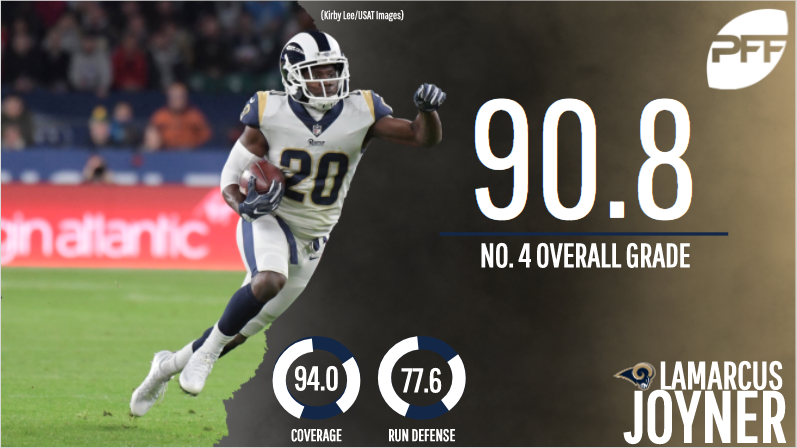 From 2014 to 2016, Joyner earned 45.6, 62.4 and 78.4 overall grades, respectively, while playing at least 76 percent of his defensive snaps at slot cornerback. He also failed to earn a coverage grade above 78.1 in that the three-year stint.
In addition to his notable coverage upgrade this season, Joyner has earned a 77.6 run defense grade, which only ranks 35th among safeties so far but is significantly better than his 46.1 and 36.7 run defense grades in 2016 and 2015, respectively.
Though recruited as the top-ranked cornerback out of the state of Florida, Joyner played just one season at cornerback for Florida State before starting 27 consecutive games at safety throughout his sophomore and junior seasons. And despite his success at safety, former FSU defensive coordinator Jeremy Pruitt moved Joyner back to cornerback in his new scheme in 2013.
Taking a page from Pruitt's playbook, former Rams defensive coordinator Gregg Williams also played Joyner at cornerback, which, as previously mentioned, didn't go quite as planned. Wade Phillips, who joined new head coach Sean McVay in Los Angeles this offseason, took over for Williams and opted for Joyner to return to his natural position before the start of the 2017 season.
Now entering Week 14, Joyner ranks second among safeties with at least 200 coverage snaps in forced incompletion percentage (50.0) and is tied for ninth in tackling efficiency (18.0), far exceeding the play of former Los Angeles free safety T.J. McDonald.
In his final two years with the Rams (2015-16), McDonald failed to earn an overall grade above 70.0 and now owns the 71st-ranked overall grade (49.2) and 66th-ranked coverage grade (49.1) with the Miami Dolphins. Also, McDonald has allowed a whopping 149.3 passer rating to opposing quarterbacks when targeted on his 157 coverage snaps in Weeks 10-13, while Joyner ranks third among safeties with 200-coverage snaps in passer rating allowed (43.4).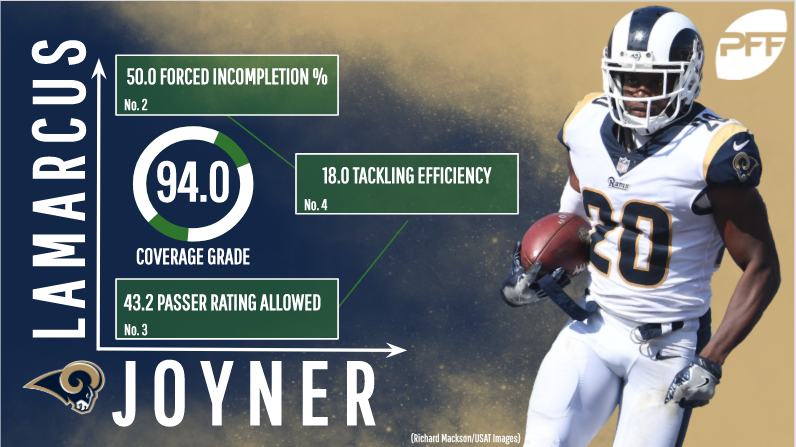 Exchanging McDonald for Joyner has been a key factor in Los Angeles boasting the eighth-ranked passing defense this season and an even better development for Joyner, who is currently playing out the final year of his rookie contract.
Whether it comes from the Rams or elsewhere, Joyner is potentially in line for a lucrative deal in the near future, and it's safe to assume said deal will have the young defensive back suiting up at safety moving forward.