After losing to the New England Patriots in the Super Bowl last season, the Los Angeles Rams were in the enviable position of not having any glaring needs come draft day. As such, they moved back three times before their first selection came with the 61st overall pick. When Friday night ended, the Rams had added four players on Day 2 in an effort to build out depth throughout the roster. Even without needs, the path to seeing the field for each may come sooner rather than later.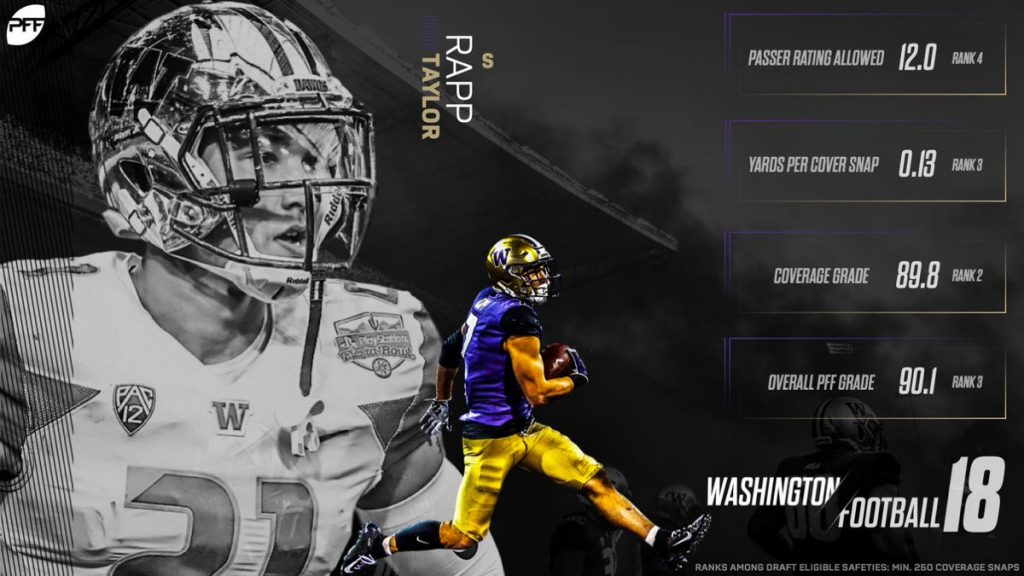 Washington safety Taylor Rapp was the first name written on a Rams draft card this year, and with the Eric Weddle signing, it's a position that doesn't necessarily qualify as an immediate need. That is if the Washington star really stays at safety.
Rapp is not only one of the draft's most effective box safeties, but he's also going to a defense that has employed former safety Mark Barron at linebacker the past five seasons. At 212 pounds, Rapp could more than hold his own in such a role. Last season, Rapp earned an 89.8 coverage grade, allowing only eight catches on 18 targets for two first downs.
From there, the Rams selected the best outside-zone runner in the draft class – the concept which the Rams ran more of than any other team in the NFL last season. On 53 outside zone runs over the past two seasons, Darrell Henderson gained 569 yards and broke 16 tackles. His 10.7 yards per carry on those runs led the nation. Scheme fits don't get too much better than that.
The Rams wrapped up the third round with a couple of PFF favorites. David Long was the single-most lockdown cornerback in the country over the past two seasons. He fell due to size concerns, but it didn't matter at Michigan, where he allowed all of 18 catches over the two-year span. While the Rams have three established starters in place, both Marcus Peters and Aqib Talib's contracts expire after this season. He'll likely see work in dime packages right out the gate.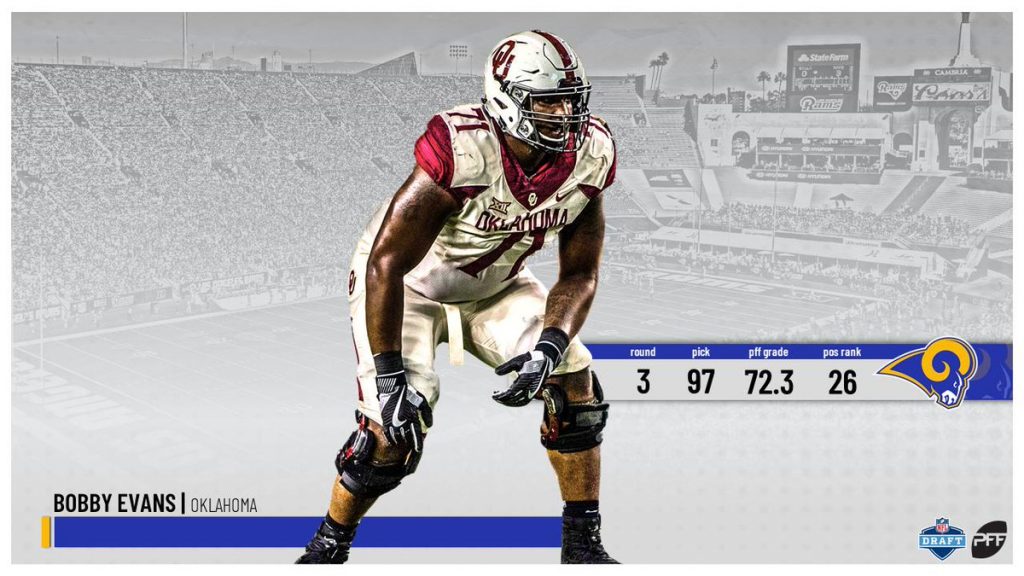 Oklahoma tackle Bobby Evans capped off the day as the Rams addressed another value position. His own Sooners thought enough of him in 2017 to start him over early-second round pick Cody Ford at right tackle. That year, he earned an 86.2 overall grade while going 80.0-plus in both run and pass blocking. Evans kicked over to the left side in 2018, though, and struggled mightily with the transition – something we've seen regularly in our grading with offensive lineman making such a switch. His hands were a mess flipping sides, and he routinely opened the door inside for opposing defenders. However, the talent we saw in 2017 didn't just go away, and he now has valuable practice to be the Rams' swing tackle.
It was a draft strategy that we here at PFF can applaud wholesale. Instead of seeing their Super Bowl demise and thinking they were one impact player away from changing their fate in 2019, Les Snead recognized that their window is longer than simply this season. The Rams filled out the roster with depth that can step right in if injury luck swings against their favor next season and will set them up to deal with players retiring or leaving in free agency down the line.